Wydr, a mobile wholesale marketplace run by AYN Network Pvt Ltd, has raised an undisclosed amount in an angel investment from entrepreneur and early stage investor Sandeep Aggarwal, co-founder of online marketplace ShopClues and Droom, according to a press release.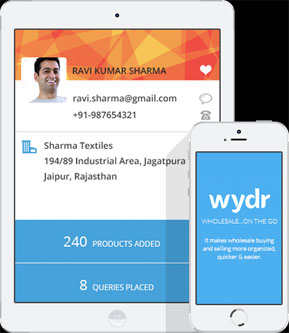 Wydr was founded by Devesh Rai, a founding team member of ShopClues in July this year. The startup aims to create a platform that will cater specifically to the needs of Indian wholesale market and address their three fundamental needs—speed of business, trust and transparency, according to Rai.
"The wholesale segment controls pretty much the entire distribution within India, and yet there have been no innovations that could overcome the challenges associated with the sector," he added.
Rai is a management grad from the Indian Institute of Management, Calcutta. Before ShopClues, he was heading marketing and distribution at Mail Today newspaper. Previously, he also worked at HT Media, HCL Technologies and Rediffusion.
The venture is also in discussion with potential investors to raise around $2 million more.
It is targeting the $300 billion worth Indian wholesale market which has millions of wholesalers and more than 14 million retailers currently.
"Wydr fits into my vision of a game-changing entrepreneurial venture and has the potential to aggregate the wholesale market," said Aggarwal, who looks to invest in consumer internet, software, cloud, and Internet of Things spaces.
Aggarwal is a former tech sector analyst at Wall Street who founded e-commerce marketplace ShopClues in 2011. He was later charged with insider trading during his days as an analyst and was arrested by FBI. Although he was later released on bail, he relinquished his direct executive role at ShopClues and stepped down as CEO of the firm. His wife, however, is now more closely involved with ShopClues operations.
In April 2014, he founded Droom, a marketplace to buy and sell used and new automobiles. In July, Droom raised Rs 100 crore ($16 million) in Series A investment from venture capital firm Lightbox and Japanese e-commerce firm Beenos.
Recently, Aggarwal made a personal investment in Shopsity Tech Pvt Ltd, a company that provides information on fashion products being sold by physical stores in the users' vicinity through an app.