On Tuesday, shareholders of Tata Consultancy Services (TCS), the largest company in the $100 billion Tata group, voted to oust former chief Cyrus Mistry from the company's board. 
While Mistry's ouster was a foregone conclusion, given the fact that holding firm Tata Sons Ltd and other group entities hold a 73.33% stake in TCS, yet the way the shareholders voted is interesting.  
How did the promoters and institutional shareholders vote?
Details filed by TCS with the stock exchanges show that while all the promoters voted unanimously to oust Mistry, the institutional shareholders were a divided lot, with 57.46% voting in favour of the resolution and the remaining against it. 
Interestingly, only 56.69% of the institutional shareholders actually voted, with the rest either abstaining or remaining absent. Institutional investors including insurance companies, mutual funds and foreign institutional investors hold a little over 22% of TCS. This indicates that although a significant minority of those who voted were against Mistry's ouster, almost half of them remain fence sitters, holding their cards close to their chest.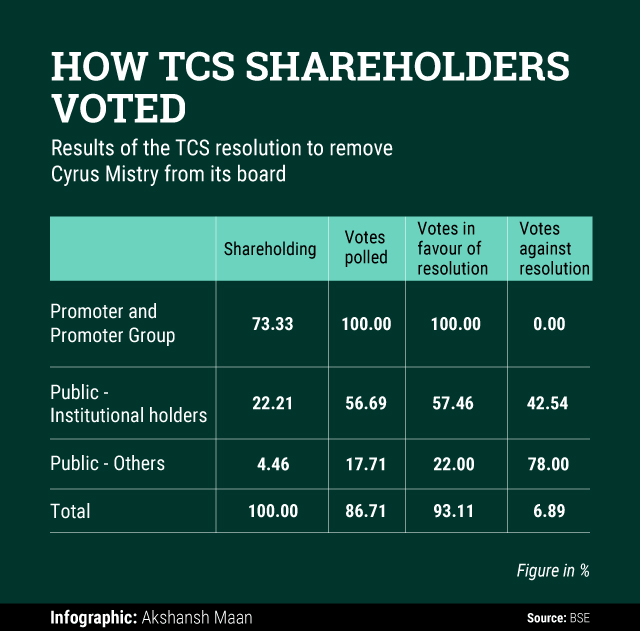 How did non-institutional public shareholders vote?
Non-institutional shareholders, who mainly comprise retail shareholders, hold just over 4.5% of TCS. The company's filings show that although just over 17% of them voted, almost four out of five who did, supported Mistry. This indicates that Mistry does enjoy a great deal of support among shareholders. 
What could all this mean in case of other Tata companies?
As mentioned above, TCS is one of the most tightly controlled companies in the Tata group.  But that is not the case for six other listed group companies—Tata Steel, Tata Motors, Indian Hotels, Tata Power, Tata Chemicals and Tata Global—on whose boards Mistry is a director. 
As VCCircle noted earlier, in the other six companies, the shareholding is more spread out, with the promoters holding between 30.8% and 38.6% stake and public shareholding being divided among the categories mentioned above. 
Therefore, Mistry could give the Tatas a tough fight if non-promoter and retail shareholders decide to back him in significant numbers. 
As the VCCircle report said earlier, the role of institutional shareholders, especially government insurers like Life Insurance Corp (LIC) of India, will be extremely crucial. While the insurers hold just over 4% of TCS, they own much more in other companies. For instance, the insurers collectively hold around 20% each in Tata Steel and Tata Power and between 10.3% and 13.3% in the others.
Unlike other shareholders, who are disparate, government-owned shareholders typically vote as a block. This could be the single biggest deciding factor in determining whether Mistry keeps his position on the boards of these companies.
What are the scenarios that could play out?
The following scenarios could play out.
Scenario 1: All non-promoters vote against the resolution. In this scenario, a resolution to remove Mistry can be defeated in the case of Tata Steel, Tata Motors, Tata Power and Tata Chemicals, unless retail investors vote en masse in its favour. If that happens, Mistry remains on the board.
Scenario 2: Where LIC and other insurance companies vote in favour of the resolution to oust Mistry. In such a scenario, only in Tata Motors, there could be a serious chance of the resolution being defeated, especially if the participation of other investors against the resolution goes up. As the
resolution for removal will be important, participation is likely to be more. So, except for Tata Motors, in this scenario, Mistry will have to go.
Scenario 3: Where LIC and other government insurers abstain. In that case, if all shareholders oppose the resolution, it may be defeated in all the other companies. Effectively, Mistry gets to stay on the boards of all the companies, where the resolution is defeated.
Scenario 4: Where LIC and other government insurers vote against the resolution in all companies. In such an eventuality, the resolution may face defeat across all the other companies, securing Mistry's position.
Like this report? Sign up for our daily newsletter to get our top reports.