When Kerala civic poll results came out on Saturday, Kizhakkambalam, a tiny village adjacent to Kochi made history. Perhaps, for the first-time ever in the political landscape of India, a local outfit fielded by a corporate swept elections to the village council when the well-entrenched Marxist Party and Congress Party have bitten dust.
The cheekily-named two-year-old local party Twenty20, sponsored by Rs 1,200 crore by turnover Anna Group, has won in 17 out of 19 wards in the local panchayat while Congress-led UDF and CPM-led LDF drew a blank.
Its name Twenty20 may remind you the thrilling short form of the national sports but it represents the promise the company has made to the residents of the panchayat; that it will make Kizhakkambalam the No.1 among 2,72,000 village panchayats in the country by 2020.
Anna Group, the promoters of BSE-listed Kitex Garments Ltd, a host of other popular consumer brands in Kerala in food products, cookware and bags, has an overarching presence in Kizhakkambalam panchayat with seven factories employing around 15,000 people. So a vast majority of the populace is directly or indirectly linked to the company.
The company's explanation about its entry into electoral fray starkly contrasts with that of its detractors. While its detractors say the company wants to ensure smooth and easy approvals of various kinds, especially in matters regarding pollution, waste treatment and labour from the local body, the company emphatically denies such charges.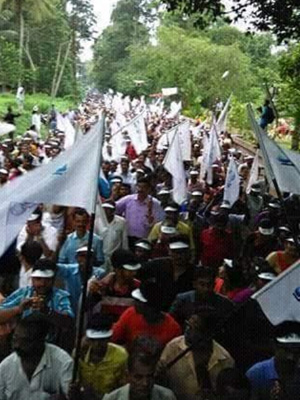 "It was my father's vision that the village should grow along with the business," Sabu M Jacob, chairman and MD of the group's flagship company Kitex Garments and chief coordinator of Twenty20, told VCCircle.
"We have been present here since 1968; what new approval do we need?" Jacob asked, dismissing suggestions of business motives behind the political move. "We supply to Walmart and Target in the US, the MNCs which adhere to strict social compliance standards," he asserted.
"The panchayat authorities were acting with a vengeance when we focused on social welfare activities and got involved in local development. They raised various complaints. Even a High Court-constituted commission gave us a clean chit on environmental compliance," he said.
But everyone isn't convinced. "They pump effluents into paddy fields and fresh-water streams. They won elections pumping crores of rupees. Jacob cunningly used the mandatory CSR-spend to further his political-business agenda," said Abdul Rahman, chairman of Action Council Against Kitex Pollution.
Rahman is one among the two non-Twenty20 members in the new 19-member Kizhakkambalam panchayat council. Another one is a Congress rebel from a neighbouring ward. "The people in my ward suffer the most from pollution from their factories. My victory is a show of their protest," he said.
Victory of the corporate-sponsored Twenty20 in the highly politically sensitive state of Kerala, which has a strong left leaning, has raised concerns among the state's intelligentsia.
Anna Group, the promoters of BSE-listed Kitex Garments Ltd, has an overarching presence in Kizhakkambalam panchayat with seven factories employing around 15,000 people
"This is nothing less than a sabotage," said K Jayaprakash, a veteran journalist from the state. "They said the people can recall them if they do not fulfill their election promises. But there is no provision in the People's Representative Act to recall elected representatives. They just misled people," he said.
Interestingly, both the ruling Congress-led UDF and the CPM-led LDF, the flag bearers of proletarian politics, are perceived to have gone soft on Twenty20. In fact, the CPM did co-operate with 'the corporate party' initially.
The previous Congress-led panchayat leadership in Kizhakkambalam, which locked horns with Anna Group, did not get much support from their political patrons in the state government led by Chief Minister Oommen Chandy of Congress.
"Both CPM and Congress were hand in glove with Anna Group," said Jayaprakash. According to him, this would inspire other business groups in the state to further influence local governance through such tactics in their turfs.
"What is wrong in that?" countered Jacob. "I want other corporates including Tata and Birla to emulate our model of local development and welfare. A few companies in Kerala are already studying this model," he said.
Anna Group's political project in Kizhakkambalam was methodically carried out. "They formed some kind of a shadow council two-and-a-half years ago with a representative of Twenty20 focusing on development activity in each ward. These representatives eventually became the party's candidates in the election," said Pramod Thomas, a reporter with The New Indian Express, who tracked the elections.
"The company initiated a lot of benevolent measures. It opened a provision store to provide groceries at one-third of the market price," he said.
Jacob insists that the singular objective of turning Kizhakkambalam the top village panchayat in the country is the driving force behind these initiatives. Jacob has played down allegations of conflict of interest and crony capitalism at a micro level.
"People are not bothered about such things. As far as they are concerned development must happen. That's it," he signed off.