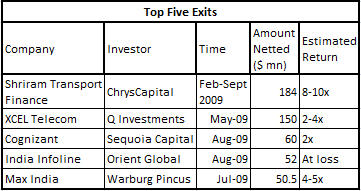 It has been a busy exit season for the Indian private equity (PE) industry. Triggered by liquidity pressures and a stock market rally, the first nine months of calender year 2009 have recorded a 50% jump in the number of exit deals. Between January and September, PE firms made exits worth $953 million (Rs4,431.4 crore) across 60 deals compared with $1.24 billion in 40 deals in the same period last year, according to data from VCCEdge, VCCircle's financial research unit.
The spurt in exits was pronounced between April and September, which saw 53 exits worth $900 million compared with less than 20 deals valued at $87 million between October 2008 to March 2009. This reflects a tenfold rise in deal value and a increase of 150% in the number of deals.
The buoyancy has been largely led by a stock market rally with the Bombay Stock Exchange's benchmark Sensex index shooting up by over 72% from 9,708 points on 31 March to 16,740 on 17 October.
"The market has ramped up phenomenally over the last few months and it's not a bad time to take some chips off the table," said Sanjiv Kaul, managing director at ChrysCapital, which made the best of the market rally by exiting Shriram Transport Finance Co. Ltd and Redington India Ltd. ICICI Venture Funds Management Co., Citigroup Venture Capital India, ChrysCapital, Baring Private Equity Partners India, IDFC Private Equity and Warburg Pincus, too, are mulling exits.
"You will see much more exits through secondary sales and M&A (mergers and acquisitions)," said Pranav Parikh, managing director of Q-India Investment Advisors, the India arm of US hedge fund Q Investments Lp. Q Investments' sale of passive telecom infrastructure firm Xcel Telecom Pvt Ltd to American Tower Corporation for $150 million in May was one of the biggest exits and through an M&A.
Most PE exits this year have been through stake sales in the open market as opposed to M&A activity in 2008. In the first nine months of 2009, over three-fourths of the exits, or 44 deals worth over $751 million, were through the open market.
Also, a rush for initial public offers (IPOs) by PE-backed companies is offering investors another exit route. "PE firms are preparing grounds for liquidity by reviewing portfolio and seeing which firms can be taken public," said Bhavesh Shah, executive director, JM Financial Consultants Pvt Ltd.
Around 16-17 PE-backed firms have filed draft red herring prospectus with market regulator Securities and Exchange Board of India (Sebi) for listing on the stock exchanges. A couple of liquidity events for PE investors have already occurred this year with IPOs of Adani Power
Ltd and Pipavav Shipyard Ltd. Nearly half a dozen companies that have filed draft prospectuses have said their PE investors were diluting stake through the IPO. These include DB Corp Ltd, with Warburg Pincus as the PE firm, and Emaar MGF land Ltd, in which CVCI is a PE investor.
Vikram Utamsingh, executive director and head of private equity advisory at KPMG India Pvt. Ltd, said the market rally has come as a windfall for PE firms that even a year ago were thinking that they would have to nurture these companies for the next three to four years.
"If there is PE money in real estate, they will be keen to get out at the earliest," said Praveen Chakravarty, chief operating officer and head, institutional equities sales at BNP Paribas India. "In more asset-owning sectors like infrastructure, they would think there is more upside."
A record number of Indian companies raised PE funds between 2006 and 2008 and investors would like to realise their returns. As the Indian PE market matures, an ongoing exit cycle would become part of the healthy ecosystem required for such investments. Most PE firms seem to be getting decent returns as they are exiting investments made before 2006. Of the five biggest exits this year, four were able to get good returns.
Investments made before 2005, which includes Warburg Pincus' investment in Max India Ltd and ChrysCapital's in Shriram Transport Finance Co., fetched the highest returns. Those made in the peak period of 2007, such as Singapore-based Orient Global Capital Rs550 crore in financial services firm India Infoline Ltd, took a loss of over 50%.