India's Rs 800 crore ready-to-eat foods market, which is dishing out a 15 percent year-on-year growth, is set to witness some sizzling action, as doyen Sadananda Maiya charts out his comeback plans.
Incidentally, in his second coming, Maiya will have to take on MTR Foods, the company he founded and sold to Norwegian conglomerate Orkla Group in 2007 for Rs 300 crore. A five-year non-compete clause with Orkla had kept him out of action so far.
And the market has swelled in size, as the number of PE deals in the packaged foods and meats segment would vouch for. In 2006, a year before Maiya sold out MTR Foods to Orkla, the segment saw 11 deals worth $132 million, while 2010 deals worth a record $173 million.
That there have been 40 deals worth $475 million in the segment since 2006 is a clear pointer to the immense potential of the sector.
The agricultural products sector also witnessed a similar number of deals worth $420 million in the same period. In the past 3 years, food and agri-related business has seen 125 M&A deals valued at $1.4b and 60 PE deals valued at $650m.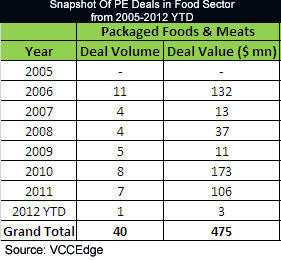 Private equity investors, who typically look for a 2-3 year gestation period, have realised that the investment duration is much longer. Last year, Ajaay Gupta, managing director of Capital Foods, backed by Future Ventures, had said that the agri and food business would see the emergence of a number of billion dollar firms in the next 5-7 years.
Maiya said that the space he vacated in 2007 is "now more mature" but lacks "focussed and specialised" players, Business Standard reported on Wednesday. With Maiya all set to make a comeback with his Maiya's Beverages and Foods, the scene surely is set for some flamboyant action.

MTR Foods commands half the market share in the ready-to-eat foods, instant mixes, spices and frozen foods market, while main competitors, ITC Foods, GRB Group and Haldiram's are working out plans to grab an increasing share in the pie.