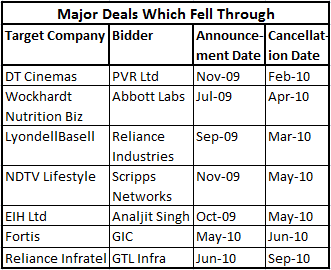 It's a dealmakers scourge, a break-off after engagement. The latest case of GTL's deal to acquire Reliance Infratel's telecom tower assets (in the largest such tower deal and what could have been the second largest transaction ever related to Indian telecom sector, behind Vodafone's acquisition of Hutchison's stake in Hutch), coming unstuck adds to a growing list of such dead transactions.
While deal-makers can add numerous other examples to this tally, there have been almost nine transactions worth $27 billion that were announced over the last 14 months and have been called off since January this year, as per VCCEdge, the financial research platform of VCCircle.
Some of the prominent proposed transactions that did not fructify include Reliance Industries bid for LyondellBasell, Analjit Singh's tryst with Oberois to become a co-promoter in EIH Ltd and Abbott Laboratories' plan to acquire nutritional business of financially troubled drugmaker Wockhardt among others.
Subsequent to the execution of a term sheet (whether binding or not) a transaction may not be consummated because of several reasons, which could include valuation, commercial differences, legal viability or non fulfillment of certain specific conditions critical to the consummation of the transaction, says Abhishek Sinha from Khaitan & Co., a Mumbai based law firm.
What is interesting is that some of the top dealmakers and intermediaries in the country were involved in the process and yet the deals fell through. For instance, Standard Chartered was the advisor to GTL on its proposed buyout of Reliance Infratel's towers. Amarchand & Mangaldas & Suresh A. Shroff & Co. acted as legal advisor for Wockhardt in the sale of unit to Abbott.
Gopal Agarwal, Singhi Advisors, counts valuation differences as the key reason for deals going sour.
Although the exact reason why Analjit Singh's deal with Oberois did not go through while Mukesh Ambani managed to seal it may not become public knowledge, it could be linked to future strategy of partners and role of Oberois in the new setup. The decision could also have been based on financial muscle power to ward off a possible counteroffer by ITC. Even as YC Deveshwar and ITC never publicly said they wanted to look at a hostile bid for EIH, it is known that the diversified consumer products company that sells cigarettes as well as flour was very interested in acquiring EIH to boost its hospitality play.
Different deals were canceled for separate reasons and not all of them were called off over differences in valuation. For instance GIC, the sovereign wealth fund of Singapore, backing out of proposed Rs 380 crore deal to pick around 6.6% stake was 'deferred' indefinitely at a time when Fortis was in a pitched battle with GIC's Malaysian counterpart Khazanah for the control of Singapore-based Parkway.
It made immense sense for GIC to be an investor in Fortis that would have managed the biggest healthcare firm in Singapore. However, the unexpected turn of events where Khazanah mounted a bid to wrest control of Parkway (that also has operations in Malaysia) just two weeks after GIC announced a proposed investment in Fortis, could have complicated matters.
GIC said it may consider a larger fund infusion in Fortis at a later date, without specifying a timeline. Almost three months after deferring its investment, GIC is yet to make any statement on reviving investment plans.
Similarly the GTL-Reliance Infratel deal was called off for unspecified reasons. One of the rumours doing the rounds is that the minority shareholders of Reliance Infratel were not comfortable with the valuations at which the deal was struck.
Valuations was also one of the main culprit why Reliance Industries deal for LyondellBasell fell through. This is also believed to be a possible reason why PVR's buyout of DT Cinemas could not go through. This deal involved a cash cum stock issue where PVR was to issue fresh shares to DLF being paying certain amount as cash. Since the time the deal was announced PVR share price had moved up and this changed the actual cost of transaction for PVR and possibly led to cancellation of the deal.
However, few canceled transactions does not mean a bad omen for the other deals. Ajay Garg, founder and managing director of Equirus Capital, says, "There is no major concern over these fallen deals as Indian growth story still continues." V Krishnakumar, Executive Director and Head – Healthcare Group, Avendus Capital also does not think a few failed deals would dampen the M&A story in India. "Though there are a few hurdles such as FDI cap and compulsory licensing in some areas, MNCs are very keen on Indian growth story," he says.
Indeed, last year a proposed multi billion dollar deal between Bharti Airtel and South Africa's MTN was called off but Bharti responded by striking two deals including a small one Warid in Bangladesh besides another blockbuster deal for African assets of Zain.