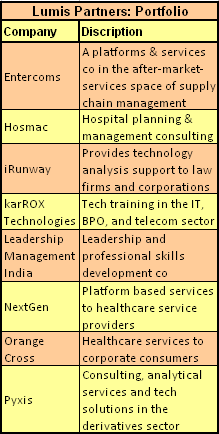 Lumis Partners, a Delhi-based private equity fund, has picked up a majority stake in BPO firm BNK eSolutions for an undisclosed amount. Sandeep Sinha, managing partner of Lumis Partners, has confirmed this development to VCCircle. The stake has been acquired from the BPO's parent company BNK Capital Markets, a Kolkata-based brokerage. Besides the stake buy, Lumis has also invested an additional amount in the firm for its growth and expansion. 
"BNK eSolutions is a very specialised high end BPO firm in areas like IT and healthcare after market services," said Sinha. BNK eSolutions is now looking to expand the its footprint, especially in the US. Also with the deal closed, Lumis is looking for acquisitions for BNK eSolutions for inorganic growth, said Sinha.
BNK eSolutions paid up equity capital stands at Rs 6.63 crore, according to Economic Times. The BPO is also planning at opening more delivery centers in India, even outside Kolkata. Besides healthcare and IT, BNK eSolutions also has a presence in verticals like education and supply chain management.
n
Complementary Portfolio
n
Lumis Partners has several of its portfolio companies in the same sphere but different segments. Like it has Hosmac, which is into hospital management consultancy, and it also has Nextgen, which provides IT services to healthcare service providers. Similar can be said of karROX Technologies (in which Lumis bought stake from SIDBI Venture Capital) and Leadership Management India. But these companies are not overlapping and either serve different client base or different verticals.
n
"We have a good synergistic affect so there is a good value add from one company to the other," said Sinha, who has earlier worked with General Electric and 3Com. Having such a portfolio provides cross-leverage across the client base. Lumis has also recently invested in the second round of Orange Cross, which provides healthcare services to coporate consumers.