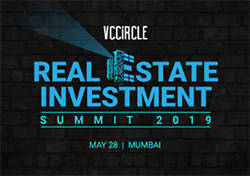 The real estate sector has been in the limelight in terms of policy changes over the past few years. While the government's push to affordable housing and the implementation of the Real Estate (Regulation and Development) Act, or RERA, were positive developments, the sector also suffered due to the demonetisation of high-value banknotes in November 2016.
To discuss the challenges and opportunities in India's real estate sector, VCCircle is organising its maiden edition of the Real Estate Investment Summit in Mumbai.
The event got underway on Tuesday morning. Here's all the action as it happens:
2:00 PM: The panel discussions conclude and participants head for lunch. That's all for today.
1:57 PM: Ramani said co-living and co-working have very little in common, so operators may not be able conduct business in both segments.
1:55 PM: Mehra said Table Space already has a captive corporate employee base, and it caters to them in many different ways. "Having said that, there's lots we can do, including collaborate with a co-living operator. We are definitely open to partnerships," he said.
1:52 PM: Samadariya said the entire space, co-working and co-living, requires regulatory clarity. Neither can achieve its full potential currently, he said.
1:50 PM: Mehra said co-working also depends on the quality of the asset involved. Players will usually partner with developers who have built and maintained Grade A and Grade B-quality assets.
1:48 PM:Gera said that, apart from segmentation and consolidation, co-living requires specialisation as well because of its closeness to hospitality. Returns can hit 14-18% for student co-living, for example. The space is a win-win for everybody involved, she said.
1:45 PM: Ramani said that, at some point, there will be a convergence between cost considerations and adopting new models for professional workspaces.
1:42 PM: Samadariya said that, in a sunrise sector like co-working, we will see a lot of consolidation. Co-working will grow in a fashion similar to the hospitality sector, rather than a pure-play real estate segment. Over time, segmentation between quality and price will become more clear for property owners and consumers.
1:40 PM: Mehra said co-working is a service model. If you give clients flexibility with a long lease, traditional models fall apart very quickly, he said.
1:37 PM: Ramani of Awfis, which has raised money from Sequoia and venture debt from Innoven, said the goal is to provide great-quality work spaces at affordable rates. There is a lot of investor interest, but not enough investment, he said.
1:33 PM: Gera of student housing provider OxfordCaps said the student and professional co-living segment has seen a shift to about 75,000 beds from about 300-400 beds in the last three to four years. With OYO entering this segment, the market has exploded and will see more growth going forward, she said.
1:30 PM: The Hive's Samadariya said there is a huge demand for flexible workspaces. "Our focus is to identify buildings in prime locations and partner with landlords to give consumers a holistic experience," he said.
1:25 PM: The fifth and last panel discussion of the day has started. The topic of discussion is emerging themes in the real estate sector.
The panellists are Amit Ramani of Awfis Space Solutions Pvt Ltd, Priyanka Gera of OxfordCaps, Ankit Samadariya of The Hive and Kunal Mehra of Table Space Technologies. VCCircle's Ranjani Raghavan is moderating the panel.
1:20 PM: Shori said that, for PE investors to invest in property-tech ventures, they need to make money. However, unfortunately, PE investors have not yet made money in the past in this segment. And this may have a bearing on future capital flows, he said.
1:18 PM: Vagal said how to construct and operate a smart building is the next focus area for L&T Realty. The company anticipates that technologies such as artificial intelligence can save 4-5% in costs, he said.
1:15 PM: Vagal said global markets focus more on automation while Indian markets focus on amenities. An integration of the two for the Indian market will work wonders, he said.
1:10 PM: Shori said technology has reduced the role of a traditional offline broker to a concierge player. Technology integrates two polarised and segmented players. It brings them under one roof, he said
1:05 PM: Vagal said 80% of marketing costs are through traditional advertising and marketing channels. However, with the adoption of technology and digital marketing, this cost component could reduce, he said.
1:02 PM: Nayar said reducing costs across the value chain is critical for the affordable housing segment. He said technology is the critical ingredient to create scale in the real-estate business, especially for new-age entrepreneurs.
The real estate sector ranks the lowest in terms of adoption of technology. However, awareness is increasing and you will see many developers integrate more technologies in their processes.
1:00 PM: The fourth panel discussion has started. The topic of the discussion is how technology is rebuilding the real estate sector.
The panellists are Sameer Nayar, founder and CEO of Build Supply; Tanuj Shori, co-founder and CEO of Square Yards; and Tushar S. Vagal, IT head at L&T Realty; VCCircle's Bruhadeeswaran R is moderating the panel.
12:45 PM: When asked what were the three things that the real estate sector needed the most, Poddar wanted a single-window clearance system, better infrastructure delivery and master planning of cities with clear demarcations for affordable housing projects.
Narayanan said cheaper funds for land and a stable policy period to allow developers to adopt changes and implement successfully were important.
HDFC's Roongta suggested special zones for affordable housing. Delivery infrastructure is also important, he said.
Krishnan said affordable housing financing should be encouraged. A single-window clearance and more land for affordable housing are also important, he said.
12:40 PM: Purvankara's Narayanan said developers should be able to finance their operations from consumer cash-flows. If their business model depends on construction financing, they need to rethink their approach to affordable housing, especially when there is a capital constraint for smaller projects.
12:35 PM: Krishnan said the real estate sector has a structural problem. If you want to develop affordable housing, you need to give more capital to smaller players and projects, he said.
12:30 PM: HDFC's Roongta said he knows a lot of projects where costs have gone down but the prices have stayed the same, and that is simply because of greed. But you cannot simply blame policies like GST for the high prices of affordable housing, he said.
12:25 PM: Poddar said 90% people in Mumbai do not own a house, so developers need to see how to supply affordable housing.
Also, demand follows infrastructure. So, there needs to be an increase in the delivery of essential infrastructure such as transport, he said.
12:22 PM: Poddar said the Pradhan Mantri Awas Yojana (PMAY) has "fundamentally transformed" the affordable housing segment in India.
He also said that it isn't possible for a project to sell all its units on launch. It's all about the entry price, he said.
12:20 PM: Krishnan said we're still in a stage where supply hasn't fully caught up with demand at different price points.
12:18 PM: Narayanan said that there are two segments within affordable housing: Premium and low-cost or social housing. Premium is a huge market where inventory is sufficient for 15-odd years. Narayanan said Provident, an arm of Purvankara, is looking to develop 2.5 million square feet of affordable housing.
12:15 PM: HDFC's Roongta said builders and financiers are coming into affordable housing because it's the only product that's selling. The government has been able to push affordable housing, and not just in the top 20 cities, but even in smaller cities. But simply shrinking the size of the house is not called affordable housing, he said.
12:10 PM: The third panel discussion has started. The topic of the discussion is affordable housing.
The panellists are Rohitashwar Poddar of Poddar Housing & Development Ltd, Rajesh Krishnan of Brick Eagle Group, Anand Narayanan KB of Puravankara Ltd and Vipul Roongta of HDFC Capital Advisors Ltd. Nisus Finance's Amit Goenka is moderating the discussion.
12:06 PM: Replying to a query on what two changes the sector needs the most, Khandelwal said unblocking capacity, especially existing capacity, is important. The second thing to recommend is improving the supply of human resources.
Iyer said Demand conduciveness needs to be very strong. "I think we need to see policy changes in a timely fashion. That's extremely important," he said.
Thakkar said there need to be linkages between approval and regulatory bodies.
Rao said we need to figure out how to implement policies well. A policy is good, but implementing it in a timely fashion is better. The second change is a roadmap for improving the sector.
12:03 PM: Khandelwal said it would be nice if the Centre introduces a RERA-like regulation for healthcare infrastructure.
11:58 AM: Thakkar said lengthy approval processes lead to delayed project developments. For instance, developers borrow at 15-20% per annum. If a smooth approval process is in place, a developer can save that cost per annum.
Context: More than 100 approvals at various levels are required for project clearances. Approvals at the central, state and local levels cause bottlenecks for the development of any project.
11:56 AM: Iyer said reducing disputes around real estate titles is important. Bringing in title insurance policies and how well they can be implemented will play a huge role in the development of the sector.
11:53 AM: Rao said India has not been able to give investors a fully stable environment. Investors always look for stability in the regulation and taxation regimes. It's difficult for investors to take decisions if the government keeps tinkering with regulations every few years.
11:50 AM: Thakkar said banks stopped lending to developers four-five years ago due to high risk attached to projects in the sector. The government needs to provide some sops to banks, either for funding already constructed property or the ones at the developmental stage.
11:48 AM: Iyer said that, from a government perspective, moves like Startup India have had a positive impact in the country. Managed office services have benefited a lot from policy measures.
Rao said the government is trying to implement confidence-building measures to negate the liquidity crunch in the sector. The PE players and strategic investors will provide long-term, stable money at a time NBFCs are facing a liquidity crunch.
We have huge inventories in the market. However, regulations do not permit PE players or strategic investors to buy such assets at discounted rates and hold them before they can be resold, Rao said.
11:45 AM: In reply to a query on what changes did they see in the last few years, Rao said a lot of policies that have been introduced, including GST and Benami properties prohibition law, have done very well.
These changes are creating a new era of real estate. We will see a new paradigm emerge for this sector, especially in terms of time and money management. RERA is a key policy measure that can change the entire sector, he said.
11:40 AM: Khandelwal said a lot of investment is expected to come in. However, we do hope that there will be further changes from a policy side, including changes to GST, he said.
11:35 AM: Thakkar said there is definitely a need to improve coordination between central, state and local bodies. "We expect the Modi 2.0 era to improve on the changes already made," he said.
Iyer said we're in an exciting phase for the real estate sector, but there are challenges that need to be met.
11:30 AM: The second panel discussion has started. The topic of the discussion is "policy focus".
The panellists are Kartik Iyer, CFO at Table Space Technologies; Kapil Khandelwal, managing partner at Toro Finserve LLP; Balaji Rao, managing partner at Axis Real Estate; and Amit Thakkar of Indiabulls Asset Management Company Ltd. VCCircle's Beena Parmar is moderating the session.
11:12 AM: Asked to give two-word answers on their outlook for the real estate sector in the next few years, Singhi said: "Robust and stunning."
Gohill said: "Interesting and exciting."
"Good and Great," said Murli.
11:10 AM: Asked how would they rate the Modi government on reforms for the real estate sector, Murli said he would rate the government 10 out of 10.
Gohil and Gandhi said they would rate the government 7-8 out of 10 while Singhi rated 6-7.
Gandhi said the new government must implement digitisation of land and property records.
11:08 AM: Murali said Shriram Properties continues to acquire more stressed assets. "Market is very good from a demand and sales point of view. There is huge demand for housing. We are scaling up further to meet these challenges."
11:05 AM: Gohil said the ultimate vision for Indospace is to grow its portfolio to 120 million square feet over the next five years. For that, we'll first need to deploy $600 million we recently raised from our third fund.
11:03 AM: Jay Gandhi said 2012-2013 was an inflexion point for India's real estate market with the commencement of the alternative investment funds. This helped investors create a capital stack.
Gandhi said more than reforms, we need stability. We have reached a place where regulations and liberalisation measures are starting to stablise.
11:00 AM: Singhi said commercial projects don't get GST credits for projects, which pushes overall costs and prevents the emergence of good-quality affordable products.
One of the biggest challenges is land acquisition. Then comes meeting expectations between the party selling the land and the party bidding for it, Singhi said.
10:58 AM: Murali said investors and institutions the world over are not being able to find the right partners despite having large amounts of capital to deploy in the residential real estate sector. Investors that have acted without being greedy have prospered in the long term, he said.
Murali said capital not being available is a myth. Capital is available for the right set of people with the right set of products.
10:55 AM: Gohil said IndoSpace Capital has 30 million sq ft of real estate portfolio. He said that Indospace welcomes competition as it helps in institutionalising the market.
Gohil said the end users want quality. They want grade-A compliant quality space. Nobody is going to compromise on quality.
Big MNCs looking to buy or invest in India's real estate sector want to partner with developers who offer end-to-end solutions, he said.
10:50 AM: Gohil said speed is key. Ultimately, you have to get off the ground no matter what you're building. Pre-diligence, legal requirements and land titles and the speed at which they're completed is absolutely critical.
Gohil said one of the key challenges for anybody in this sector falls in the land acquisition stage.
10:47 AM: Shardul Amarchand's Jay Gandhi said REITs will give an exit option to investors. Capital market is also exploring the feasibility of having private REITs. In fact, private InvITs are already happening.
A private deal is a good option to beat market volatility in difficult market conditions, Gandhi said.
10:44 AM: Singhi also said there is demand across the space, or segments. Developers need to focus and have the right strategy - be it the price bracket, construction, design, and the right capital and duration as far as developers are concerned.
A lot of capital is chasing projects at the developmental stage, he said.
10:42 AM: Godrej's Singhi said macroeconomic factors are fuelling demand for housing and commercial real estate.
Singhi said a lot of demand has shifted. Traditionally, consumer demand was key. Now, co-working spaces, commercial and sectoral demand is very high, he said.
10:40 AM: Murali said demand for housing will remain for the next 30 years. However, the greed of the developers and too many people in the supply chain is "killing" the market, he said.
He said one must know how to use capital in an effective way.
Murali said housing (and real estate) is the only way to transform a country and economy. It is going to be the key engine for growth.
10:37 AM: Shriram Properties' Murali said housing for all by 2022 is the next objective, especially through affordable housing.
10:35 AM: Gohil said the thesis is to capitalise on the demand story, and right now there is a shortage of supply.
He said he does not see consumer demand declining, at least in the short term.
"We are benefiting and hope that we will continue to benefit from investors with patient capital," Gohil said.
10:33 AM: Indospace's Gohil said he concurred with what Brookfield's Gupta said in his address.
10:31 AM: Initiating the discussion, Sarika said more than $14 billion of equity capital has been invested in India's real estate industry.
10:30 AM: The first panel discussion has started. The topic of the discussion is "mapping the investment opportunity" in the real estate sector.
The panellists are Murali M, chairman and managing director at Shriram Properties Ltd; Sharad Gohil, managing director at IndoSpace Capital; Jay Gandhi, partner at law firm Shardul Amarchand Mangaldas; and Girish Singhi, principal at Godrej Fund Management. VCCircle's Swet Sarika is moderating the discussion.
10:25 AM: Referring to the high debt burden of real estate companies, Gupta said any project or developer wouldn't go bankrupt if it has the right kind of capital.
10:20 AM: Gupta said there were once more than 13,000 developers in India. "All of the assets we hold or own today were in some way, shape or form conceptualised by local developers."
"No industry can prosper unless there are local sponsors," he added.
10:18 AM: Gupta said urbanisation is one theme that will drive growth, be it in commercial real estate or housing. This thematic investing could be a big value creation for the Indian economy, he said.
10:15 AM: Brookfield's Gupta said we cannot afford to ignore technology. "Terms such as 'innovation' and 'efficiency' are not just buzzwords. Technology is a must-have," he said.
10:10 AM: Brookfield's Gupta said real estate cannot grow without leverage or without equity. "There has to be patient, durable capital to sustain business in this sector."
He also said there is great potential for REITs in India. "That said, REITs need to be simple. It needs patient capital - not one year, not five years, but 10-20 years."
"See how the REITs transformed the US real estate industry. Be it capital raising, or public investors participation, and new assets," Gupta said.
He also said that, as REITs show performance, more local participation is bound to increase in such offerings.
10:05 AM: In context to the fundraising and activity in capital markets for real estate players, Brookfield's Gupta said there has been no real estate IPO since 2009 and only one REIT issue since the regulations were announced in 2014-15.
"Real estate has always been under-capitalised in India," he said. "You cannot use a discounted cash flow valuation model if the product/asset has no visibility on cash flows."
Gupta also said that the repetitiveness of the manufacturing sector needs to be replicated in the housing real estate segment.
10:02 AM: Investors are not going to be enthused unless there's real growth in a sector. Real estate will have to house the growth of this economy, Brookfield's Gupta said.
People are now avoiding residential real estate, a sharp change from ten years ago, he said.
"Household formation is at an all-time high," he said.
10:00 AM: In his keynote address, Brookfield Asset Management managing director Ankur Gupta said that the real estate sector had almost shut down for any kind of capital flows before 2005.
9:55 AM: Gupta also said that, with a stable government at the Centre, investment in the sector are likely to grow multi-fold in the next few years.
9:50 AM: Gupta said investments in the sector totalled around $4 billion in 2018. About 60% of this investment went towards the commercial real estate segment, he said.
9:45 AM: Mosaic Digital chief business officer Shalil Gupta, in his opening address, said that the real estate sector has changed tremendously in recent years.