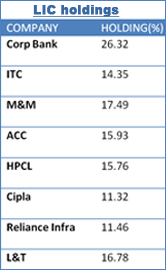 Even though the Indian insurance regulator IRDA came up with an amendment restricting Life Insurance Corporation (LIC)'s stake in companies upto 10 per cent, the country's biggest institutional investor may not need to offload equity stakes that it holds in blue chip firms. However, it would need to limit its exposure in all firms in the future so that it does not hold more than 10 percent in them from now on.
On the other hand, it means that the blue chips such as ITC, Ranbaxy, L&T, ACC, Reliance Infra and Cipla among others need not worry about a significant liquidity coming into their share. But the restriction means bad news for equity market in general as it would limit LIC's exposure in firms in general.
According to a report in The Economic Times, the insurance regulator may tweak recently-announced investment norms for insurance companies. The finance ministry is apparently in talks with insurance regulator IRDA to revise the new norms so that LIC does not need to dilute its current stake in several blue chips.
IRDA had recently issued new norms for insurance companies as per which no insurance company can invest more than 10 percent of its total fund size, or 10 percent of the outstanding shares of the investee company. This move would have hit LIC whose existing exposure in many firms such as L&T, Reliance Infra, MTNL and Ranbaxy already is above the new prescribed limit.
Under the new investment norms, the regulator gave more freedom to private insurers in terms of investment and capped LICs investment in any single firm to only 10 percent of its portfolio against 30 percent earlier.