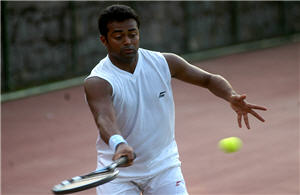 Indian tennis player Leander Paes has landed angel funding for his eponymous sport management and marketing company. The names of the investors are not known nor is the quantum of investment. According to a release issued by Bangalore-based Viedea Capital Advisors, the investment bank which advised Paes on the deal, Leander Sport Pvt. Ltd. has raised its first round of financing from multiple angel investors.
Leander Sport offers sports education services such as content creation, content management & distribution, and sports media properties aimed at the active life style segment.  The company also offers sports infrastructure consulting services ranging from concepts & designs to implementation & facilities management, the release said. Traditional sports management areas such as sponsorship sales, brand licensing and asset management are also a part of the company's services portfolio.
"We expect to do a larger institutional fund raise for the company in 8-12 months to fund growth and expansion", said Uday Disley, Director of Viedea Capital.
Ara Pararajasingham, Director of Leander Sport, said that the company has a strategic tie-up with Maya Entertainment to produce content. As for athletes and sportspersons managed by Leander Sport, Pararajasingham said that they currently manage the Sri Lankan spin bowler Muttiah Muralidaran, Mumbai Indians' batsman, Sanath Jayasuriya, Rahil Gangee of the Asian Golf Tour and Chennai based A1 Grand Prix driver Parthiv Sureshwaran, besides, of course, Leander Paes.
Sports marketing and management firms have been securing funding from venture investors lately. Total Sports Asia (TSA), a sports marketing agency with a pan-India presence, recently raised $15 million in private equity funding from UK's Nectar Capital. TSA owns the media rights to various sporting competitions such as the US Open and badminton tournaments of Badminton World Federation.
Some other companies operating in the sports marketing segment in India are IMG (which helped design Indian Premier League), Globosport, founded by Mahesh Bhupati, and Nimbus.