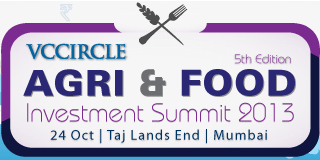 After the huge success of the previous editions, VCCircle is back with the 5th edition of VCCircle Agri & Food Investment Summit 2013, which will be held on October 24 in Mumbai.
Over the last four years, the initiative has elicited participation from more than 120 speakers and 1,000 participants, representing CEOs from India's top agri & food companies as well as leading private equity investors, consultants, investment bankers and government representatives to address the opportunities and challenges faced by sub-categories in the Indian primary sector, in addition to providing investment opportunities to emerging entrepreneurs in the agri space scouting for funds. for more details on the previous year's food & agri agenda.
This year, the summit will cover the changing trends, opportunities and future outlook for the Indian food & agri businesses and its key sub-sectors such as seeds, fertilisers, irrigation, logistics, supply chain, warehousing, processed food, dairy and retail. Topics for discussions will also include what technology integration could do to take farm & food businesses to the next level; innovations taking place in the agri-oriented domain; how to grab opportunities and tackle challenges in agri-focused areas; how to deal with ever-rising food inflation; the consequences faced by Indian food & agri businesses; and the role played by PE investors in infusing capital into the sector.
'VCCircle Showcase'  will feature five notable agri & food companies which will present their innovations. Representatives of these companies will make presentations on their business, product market opportunity and how they will disrupt existing ecosystem to create value.
The summit will bring together more than 250 top entrepreneurs from the Indian agri & food vertical; institutional, private equity and venture capital investors; investment banks; consultants and government representatives; in addition to serving an opportunistic platform to next big Indian companies in the food & agri vertical space. For more details, .
For registrations, write to: kanika@vccircle.com; 0120-4171111
For sponsorship, write to: vijay@vccircle.com; 
For suggesting agenda/nominating speakers, write to ben@vccircle.com.