In what may help meet India's demand for the precious metal, Jharkhand is all set to become the second state after Chhattisgarh to auction gold deposits, two central government officials told VCCircle requesting anonymity.
Following the auction of India's first gold mine in Chhattisgarh in February, the eastern state will soon auction two mineral deposits each of gold and copper for which notice inviting tenders (NITs) will be issued shortly, said one of the officials.
Anil Aggarwal-owned Vedanta Resources won the first gold mine auction for Baghmara in Chhattisgarh last month.
India, along with China, was the mainstay of the gold market in 2015. India's total demand for gold jewellery, bars and coins increased by 6% year-on-year to 233.2 tonnes in the fourth quarter of calendar year 2015, according to World Gold Council's demand trends for 2015.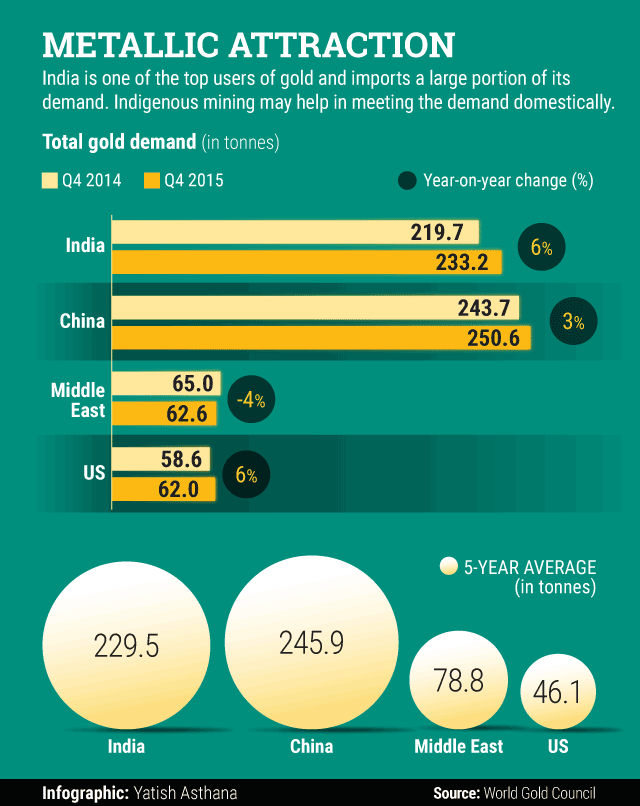 India has gold deposits spread across several states including Andhra Pradesh, Chhattisgarh, Jharkhand, Karnataka, Kerela, Madhya Pradesh, Tamil Nadu and Rajasthan.
On 11 March, officials from the Union mines ministry and Jharkhand government prepared a blueprint for auctioning of these mines, officials quoted above said.
The Bharatiya Janata Party-led government is credited with setting up a template for natural resource allocation in India through coal block auctions which is now being followed for other minerals.
"Among the gold mines which are to be auctioned include Parasi and Pahadia gold deposits and NITs for the same are expected between 15 April and 20 April," confirmed S.P. Negi, director-mines, government of Jharkhand.
Jharkhand has already auctioned two limestone mines through electronic platform under the Mines and Minerals (Development and Regulation) Amendment Act, 2015 (MMDR). The Act allows auction of mines bearing minerals such as iron ore, bauxite, among others, excluding coal and lignite.
In an attempt to attract participation in mining auctions to be conducted by various states including Jharkhand, the National Democratic Alliance earlier this month notified rules that will allow transfer of such leases, in the event of ownership changing hands. While the MMDR was notified last year, the Mineral Concession Rules that would have allowed states to award mining lease through auctions were pending.
Negi, who also is the special secretary in Jharkhand government's mines and geology department, added that transaction adviser Mecon Ltd will shortly submit the tender document.
For the Pahadia gold block, it will be a repeat tender as few miners showed interest when the first bids were called in January. The block has an estimated gold reserve of 1.162 million tonnes (MT). The Parasi gold mine block has an estimated reserve of 9.92 MT.
The copper mines to be auctioned in the state include North Dhobani and Ramchandra Pahad block, for which notice inviting tender is likely to be issued on 21 March and 7 April, respectively.
Growth and development in the infrastructure, real estate, telecom and electrical industry is further boosting copper demand. As per government figures, total resources of copper ore in the country as on April 2010 was 1,558.46 MT. The size of the Indian copper industry is around 500,000 tonnes, which as percentage of world copper market is only 3%. Hindustan Copper Ltd, the only miner of copper ore in India, produced 356,000 tonnes of ore in December 2015 compared with 277,000 tonnes during the same period last year.
The bids also come in the backdrop of a rout in the resource space with depressed mineral prices.
Experts welcomed the move by the Jharkhand government.
"The commodity prices may not be favourable currently, but miners should ideally consider a long-term view as commodity prices are cyclical in nature. To my mind, if the pricing is right and the mine has quality reserves, players will be interested. The recently concluded gold mine auction in Chhattisgarh had 4 bidders participate in the auction involving over 160 bids," said Kalpana Jain, partner, Deloitte Touche Tohmatsu India LLP, a consultancy firm.
"Given the practical challenges and bureaucracy in our country, I think this is not a bad start. Once few auctions are through, I believe that the number will increase at a much faster pace," Jain added.
A total of six mines have been auctioned in Jharkhand, Odisha and Chattisgarh under MMDR, with the central government set to receive revenues of Rs18,146 crore over a period of 50 years—the term for which the mines are auctioned.
Mining activity has been picking up in India. According to India's Economic Survey 2015-16, the country's mining sector grew by 2.3% in the April-December 2015 period compared with 1.8% growth in the corresponding period in the previous year.
The Jharkhand government is also gearing up to auction emerald and precious stones deposits in East Singhbhum district for which exploration work is being undertaken by the state.
"Work related to Differential Global Positioning System will be awarded shortly for Hariyan Baranmati mine," added Negi.