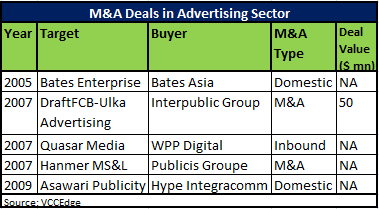 Japanese advertising major Dentsu Inc. has taken over its India joint ventures--Dentsu Communications Pvt. Ltd., Dentsu Marcom Pvt. Ltd and Dentsu Creative Impact Pvt Ltd--by buying the 26% stake held by partner Sandeep Goyal through an entity called Mogae Consultants Pvt Ltd.  
The stake has been reportedly picked up for Rs 240 crore, valuing the seven-year-old firm at nearly Rs 1,000 crore. 
Dentsu has also brought Dentsu Mediatech and Clickstreamers under the Dentsu Communications umbrella with this deal. Goyal will resign from the board of the three advertising agencies and also step down as the chairman of the Dentsu India Group. But he will continue to work with the firm as its Founder Chairman. Tanya Goyal will also resign from the boards of directors and will become a  Principal Advisor to the Dentsu India Group.
Dentsu's clients include Indiabulls, ICICI, Wipro, Acer, Toyota, Honda, Suzuki, Canon, Panasonic, among others. It reportedly had billings of Rs 1,200 crore in 2010.
Goyal formed the joint venture with Dentsu, a more than 100-year old company formed in 1901, 2003. Goyal, a well-known name in the world of media & communication, was earlier Group CEO of Zee Telefilms & is a former President of ad agency Rediffusion DY&R.
According to the December 2010 edition of Advertising Expenditure Forecasts published by ZenithOptimedia, India's advertising market, which grew slightly in 2009 to $4,463 million, is expected to grow 13% in 2010 and 13–15% in 2011–2013, year on year. The total projected market size of $7,548 million in 2013, an increase of 69% when compared to the 2009 figure.
"By making these three companies wholly-owned Dentsu subsidiaries in the rapidly developing and increasingly important Indian market, we aim to enhance our infrastructure to provide the best integrated solutions to our clients in all the business domains," said Yuzuru Kato, the Dentsu Inc. Executive Officer in charge of global business development.