As part of the Atal Innovation Mission, the government is looking to set up tinkering labs in schools, incubation labs at colleges and universities and is offering scale-up support to established incubation centres. Amitabh Kant, chief executive officer at NITI Aayog, spoke to a group of journalists about the government's drive to foster entrepreneurship in the country. Edited excerpts:
Is there a criterion in choosing schools for these tinkering labs?
You can be a government or private school as long as you go through this challenge. Those who want to ignite innovative spirit of students can be found in government schools or private ones. So, anybody can come. Let them compete and win their challenge and we will support whoever wins the challenge. Since we are providing limited amount of resources, we need outstanding companies to do the mentoring. It will be difficult for the government to do the mentoring—we need to institutionalise the system of mentoring in India. Unless young entrepreneurs don't find the right mentors, the start-up movement will not succeed.
Would this be an annual exercise?
We are starting this year with 500 tinkering labs. India has about 135-140 incubators. This year itself, we are going to support close to 100.  
Can you name a few business houses that have agreed to be part of this?
All leading multinational companies in India want to support a movement of this kind. All leading original equipment manufacturers (OEMs) in India—be it Bosch, Cisco, Intel, IBM or Lockheed Martin—want to support this. Lockheed Martin has already done a major initiative in innovation with the department of science and technology. In fact, Lockheed chief executive officer Marillyn Hewson was here recently. It has already created close to $1billion worth of value to the entrepreneurs it has supported.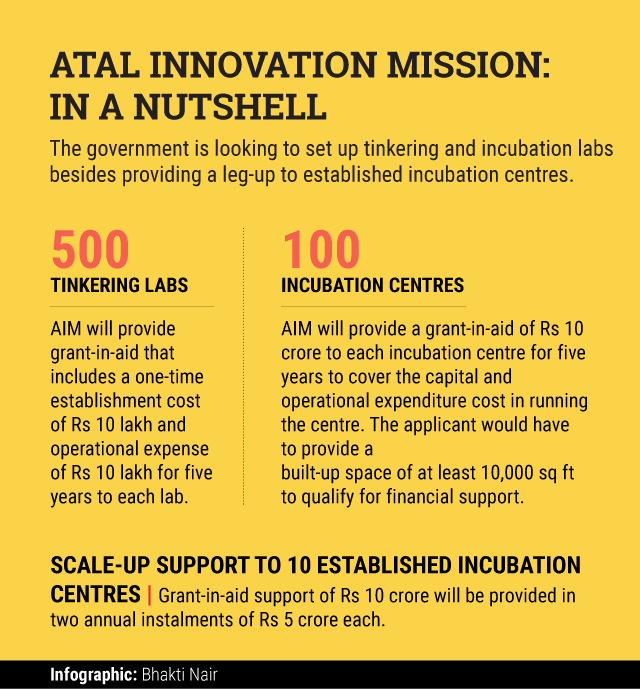 We will find business houses which will do the task of tinkering. Over 25% of the 500 tinkering labs will be set up in government schools—Navodaya Vidyalaya, Sainik Schools, Central Schools, etc—to ensure that people from all walks of life get the experience of innovation.
What has been the response from schools?
It is overwhelming. We are going to set up 500 tinkering labs and have received over 6,000 applications so far.
What is the kind of investment you are looking at for Atal Innovation Mission?
This year, we are looking at 500 tinkering labs for  which we will provide Rs 10 lakh each in terms of capital expenditure and every year, for the next five years, we will support up to Rs 2 lakh each in terms of recurring expenditure. For the incubators, we will support up to Rs 10 crore each. For existing incubators, we want to scale up the best. We will pick up 10 incubators who will be supported.
How much money will be invested by entrepreneurs?  
In the tinkering labs, they would not be putting any money. They will support in terms of mentoring.
Would you want to involve universities too at a later stage?
Three things are done by the government to enhance innovative culture. First, restructuring the educational system in a manner where tinkering labs come in at the school level. Second, building up a vast number of incubators at the college level. Third, ensuring that the IITs (Indian Institutes of Technology) and IIMs (Indian Institutes of Management) have research labs.
Do you expect this to influence the educational system?   
Very little innovation is happening in the educational system. Also, there is very little level of vocationalisation. Students who are innovative and creative often may not be good at a system of studying through books. They may have a very creative spirit—we need to capture that. The Indian system is such that from junior school, we must get into senior school and from senior school into college. At the end of it, you end up with a degree which has no value. So, the challenge is to enable creative students to innovate.
How do you plan to foster competition among startups?
We are creating a sense of competition among schools to win a tinkering lab. We are creating a sense of competition among incubators—we are selecting only 10 of them. Now, for startups, there is already a sense of competition to get business. They are competing to get resources, assistance, angel investors, lending, market share and wherever they are failing, they are going bust. The government doesn't have to bring in competition for them.
Linked to the startup ecosystem is the question of patenting. Applying for a patent is a tiresome process in India…
On the patent side, a lot of work has been done. India has already put in place about 600 patent examiners. Patents take time in India because there is a shortage of staff. By the end of 18 months (from now), India's patent system will be at the same time span as in the US—1,000 examiners are being recruited 600 of whom are already in place. For startups, we have created a fast-track mechanism for patents. A discount of 80% is being given to startups to register patents. We have created a team of lawyers across patent offices to assist startups to get patents. A startup hub has also been created to assist, facilitate and hand-hold the startups.
Of late, foreign direct investment (FDI) in manufacturing has come down. Can schemes like AIM help attract foreign investment?
Of the total FDI coming into the country, 52% is coming into manufacturing. This is a huge number. But, for India to be a great manufacturing nation, you have to be an integral part of the global supply chain across several sectors—whether it is electronics, textiles or auto components. And that is where a lot of measures are being taken.
Countries like Israel and Sweden support innovation at any stage. Have you looked at their models?
We have looked at existing innovative systems and culture across several countries. We have looked at Silicon Valley, Sweden and Israel. One of the best models is Israel which has created a fund of funds which supports venture funds. Starting with just two-three venture funds, Israel went on to build up hundreds and thousands of them. One of the key decisions announced by the prime minister as part of the startup India action plan, is the creation of a Rs 10,000 crore fund of funds, which is run by SIDBI (Small Industries Development Bank of India). The fund of funds is supporting venture funds to do five times their lending. And, that is the reason why startups are able to get funding in India today—not only in technology, but across manufacturing, social sector and agriculture.
Angel fund investments have come down in the last two-three quarters. Is this an inhibiting factor the government has to deal with?
It is not an inhibiting factor. The government's job is to create the right ecosystem, which is what we have tried to do. Last year, director of IIT Mumbai had told me that 37% of the students either joined or created a startup, which means in terms of the ecosystem something is going right. Funds are flowing in. A large number of angel investors are doing due diligence. I don't think angel funding has come down. What might have marginally come down is investment through large investors like Softbank, Tiger, etc. The challenge is to get many more such investors.
Like this Interview? Sign up for our daily newsletter to get our top reports.