Reuters | Credit: Reuters
Under criticism over its protectionist measures for the domestic steel industry, India has deferred the 5% provisional safeguard duty on imports of unwrought aluminium.
Unwrought aluminium is extracted from primary metal or scrap and is imported by India from various countries such as the United Arab Emirates, Malaysia, Russia, South Africa, Oman, Qatar, Bahrain and Thailand.
The duty was recommended on 21 April by the Directorate General of Safeguards which is an arm of the finance ministry. However, the Board of Safeguards in a 29 April meeting decided against it. Once the Directorate General of Safeguards recommends any duty, the Board of Safeguards, chaired by the commerce secretary, reviews it and then the finance ministry levies the duty.
On 21 April, the Directorate General of Safeguards in its preliminary investigation found that aluminium imports have caused financial losses to the domestic industry and had recommended a provisional safeguard duty of 5% on unwrought aluminium imports for a period of 200 days.
Importing countries also have other options, such as introducing anti-dumping duty, to make domestic prices at par. The decision is a setback for domestic aluminium manufacturers such as Vedanta Ltd, Bharat Aluminium Co. Ltd and Hindalco Industries Ltd who had jointly filed an application to initiate safeguard duty investigation into imports of unwrought aluminium into India.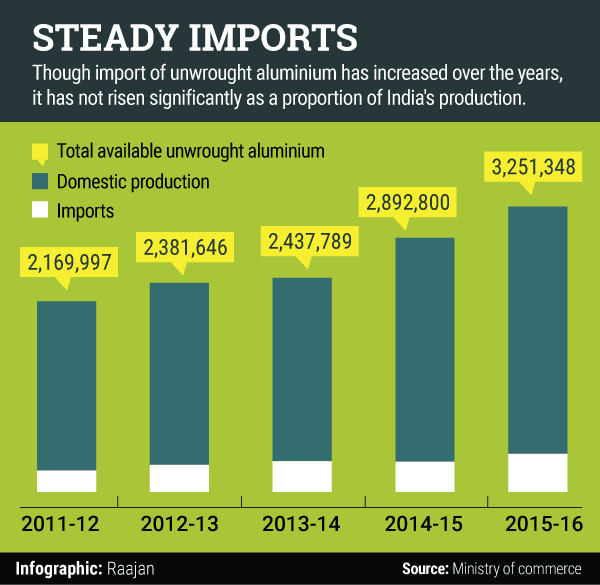 "The Board of Safeguards has decided to defer the 5% provisional safeguard duty on unwrought aluminium. The Board has asked for more data related to surge in imports by various ministries and related stakeholders," said a senior government official present in the meeting requesting anonymity.
According to data available with the ministry of commerce, imports of unwrought aluminium into India has shown a substantial increase from 242,533 tonnes in 2011-12 to 432,370 tonnes till 2015-16, recording an increase of 78% on an annualised basis.
The Directorate General of Safeguards will observe the import and price patterns, and will also watch the London Metal Exchange (LME) prices of aluminium, said another government official, who also did not want to be named. It may then go back to the Board of Safeguards with fresh recommendation.
Aluminium prices on LME have firmed up during the last one month. It peaked from $1,470 per tonne on 28 March to $1,670 per tonne on 30 April.
"The matter of safeguard duty has also been raised by the end-user industry including electrical and semi-conductor makers, which said that the imposition of safeguard duty will make the products costlier for the industry," said the second government official quoted above.
However, aluminium makers believe that capacity utilization of domestic manufacturers is less than 60%.
According to a Vedanta spokesperson, the Indian aluminium industry is going through a tough phase due to a combination of factors such as surging imports, falling prices and increasing costs of production.
"As per our understanding, the Board of Safeguards has asked for more time and will meet again after a couple of weeks," a Vedanta spokesperson said in an emailed response.
Queries emailed to ministries of finance and commerce on 2 May remained unanswered.
Analysts are of the opinion that such safeguard duty may not have much impact on the domestic industry.
"The safeguard duty is likely to provide a modest protection to the domestic companies from cheap imports but unlikely to push up margins significantly," said Mahavir Jain, analyst at India Ratings and Research Pvt. Ltd, adding that Indian metal producers are unlikely to realise the benefit given the structural issues including overcapacity, import pressure and weak demand.
Moreover, industry operators have a high proportion of export sales which will not benefit from the imposition of safeguard duty, said Jain.