India, the world's fastest growing economy, is going to be the top FDI destination, stated a survey conducted by tax consultancy giant EY (formerly Ernst & Young).
"Business leaders find India's macroeconomic and political stability, FDI policy and ease of doing business more attractive in 2015, compared with EY's 2014 India attractiveness survey," it said.
The report, which is a big endorsement of Prime Minister Narendra Modi's flagship programmes like Make in India, Digital India and Smart Cities, stated that 32 per cent of more than 500 respondents to the attractiveness survey ranked India as the premier destination for FDI with 60 per cent ranking it as one of the top three investment destinations.
While the report cited China as the main competitor for India, it noted that India may face tough competition from Brazil, Vietnam and Indonesia. 
The report comes as a reaffirmation after the Global Competitiveness Report released just a fortnight ago by World Economic Forum had moved India 16 places up from last year.
"The results of the EY's 2015 India attractiveness survey are a strong endorsement of the Indian growth story and the policy initiatives of the government," said S Jaishankar, foreign secretary, ministry of external affairs.
India has already emerged as the top FDI destination with the country attracting $30.8 billion across of investment in the first half of the year, the report said with a major chunk flowing into manufacturing.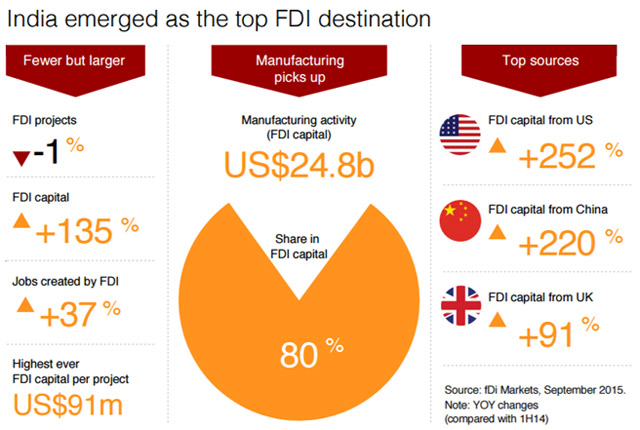 Make in India gets a thumbs-up
While most respondents to the survey stated that ongoing economic reforms are increasing opportunities for them to develop their companies profitably in India; 82 per cent highlighted low labour costs as a very or fairly attractive feature of the economy with over three quarters looking at macroeconomic stability and political stability as attractive measures.
Manufacturing was the big draw in the survey with over 55 per cent respondents recognising that they had heard about Make in India and 69 per cent of those willing to invest in manufacturing in the next five years.
Of the 428 companies surveyed by EY, 62 per cent were considering entering or increasing existing operations in India over the next year. While most of the respondents believed that the government had worked towards ensuring a better environment for business, it would need to work in areas of infrastructure, enhance ease of doing business and transparency, streamline taxation, implement economic reforms and simplify labour laws to attract more capital.
A better tomorrow
The report by tax consultancy giant highlighted a growing optimism not just for the economy but for the country's manufacturing base also with 37 per cent looking at India among the top three growing economies in 2020 compared with 29 per cent in 2014.
"While the speed of India's economic reforms may vary, the direction is firmly set toward higher growth," EY said.