Infrastructure is being increasingly recognised as the most demanded asset class for investments. IDFC Project Equity Company Ltd has raised $900 million for project equity investments in the Indian infrastructure sector. MK Sinha, President and CEO of IDFC Project Equity, told VC Circle that they are in talks with several investors and plan to close the fund soon. "We have a hard cap of $1.25 billion and we are engaging with a few investors right now. We will close at $1-1.25 billion," said Sinha. The fund has already invested $80 million in several undisclosed projects.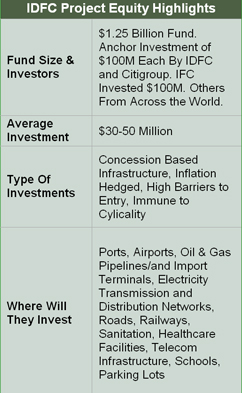 The sponsors of the fund are IDFC and Citigroup, which have an anchor investments of $100 million each. The $1.25 billion fund is a part of the $5 billion India Infrastructure Fund. The rest of the amount will be raised over the next 5-10 years. "The rest of the amount could be mezzanine, or could be trust or debt, or even equity," said Sinha, who worked with GE Commercial Finance for 10 years before joining IDFC Project Equity.
IDFC Project Equity has attracted interest from investors around the world. Its investors are from US, Canada, Europe, Japan and a bunch of Middle Eastern investors. The fund has also raised $100 million from World Bank's arm International Finance Corporation.
Project equity is usually restricted to investment in a project of a company. These projects usually have very predictable earnings and therefore equity returns and investments in projects are usually have quality, low risk earnings.
IDFC also has an active private equity arm, which has recently closed its third fund at $700 million. Citing the difference between project and private equity Sinha said that the former focusses on core infrastructure assets while the latter is focussed on growth. "We invest in infrastructure assets and buy into cash flows rather than growth," he explained.
Where Are They Looking To Invest
IDFC Project Equity's average investment size will be $30-50 million and they plan to pick up stake according to the project. They are also willing to acquire a 100% stake. They are looking to invest in sub-sectors such as energy and utilities, transport and telecommunications infrastructure, among others. "These are concession based infrastructure, inflation hedged, high barriers to entry and typically monopolistic in characteristic investments," said Sinha. These investments will give equity like returns in 10-15 years.
IDFC Project Equity does not plan to invest infrastructure enablers. They plan to invest in assets that are steady and not in commodity or cyclical businesses. "We will not invest in equipment manufacturers or technology services providers who will grow or go bust in the next five years," he said.
Infrastructure Story Fundamentally Strong
Infrastructure in India offers a very compelling story to investors even in the wake of the global credit crunch."Fundamentals have not changed right now, though they are one of caution but I think fundamentally it is a sound opportunity for a fund like ours and our investors," said Sinha. "We are an infrastructure deficit country that is going to grow at a substantial pace, if not 10% then 6-8%," he added.
It has been estimated by the Deepak Parekh committee that India would need infra investment of $475 billion in the next 5 years. Most recently, the Finance Ministry has further liberalised the external commercial borrowing policy for investments in the infrastructure sector.
In an attempt to provide boost to the sector,infrastructure companies can avail themselves of borrowings of up to $500 million a year, as against the existing limit of $100 million, for rupee expenditure under the approval route.To improve India's infrastructure, a large amount of investment needs to be injected which presents significant opportunities to private investors, both domestic and foreign.
Infrastructure Funds Splash In India
Among other global funds, Morgan Stanley Global Infrastructure Partners has also appointed their man, Gautam Bhandari on ground to make investments across the infrastructure value chain in India. JPMorgan & Chase Co., has set up a $2 billion fund to invest in Indian infrastructure projects such as roads, ports and power.
Global buyout fund Kohlberg Kravis Roberts & Co (KKR), which recently decided to list on the NYSE, said it is considering investing in infrastructure sector in India and China. Goldman Sachs is raising a targeted $7.5 billion fund and will look at investing in India. As for India specific funds, IDFC has already raised its theird fund at $700 million fund. Some banks like IndusInd and Kotak have also announced infrastrucutre funds.
Macquarie Capital Group Ltd. and State Bank of India are co-raising a $2 billion infrastructure fund, while 3i Group of UK has already raised a $1.2 billion fund.