ICICI Securities Ltd, one of India's largest equity houses, has formally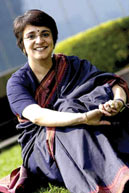 launched a team within its private equity practice that will focus on smaller fundraising plans of early stage growth firms. The six-member team is based in Mumbai and headed by ICICI Securities Senior Vice President President Gopa Kumar.  
It will focus on fundraising deals in the bracket of $5-$15 million and has already clinched pilot transactions.
Gopa Kumar's PE team marks I-Sec's foray into the sub-$10 million deal making, a plan that has been strongly backed by the financial services firm's MD & Chief Executive Madhabi Puri Buch. In an earlier interview to VCCircle in May this year, Ms Buch had said, the firm was was creating a team that will help the small and medium sized entreprises and startups access growth capital.
India's early stage fundraising market is fragmented and remains underserviced. The below-$15 million space constitutes a majority of transactions in the Indian private equity space in terms of number of deals. Till date in 2010, there were 148 deals worth $964 million in the under $15 million bracket, according to VCCEdge, which is the research arm of VCCircle. Total number of deals this year till date stood at 278, of which 38 deals were undisclosed.
"While we are looking at under $10 million transactions, I would say the broader fundraising bracket for us would be between $5 million and $15 million. We are hoping to hit an annual rate of 12-15 transactions with an average deal size of around $8 million," Gopa Kumar told VCCircle. He was earlier President & CEO of ICICI Securities US subsidiary in New York.
The team was carved out in the middle of this year and will have only one office in Mumbai. It will tap into ICICI group's client base as well as the increasing number of small and medium sized private equity funds operating in the country. In fact, the country's expanding base of ultra HNIs has been showing strong interest in alternate investment assets in recent times, with other domestic financial services firms like Kotak Mahindra Bank also leveraging on them for smaller debt as well equity deals.
I-Sec will be sourcing the early stage growth capital deals through a network of independent associates, including local private wealth managers and financial advisors. These advisors and associates will perform the first level of due diligence before logging them on to the I-Sec network.
The potential remains underplayed as there is a surging demand for early stage capital riding on the back of buoyant economic expansion. Also, advising companies at the early stages of growth capital funding can help the investment bank build long term clients, who can be provided the bouquet of services from ICICI Securities.
For instance, A2Z Maintenance & Engineering Services Limited, who I-Sec advised private equity funding from India Equity Partners and Beacon India Private Equity, has also appointed the i-bank as the co-book running lead managers on its pending IPO.
Ms Buch said in the earlier interview: "In the prevailing climate, we see the funds becoming risk-averse and there is increasing HNI participation. There is increasing interest even though I would not like to comment more at this stage, as it is still early days." I-Sec will have data room and research back up to enable the HNIs perform their due diligence ahead of potential investments.