In a landmark deal in Indian pharmaceutical space, two of the top three home-grown companies Sun Pharmaceutical Industries Ltd and Ranbaxy Laboratories Ltd are going to merge to create a new entity. Dr Reddy's would remain the second-largest Indian pharma company by consolidated revenues.
The deal would strengthen Sun Pharma's position as the world's fifth-largest generic pharma company and create the top local drugmaker by sales within India.
The resulting company will be the top player in as many 13 specialty segments with strong over-the-counter (OTC) business within India.
It would also create the top Indian pharma company in the US, the world's largest drug market, with over $2 billion in sales and pipeline of 184 ANDAs (Abbreviated New Drug Applications) including high-value FTFs and will be the top player in generic dermatology business and the third-largest in branded segment.
Geographic spread & global position
The key synergy would come from the geographic spread of the businesses of the two companies. While Sun Pharma currently draws close to two-thirds of its total sales from the US, Ranbaxy generates half of its business from rest-of-the-world (ROW) or markets outside India and the US. Ranbaxy has been facing serious issue in the US which has affected its growth there.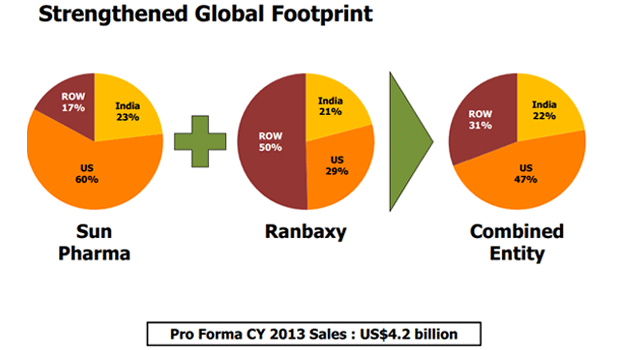 As a result the deal is complementary for both and derisks the business model for Sun Pharma, in particular with a better global spread of business.
Sun Pharma is already world's fifth largest generic drugmaker. However, Hospira, Sanofi and Aspen are close behind it. The deal would bring together world's fifth- and ninth- largest generic pharma companies, making Sun Pharma a stronger player at the fifth slot behind Teva, Sandoz, Actavis and Mylan. It would need to be more aggressive to catch up to Mylan which would still be around 33 per cent larger in size.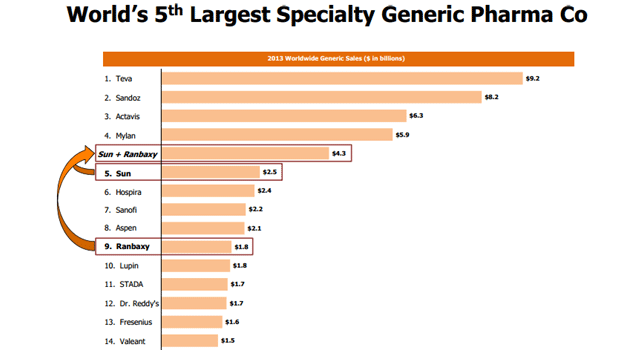 Lupin, which is the 10th largest generic firm, will move one slot up with Ranbaxy merging with Sun and Dr Reddy's along with STADA will occupy the 10th slot. This means as many as three of the top 10 generic drugmakers globally will be from India.
The merged entity will have global footprint across 55 markets and will have leadership position in key emerging markets like Russia, Romania, South Africa, Brazil and Malaysia.
What's more, the combined entity will be approaching $1 billion sales in high-growth emerging markets.
Clear dominance locally
Meanwhile in the domestic market, Sun-Ranbaxy combine will overtake Abbott to become the top seller of medicines within India. Abbott had become the largest seller of medicines locally after it acquired Piramal's domestic formulations unit.
Sun-Ranbaxy will have a combined market share of 9.2 per cent. In a highly fragmented industry this would still mark a significant margin from the number two player Abbott, which will have 6.5 per cent share. The new entity will be much bigger than other home-grown players like Cipla, Cadila, Lupin and Mankind Pharma among others.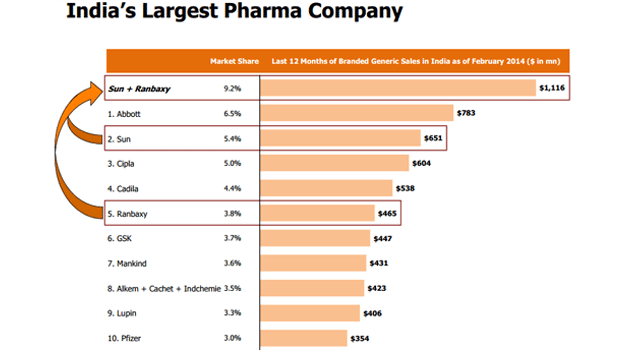 The combined entity would be the top player in disciplines like psychiatry, neurology, cardiology, orthopaedics, ophthalmology, gastroenterology, nephrology, diabetology, dermatology and urology among others.
This could be an area of concern when it comes to getting approval from the Competition Commission of India (CCI). Although the overall market share is not big enough in a fragmented industry to create a roadblock, the dominance of one company in so many critical care areas could come under intense scrutiny of CCI.
The combined entity will have 31 brands of top 300 in the country or one every 10 top selling products and will be in leadership positions in chronic therapy and acute, hospital and OTC businesses.
Financial muscle
The combined business would have revenues of nearly $4.2 billion in pro forma sales and approximately $1.2 billion in pro forma EBITDA for the 12 months ended December 31, 2013.
The company believes it would be cash EPS accretive within first 12 months of close and would generate $250 million of revenue and operational synergies by the third year or 2017.
(Edited by Joby Puthuparampil Johnson)