Merger and acquisition activity in India is set to increase in the next few years thanks to consolidation in some sectors and asset sales by debt-laden companies, according to a report by multinational law firm Baker McKenzie and economic advisory firm Oxford Economics.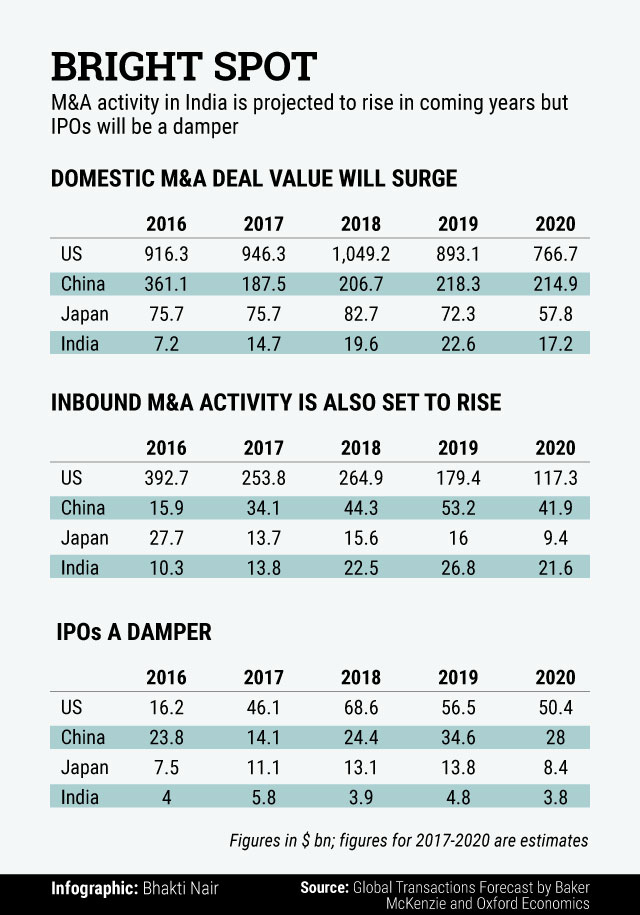 The report predicts that the M&A deal value in India will grow every year until 2019 before tapering off a tad.
Ashok Lalwani, global head of Baker McKenzie's India practice, said in a statement, that sectors that are directly linked to the consumption story – financials, consumer, healthcare, Internet and real estate – will likely see good momentum for M&A deals.
Meanwhile, the domestic market for initial public offerings is estimated to touch $5.8 billion in 2017, before falling to $3.8 billion in 2020, the report said.
The report carries predictions regarding M&A and IPO activity for 37 countries. It considered nine variables such as trade-to-GDP ratio, stock prices and money supply-to-GDP ratio for its estimates.
While M&A and IPO activity in India is projected to rise, the country still has a lot of ground to cover when it comes to becoming an attractive destination for deal-making.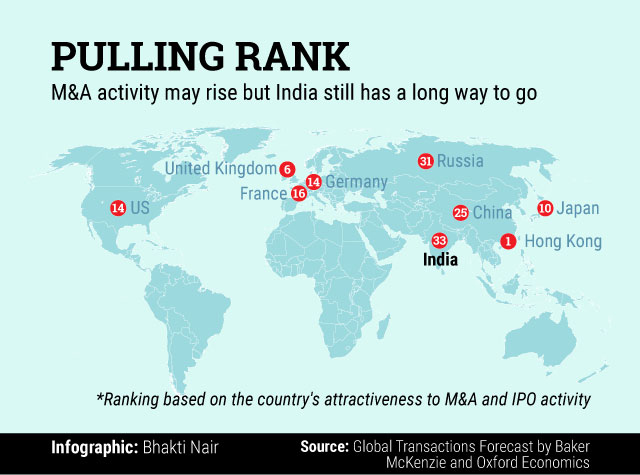 The report ranks India at a lowly 33 in terms of the transaction attractiveness indicator, a ranking based on a country's attractiveness to M&A and IPO activity. The ranking takes into account 10 indicators, including the size of the stock market and the economy, political stability and sovereign credit risk.