Food-tech startup FreshMenu has broken into the top-five club of online food-ordering companies in India, thanks to an impressive increase in revenues during financial year 2015-16 and its belief in the cloud-kitchen model that has stood it in good stead.
Owned and operated by FoodVista India Pvt. Ltd, FreshMenu posted a gross income of Rs 34.4 crore in FY16 compared to Rs 1.3 crore in the previous financial year, filings with the Registrar of Companies show. (Revenues for FY15, however, are only for a six-month period, beginning its launch in October 2014.)
The two-and-a-half-year-old startup now sits pretty at the fourth position in the table, with total revenues at Rs 31.7 crore in FY16, up from Rs 84 lakh in the previous financial year. However, FreshMenu's losses widened from Rs 2.31 crore in FY15 to Rs 33.8 crore in FY16.
While Zomato leads the pack with Rs 185 crore in revenue, quick-service restaurant (QSR) chain and online food delivery company Faasos is a distant second with Rs 62 crore. Rocket Internet-backed food delivery service Foodpanda India claims the third spot with Rs 37.8 crore. Food-delivery company Swiggy is ranked fifth with total revenues of about Rs 23.6 crore.
(Note that Zomato has announced its FY17 numbers—it posted a revenue of Rs 316 crore for 2016-17. However, we took FY16 figures for the sake of uniformity in comparison.)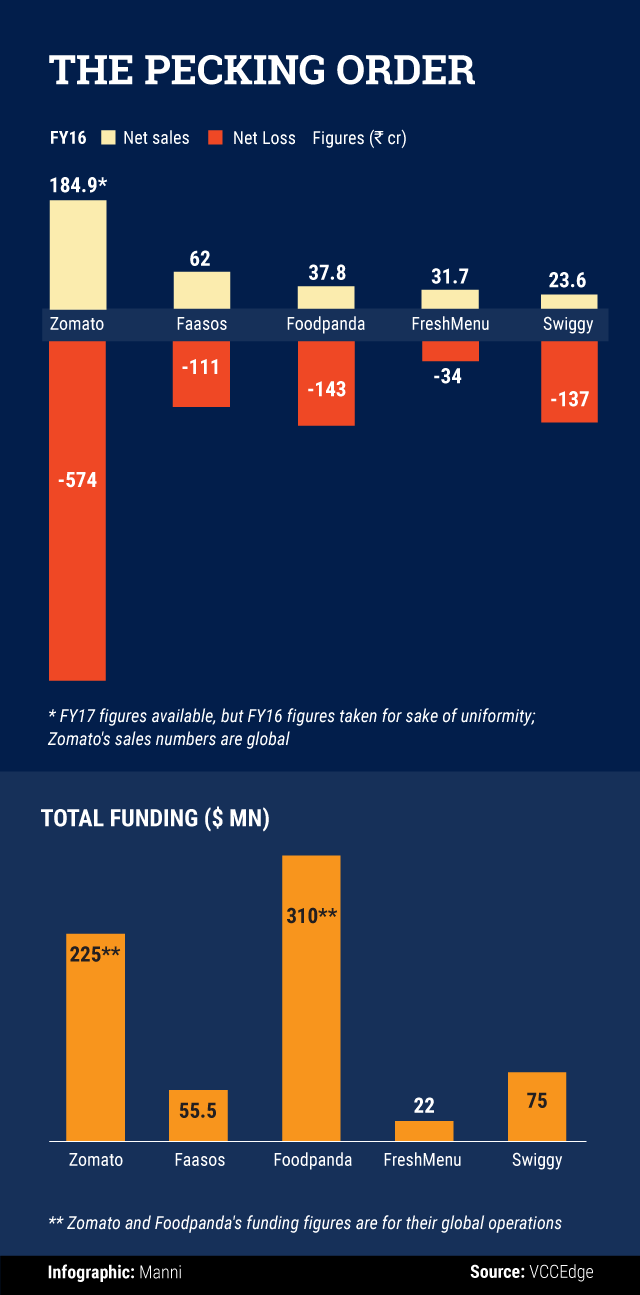 Founded in 2014 by Indian Institute of Management-Ahmedabad alumna Rashmi Daga, FreshMenu prepares meals and delivers from its own kitchen facilities. It has so far raised around $22 million from investors including Zodius Technology Fund, Lightspeed Venture Partners and GrowthStory.
FreshMenu got a fix on the cloud kitchen model much before most other food-tech startups, and stuck to it. The concept is still relatively new, and is loosely used to address a number of models in the food-tech space. That said, it can be broadly identified as mini-kitchens that cater only to online food delivery and do not offer dine-in or take-out. This can include full-stack models such as FreshMenu or HolaChef, or single/centralised kitchens where chefs from partner restaurants come together and use the facility. Food delivery startups Zomato and Swiggy are setting up cloud kitchens with the latter model. With Zomato Infrastructure Services and The Bowl Company, respectively, they plan to offer centralised cloud kitchens for partner restaurants.
Rashmi Daga, founder and CEO, FreshMenu

"We are core believers of the cloud-kitchen model and it's working for us. It allows us to have a grip on quality and cost, which helps us meet unit economics"
"With Zomato Infrastructure Services, we will work with current restaurant business owners to expand their business to more locations without incurring any fixed cost," its founder Deepinder Goyal had said in a blog post recently.
According to a recent report in The Times of India, Swiggy, too, has ventured into the segment with functional kitchens called The Bowl Company, in select areas in Bangalore. It is looking to collaborate with popular restaurants to offer them access to localities where they don't have a physical presence. Swiggy manages lead-generation, payment and delivery of orders for its partner restaurants, the report said.
The hybrid model of QSR-cum-online food delivery, which is followed by the likes of Faasos and Brekkie, is also loosely grouped under the cloud kitchen umbrella.
The food-tech industry has seen the emergence of a number of cloud kitchens of late, including Yumist, HolaChef, Petoo, Twigly, InnerChef, Bhukkad, and HelloCurry. While many of them raised multiple funding rounds from venture capital firms, a few like Yumist were forced to trim operations. Some of the earlier ventures, like cricketer Robin Uthappa-backed iTiffin and SAIF Partners-funded SpoonJoy, shut down.
"It's hard to say what worked for us and what didn't for others. Our focus has always been on the product, quality and service. We are core believers of the cloud-kitchen model and its working for us. As a food company, we need to own the complete process, everything including operations, quality and the supply chain. It allows us to have a grip on the quality, reach and cost which ultimately helps us meet the unit economics," said Rashmi Daga, who is also FreshMenu's CEO.
The company has overtaken its peers in a short span of time. HolaChef, its nearest rival in the cloud-kitchen segment, registered net sales of about Rs 11 crore in FY16 while competitor InnerChef's total revenue from operations stood at Rs 2.2 crore.
Says Suman Dabas, associate director at management consultancy firm Technopak Advisors: "In cloud kitchen, the key is to focus on unit economics and customer retention. FreshMenu has end-to-end control and well-defined processes, including choosing ingredients; offering a limited, but changing menu; a well-established supplier base; innovative packaging; and an in-house delivery unit."
Dabas feels the startup's hub-and-spoke model (a centralised kitchen and mini-kitchens across the city) reduces travel time, ensures better food quality and lowers logistic costs. "FreshMenu has done well with such a well-defined set of processes," he adds.
Daga said the Bangalore-based company was working on multi-fold expansion plans, with a focus on building more depth in the cities it operates in: Bangalore, Mumbai and Delhi-NCR. It is looking to cover more areas, introduce more categories and connect with more customers.
"We want to create growth in each of the cities before going to new locations. We would expand to more cities towards the end of this year, starting with Chennai," she adds.
Food-technology startups were the darling of investors until mid-2015, attracting millions of dollars in funding. Flush with cash, they expanded rapidly and burnt cash on marketing in pursuit of customers and market share. However, the honeymoon phase got over soon and the reality began to sink in.
Flawed business models and lack of innovative revenue strategies took a toll on many a food-tech startup, which had pined their hopes almost entirely on external funding. With margins in the business being wafer-thin, several funded players turned focus towards controlling costs. Some shut shop while others either tweaked their business, paused operations or reduced staff count.
Despite the inclement weather, India' online food delivery market grew 150% in 2016 to an estimated gross merchandise volume of $300 million, reveals a study by research and advisory firm RedSeer Consulting. (The sector includes aggregators, food-ordering platforms, delivery-only players, proprietary meal sellers and cloud kitchens.)
Startups in the sector can be broadly categorised into three business models. The first set comprises ventures such as Zomato, which provide a software-only marketplace to restaurants. The second group includes hyper-local food delivery services like Foodpanda and Swiggy, which bring in traffic and manage the logistics. Zomato has also ventured into food delivery of late. Finally, there are full-stack food businesses like FreshMenu and Yumist, which prepare food in-house and have their own delivery fleet.
The pure restaurant aggregation model seems to be fizzling out, with players, including Zomato, starting in-house delivery services. For marketplaces and delivery partners, the average transaction size in India is still small and the commission they get on each order is rather thin. As a result, revenue often falls way short of customer acquisition cost.
With a commission that varies from 5% to 15% of order value, the players are often forced to increase delivery charges and introduce surge pricing during peak hours. Besides, the flow of orders is not uniform throughout the day, which impacts the productivity of delivery executives. All this makes it tough for these companies to get their unit economics right.
Moreover, it's difficult for such marketplaces to build a strong brand image for themselves as they cannot control the quality of the food or quicken the pace of delivery.