The consumer Internet industry will always have scope for consolidation and there will be no room for a No. 3 player in the market. The observation by SoftBank Group's $100-billion Vision Fund head Rajeev Misra may well shape the group's India strategy – it may look to realign its portfolio, comprising rivals such as Flipkart and Paytm, or Ola and Uber, in which it may soon be acquiring a stake.
Though Misra did not spell out SoftBank's India strategy explicitly during an interaction with The Times of India and the group's financial daily, The Economic Times, he left enough hints on where the group's preferences lie.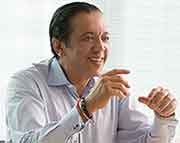 "Whether we do it (consolidate the market) or not, consolidation is a part of human evolution. In internet, the winner takes all. You have to emerge as the winner or merge with the winner. There is no room for a No. 3. Look at mature markets like China and the US, some do not even have a No. 2 player."
Flipkart and OYO
Misra said the Vision Fund has pumped in close to $5 billion in India over the past 12 months, including big-ticket investments in Paytm, OYO and Flipkart, and a small top-up in Ola. The follow-up plan is to take hotel-rooms aggregator OYO to global markets, including London and Tokyo. "OYO does not exist as a model anywhere in the world. So, we are taking it global as it can make more money in those markets than the whole of Indian market."
Given that Flipkart is in a two-player competition now, the fund's objective is to help the company acquire a bigger market share. "They have certain niche areas where they are strong, such as Myntra's apparel business, which we will protect. The objective with Flipkart is very simple: we want to have a 70% market share in India. Period. The message is to build the last mile, build some logistics, and build the brand," Misra told ET.
Uber Interest
Acknowledging that SoftBank is interested in buying a substantial stake in Uber, he said the group has got into an exclusivity agreement with the cab aggregator to buy secondary shares. SoftBank is also clear about how to tackle conflicting interests of two competing companies. "There will be short-term conflict, but long-term benefits. We own more than 30% in Ola and we may own a much lower stake in Uber. We have owned the stake in Ola since 2014 and it does send conflicting signals. But we are hoping that we make peace between them at some point."
Emerging sectors
According to Misra, the $100-billion fund is also looking at investment opportunities in large sectors such as financial services, including lending and insurance, besides digital healthcare and construction.