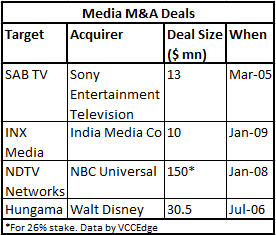 HomeShop 18, a TV shopping channel from the Network 18 stable, is worth over $100 million. The Indian home shopping channel has raised $18.5 million from South Korea's GS Home Shopping, the world's third largest network, for a 15% stake.
The Network18 Group subsidiary will also see an investment of $5 million from the parent, which will retain 51% majority stake in the firm on a full diluted basis, the company said, in a release. It is understood that BMR Advisors advised HomeShop 18 on the transaction.
The strategic partnership happened at a time when STAR CJ Network India, a 50:50 joint venture between News Corp owned STAR India and another Korean company, CJ Home Shopping, is set to foray in the Indian market. Speaking about the competition, Sundeep Malhotra, CEO, HomeShop 18 stated that they always have the first mover advantage in the market and competition will bring in lot more credibility and acceptance for this domain. "It is not a threat at all, rather it will only help us grow better," said Malhotra.
He added that GS Home Shopping has brought in lot of domain expertise in the company. HomeShop18 will leverage the opportunity in deploying technology, IT infrastructure, to bring in bigger brands in portfolio and establishing its relationship with its global sales force.
HomeShop 18, like most TV-based shopping formats globally, earns 15-20% commission income, according to a media tracker. HomeShop18 has reported revenues of nearly Rs 20 crore for first two quarters of FY09. Its gross sales crossed Rs 45 crore in the quarter ending September 2009 with commission income doubling on a year on year (YoY) basis while transactions grew by 87% on YoY basis.
HomeShop18, a 24X7 television channel that sells a vast range from slimming belts to electronics and sports goods, reaches out to 1.5 million consumers across 2,700 cities in India. With 350 brands and over 20,000 products on offer, HomeShop18 says, it clocks around Rs 1-crore sales per day and gets a new customer every 12 minutes.
In its earlier fund-raising rounds, HomeShop18 raised $10 million from SAIF Partners in the first round and, in July 2008, it raised another $21 million (SAIF Partners contributed $16 million and the balance came from Capital18).
For the Korean TV shopping major, the deal would mean a toehold into the fast-growing Indian retail market. TV is being seen as an important platform for selling goods particularly in tier II and III Indian cities where these channels reach out.
The company is not looking for overseas foray at this stage. HomeShop18 is focusing on expansion within India, enhancing its product portfolio and offer value added services to its customers.