A private equity fund managed by Goldman Sachs is in an advanced stage of discussions to invest $200-250 million in Essel Highways, the road infrastructure arm of media tycoon Subhash Chandra-controlled Essel group.
The deal, if it goes through, will be Goldman Sachs' first investment in the Indian roads sector and could be one of the biggest PE transactions in the segment, The Economic Times reported citing sources.
The transaction would be a structured financing arrangement between Essel Group and the Wall Street firm, which has made significant investments in real estate, renewable energy and hospitality in India.
Essel Highways has 14 road assets including 10 operational ones. It has an order book of close to Rs 11,000 crore, its website showed.
Cleartrip raises funding from existing investors
Online travel services firm Cleartrip Pvt Ltd has raised an undisclosed amount in a fresh round of funding from existing investors US-based Concur Technologies and Gund Investment, among others, Mint reported citing a senior company executive.
The company has raised $75 million so far. It last raised funding in February-March in an internal round from some existing investors including Concur and Gund, said Samyukth Sridharan, president and chief operating officer.
Cleartrip competes with heavily funded, Nasdaq-listed MakeMyTrip and Goibibo, which is backed by South African media company Naspers Group. The two companies are spending heavily on their hotel and packages business to acquire customers, the report said.
BTI Payments to raise about $37 mn from PE funds
Bangalore-based BTI Payments Pvt. Ltd, an automated teller machine (ATM) management and payment services company, plans to raise about Rs 250 crore from private equity firms as it looks to augment its so-called white label ATM business, Mint reported.
It has also hired a domestic bank which has initiated discussions with PE firms for the investment, the report said, adding that the company is looking to raise fund completely from new investors.
BTI Payments, which is backed by ICICI Venture, started the white label ATM business in 2013. White label ATMs are non-bank cash machines operated by private companies that essentially operate as outsourcing partners of banks.
YES Bank appoints Goldman Sachs to raise up to $1 bn
Private-sector lender YES Bank Ltd has appointed Goldman Sachs Group Inc. as the lead banker to raise as much as $1 billion through a qualified institutional placement (QIP) offer.
"They will be hiring more (investment) banks, most likely the same set that was there the last time the bank did a QIP," Mint reported citing sources privy to the development.
In June 2014, the bank had raised $500 million (Rs 2,900 crore) through a QIP. The lender had then hired Deutsche Bank AG, HSBC Holdings Plc, Motilal Oswal Securities Ltd, JM Financial Ltd, UBS AG and Goldman Sachs for the fundraising.
Meanwhile, YES Bank managing director and chief executive officer Rana Kapoor said that the proposed QIP will result in a stake dilution of a 12-13.5% stake.
Vistara aims to fly overseas over the next 18-24 months
Vistara, the joint venture between Tata group and Singapore Airlines, is looking to review its plans to fly overseas after the government eased a rule that restricted domestic airlines from starting international flights, Business Standard reported.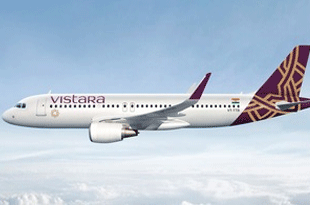 The government recently changed the controversial 5/20 rule, which specified that airlines must have at least five of years of domestic flying experience and a fleet of 20 aircraft before they could start international operations. The new rule has done away with the five-year condition.
At present, Vistara has a fleet of 11 aircraft. This will touch 20 by June 2018, the airline's chief executive Phee Teik Yeoh said in the report, adding that the airline was  "seriously thinking" of advancing its plans.
The number of new aircraft that Vistara inducts will depend on routes and the frequencies it gets on them, the report said.
Kellogg Co to invest $100 mn in venture fund
US-based Kellogg Co, the world's largest cereal maker, is looking to invest approximately $100 million in a venture fund named Eighteen94 Capital, it said in a statement, according to a Mint report.
The company, which is struggling with slumping US cereal sales, will look to take minority stakes in startups developing new packaging, ingredients, products and technology.
"By investing directly in the most promising entrepreneurs and ventures, we can increase greatly our access to game-changing ideas and trends that could become significant sources of growth for us," Gary Pilnick, vice chairman of Battle Creek, Michigan- based Kellogg, said.
With the move, Kellogg has joined packaged-food rivals General Mills Inc.--known as 301 Inc--and Campbell Soup Co. in turning to venture funds to cope with a changing industry scenario.
The US-based company operates in India through its local unit Kellogg India.
Like this report? Sign up for our daily newsletter to get our top reports.