Kishore Biyani is consolidating the fashion retailing business of the group under a new listed entity in a move aimed to reduce debt load on flagship Pantaloon Retail India and unlock value. Pantaloon Retail and Future Ventures, the two public listed group firms, will demerge their fashion businesses into Future Lifestyle Fashions Ltd.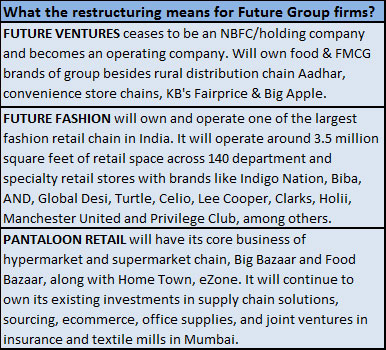 After this deal, manufacturing, sourcing, distribution and retail business of Central, Brand Factory, aLL and Planet Sports formats will be demerged out of Pantaloon Retail to Future Lifestyle Fashions. At the same time, manufacturing, sourcing, distribution and retail business of Indus League, Lee Cooper, Celio, Holii, Indus Tree and strategic investments in AND, Biba and Turtle will move from Future Ventures to Future Lifestyle Fashions.
Future Venture, the investment firm of the group modelled after Warren Buffet's Berkshire Hathway, will house food and FMCG business, while Pantaloon Retail will retain the hypermarket business. With this, Future Ventures will also cease to be an NBFC.
The deal "creates financing flexibility for each of the companies by enhancing their ability to attract partners and investors and raise and deploy capital according to their business requirements," said Future Group.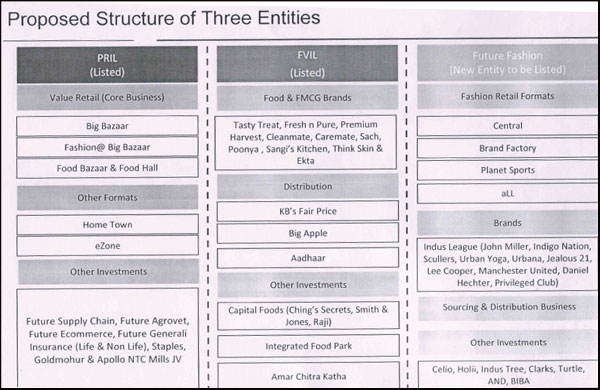 The shareholding of Pantaloon and Future Venture will remain the same after the transaction. Shareholders of Pantaloon, which include Mount Kellett Capital and ICICI Venture, will hold 49.8 per cent in Future Lifestyle Fashions, while Future Ventures shareholders will have 30.5 per cent. The remaining 19.7 per cent stake in Future Lifestyle Fashions will be held by Pantaloon as a corporate entity.
The deal would help Pantaloon Retail deleverage its balance sheet by Rs 1,226 crore by transferring that debt to Future Lifestyle Fashions. After the transaction, Pantaloon's debt burden would stand around Rs 2,500 crore mark.
The shares of Pantaloon Retail fell by 2.17 per cent to Rs 198, while Future Ventures scrip hit a new high before closing at Rs 10, up 1.01 per cent on Monday.
The exchange ratio for the transaction is one share of Future Lifestyle Fashions for every three equity/DVR shares of Pantaloon and 31 equity shares of Future Ventures. The face value of Future Venture shares will be Rs 6 as against Rs 10 after the demerger.
"This consolidation will help create the base for the next phase of growth of the Future Group in modern retail. We grew multiple formats in the early stages of our growth, and now as each one of them has become sizeable, we are giving them independence to propel their growth. This is in continuation with the business realignment exercise we embarked on last year," said Kishore Biyani, Group CEO, Future Group.
In another development, Future Ventures also appointed Fredric de Mevius as an additional director. Mevius is the founder and managing director Verlinvest SA, a Belgian family office which holds stakes in Anheuser-Busch and French liquor maker Rémy Cointreau. The appointment comes after reports last month stated that Verlinvest has picked up 10 per cent stake in Future Ventures.
(Edited by Prem Udayabhanu)