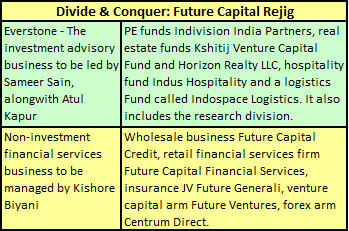 In a major restructuring exercise, Future Capital Holdings (FCH) is being carved into two separate lines of businesses with private equity business being spun off as Everstone Capital and all non-investing businesses such as insurance, retail financial services and wholesale credit being grouped under FCH. The latter will also hold Future Ventures India, a venture capital business floated by Pantaloon Retail to invest in businesses where Future Group has strategic interests.
The rejig would also involve management changes as the investment businesses would be directly run and controlled by Sameer Sain and his team, while the non-investing financial businesses would be managed and controlled by Kishore Biyani. The restructuring, however, does not involve any change in the ownership, sources close to the development
told VCCircle.
What is key is FCH will see the addition of Future Generali, the insurance JV between Pantaloon Retail and Italy's Generali, and Future Ventures to its portfolio of businesses, which is a significant development. The publicly held FCH will also control an operating
entity which will manage the distribution interests of Centrum Direct, the forex business, Centrum Wealth Management and retail and wholesale distribution arms.
As part of the rejig, Sameer Sain will step down as CEO of FCH and will remain as vice chairman and a passive shareholder, while FCH will appoint a new CEO to run the business, who will be directly supervised by Future Group chairman Kishore Biyani, sources added.
The interests that will be transferred from FCH to Everstone will be Indivision India Partners, a $425 million fund which was launched in 2006, and also the real estate funds such as Kshitij Venture Capital Fund, Horizon Realty LLC, Indus Hotel Ventures, and Indospace Logistics Partners. It would also move the research division headed by Roopa Purushothaman, former Goldman Sachs economist, to Everstone Capital. Her new calling card would don the designation of Head of Research, Everstone Capital.
Along with Sameer Sain, Atul Kapur, Chief Investment Officer and Founding Partner, also remains a large shareholder in Everstone Capital, which is actually the name of the Mauritius registered general partnership (GP) that owns the PE funds. Kishore Biyani will
remain a passive investor in Everstone Capital.
"Investors in the asset management business want it to be seen as an independent entity, not as part of a corporate group (Future Group)," sources told VCCircle. This will help the private equity business raise capital from external sources and also in managing  investments where Future Group has competing business interests.
The restructuring between Sain and Biyani is believed to be amicable.
FCH was listed in early 2008, and as of September this year Sain continues to be the second largest shareholder with a 13.42% stake. Biyani and Pantaloon hold a combined stake of 61%.
The restructuring has been in works for a while. In a statement made earlier to the exchanges, FCH said it is amalgamating the credit business division, Future Capital Credit, with retail financial services Future Capital Financial Services.