The sellside typically presents India either as a land of unlimited investment opportunities or as a country in the grip of a downward spiral. Against the backdrop of the latter line of thought being the zeitgeist, we attack four popular myths regarding India: (1) India is in the midst of a 'structural' slowdown, (2) India's macroeconomic woes emanate from inadequate savings, (3) Wage growth across the country has slowed drastically, and (4) India's GDP growth is the primary driver of equity returns.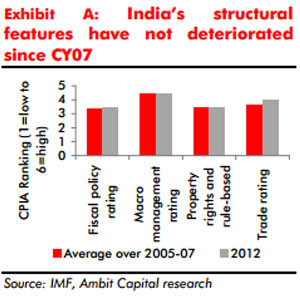 Myth #1: India is in the midst of a 'structural' slowdown
The key challenge facing India today (in line with other EMs) is a 'cyclical' economic downturn after a long period of above-trend growth. An objective analysis by the IMF of India's positioning on structural economic parameters suggests that India has broadly maintained its positioning over the last six years (Source: the World Bank's Country Policy & Institutional Assessment - see Exhibit A). The key variable that has changed vs the pre-CY07 era is that the global business cycle has turned downwards, thereby affecting a host of Indian macro variables even though the structural features of the Indian economy, for better and for worse, remain intact.
Myth #2: India's macro woes emanate from inadequate savings
India's per capita income (PCI) was at US$1,491 in CY12 and gross national savings ratio was at 30%. History suggests that an average EM's savings ratio is typically only 22% at PCI levels similar to India. This statistic in turn points to the significantly higher propensity of Indians to save than other EM peers.
More than inadequate savings, India's core problem is that nearly 64% of India's savings are in the form of physical assets (i.e. gold and real estate).
India's disproportionately high demand for gold is a structural problem, but the problem has not become worse in recent years, as is evident from the fact that the average gold imports to current account deficit ratio in India was at 61% in FY13 vs 229% recorded over FY05-07.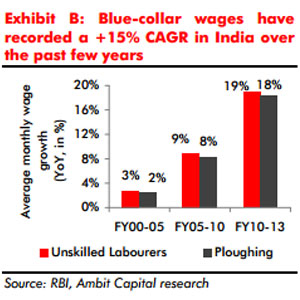 Myth #3: Wage growth across the Indian labour market has crashed
The white-collar labour market in India is clearly plagued by low wage inflation and deficient labour demand, but the blue-collar labour market has in fact experienced record levels of wage growth over the past few years (see Exhibit B) due to: (a) a strong wave of reverse migration; and (b) rising demand for education in the lowest income deciles of the labour market.
Myth #4: India's GDP growth is the primary driver of equity returns
Our Strategist, Gaurav Mehta, highlights that cross-country evidence lends no support to the proposition that GDP growth and equity returns are positively related (see Exhibit C). Theoretically, there ought to be no correlation between the two variables simply because the microeconomic analogue of GDP is sales and not corporate profits.
(Saurabh Mukherjea is the head of Equities and Ritika Mankar Mukherjee is analyst at Ambit capital.)