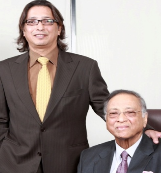 Former NRI co-promoters of lighting products maker Halonix (earlier known as Phoenix Lamps), who sold their stake to Actis four years back in one of the rare PE buyouts in the country, are now looking to strike it rich in the sunrise sector of solar energy.
Hulas Rahul Gupta along with his father Bhushan Kumar Gupta (in pic), who are promoters of Indosolar, a company that is into solar photovoltaic cells business, are looking to raise Rs 400 crore through a public issue for their two-year-old firm.
The firm is also eyeing a pre-IPO deal worth Rs 125 crore which may reduce the net issue to the public.
Assuming that the promoters (along with promoter group) who currently own almost the entire share capital of Indosolar, would like to retain majority holding, the company could be looking at a valuation of at least Rs 800 crore.
The actual valuation, that would become clear once more details are available, is likely to be much higher. If the promoters are diluting just 10% (minimum required for listing) stake they could be eyeing a valuation of Rs 4,000 crore and if they are bringing their holding to 75% then they could be eyeing a valuation of around Rs 1,600 crore.
Indosolar started work on a plant in Greater Noida to make solar PV cells in January'08 and commenced commercial production in July'09. It currently has a capacity of 80 MW and is setting up capacity for another 80 MW that is expected to be operational by March'10. It has plans to ramp up capacity to 260 MW by 2011 with a third line of manufacturing having a capacity of 100 MW, partly funded by the cash raised from the IPO.
Till December'09, it had sold cells and modules of 3.36 MW with contract value of Rs 21.52 crore. As of end 2009, it had an order book size of Rs 474.8 crore with five clients for delivery of cells of 73 MW. Early this month, it entered into another contract with a French customer to deliver cells of 5 MW worth Rs 31.52 crore.
For the six months ended September'09, it had net income of Rs 17.32 crore with net loss of Rs 15.47 crore. Its total accumulated losses till September end was Rs 29.9 crore.
One of the large players in the business is Moser Baer's photo-voltaic cells unit that has already raised around $200 million through two rounds of PE investments. The last deal (in September 2008) valued this business at over $1.4 billion much above the parent firm Moser Baer which is into low-margin business of optical media storage such as DVD and CD besides entertainment. Moser Baer's market cap is around Rs 1,500 crore.
Websol Energy Systems, the only pure PV cells company that is listed on the stock exchange, has a much more modest valuation with market cap of just Rs 320 crore. Websol had net revenues of Rs 139 crore for the year ended March'09 with net profit of Rs 10.5 crore.
This implies the business is not yet captured fully by the stock market even as PE firms have placed huge bets in valuation of Moser Baer PV cells business. It is to be seen how much equity dilution is Indosolar going for which could determine whether investors would like to punt on the long term potential of solar energy.