Dheeraj Jain, managing partner at London-based investment firm Redcliffe Capital, and former Snapdeal product head Anand Chandrasekaran were among India's top angel investors this year by number of deals they disclosed.
Both investors have backed more companies this year than last. Jain closed 23 deals in 2016 versus eight in 2015, and Chandrasekaran added 20 companies to his portfolio this year compared with 15 last year.
Jain says the team behind the startup is one of the primary qualifiers for making an investment. "Then I go deeper into the product/service and underlying product-market fit. I want to see good traction and validation at various fronts before making the decision. I always think of how I will exit from an investment at a later stage," he added.
Jain's 2016 investments include Shaadisaga, LifCare and inFeedo. Chandrasekaran backed companies such as Makkajai, ToneTag and NoBroker, to name a few.
Besides Jain and Chandrasekaran, the other angel investors that made it to the top 10 list this year are FreeCharge founder and chairman Kunal Shah, Tata Sons interim chairman Ratan Tata, and People Group founder and chief executive Anupam Mittal. They funded 19, 17 and 15 companies, respectively, according to VCCEdge, the data research platform of VCCircle. This data is collated as per the reported deals and may have missed the deals that went unreported.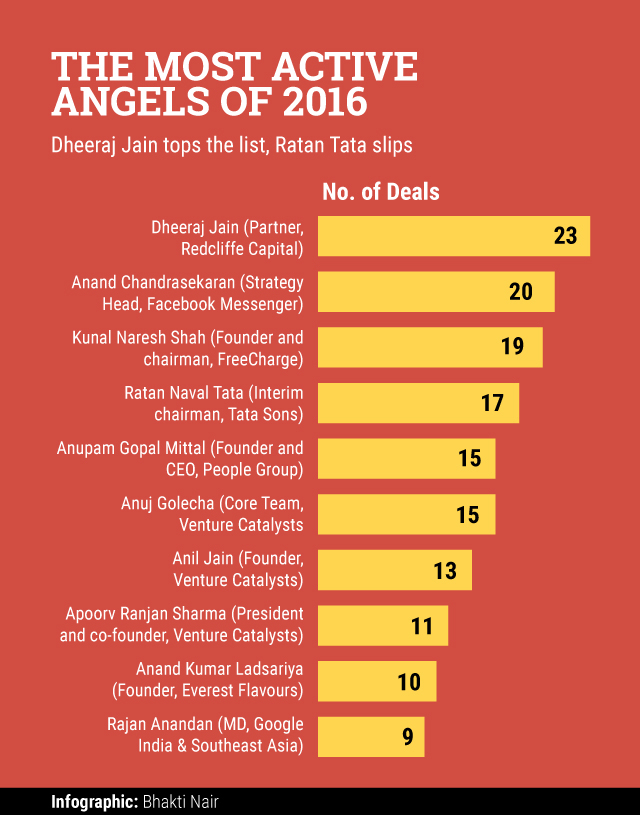 Of the 10 angels listed here, eight are entrepreneurs.
Last year, Tata; TV Mohandas Pai, chairman of Manipal Global Education and former CFO and HR head of Infosys; and Kunal Bahl, Snapdeal's co-founder and chief executive, topped the list of most active angel investors.
Overall, the number of angel and seed deals has come down from 872 in 2015 to 694 this year, according to data compiled by VCCEdge.
This year, September saw the lowest number of angel deals at 40. However, this changed in October, as angel deals for the month rose to 64 with a value of $67.29 million. The year has seen a drop in venture capital investments but angel/seed deals have increased.
The Securities and Exchange Board of India last month eased norms for angel investments. It raised the upper limit for the number of angel investors in a scheme to 200 from 49 and halved the minimum investment threshold to Rs 25 lakh, among other measures.