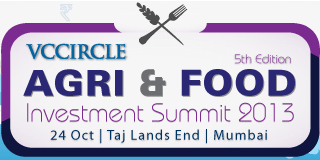 With a positive monsoon, the country is expected to see a bumper year for the agriculture sector. Though, this would add to the investment opportunities in the sector, the food and agricultural sector poses numerous challenges for investors and entrepreneurs alike. The 250 plus strong gathering at the VCCircle Agriculture and Food Investment Summit 2013 in Mumbai deliberated on the opportunities and critical issues associated with the sector at large. Here's a quick recap with five takeaways of the event.
Need to build scale in food processing companies
"Companies in the food processing sector are either too big or too early stage. There are not decent scale companies in this sector to invest in. There is a huge opportunity to have food processing companies in spices and other commodities," said Sanjay Sacheti, country manager, Olam Agro India Ltd.
This issue affects both vegetables as well as fruits.
"We need to be a (food) processing based economy. We process only 5 per cent of our fruits, while US does 95 per cent. Banks, government and processing companies need to come together and bring this change," according to Rajeev S Samant, founder and CEO of Nashik Vinters which runs Sula Vineyards.
Maximum investment flows to consumer-facing companies
Most investments are happening in consumer facing products and there is very low investor backing for firms at the back end, according to panellists at the event.
Quick service restaurants (QSRs), branded commodities like basmati rice, etc are seeing traction. Even wine, cosmetics that are based on herbs are seeing traction. But the businesses that actually connect farmers to factories are seeing low investments.
Over the last few years, investors have started taking warehousing and cold logistics companies seriously, which deal directly with farmers and capital has been infused in companies like Star Agri Warehousing and Collateral Management, Shree Shubham Logistics, etc.
Exit opportunities need to open up in food & agri
Nandini Chopra, partner at KPMG corporate finance, says that though the number of investments in the food and agri segment has increased in volumes, there have not been many successful exits. The companies which raised funding in 2006-07 are now not mature enough for exit, according to her.
"There is a mismatch between the exit timeline set by investors and the maturity of companies," she said.
On the other hand, investors expect an exit after five to six years. This is a huge gap. She added that most M&As are happening through strategic sales.
Namit Arora, director, Standard Chartered Private Equity, said, "If the promoter agrees to be open to a strategic sale at the time of exit, it is definitely a value add for the investor."
Time to bring back regional and local products to mainstream
There is a lot of investment opportunity in regional food segment, according to Murali Krishnan of Nilgiri Dairy Farm.
There are products like aamras and jaljeera, which companies like Hector Beverages are bringing back to mainstream and such business models attract investors. Investors feel that there is great opportunity in such segments.
"There is a lot of familiarity that consumers have with these products. We are investing in a lot of research in these products," says Neeraj Kakkar, CEO, Hector Beverages.
Dittoes Aditya Bagri, vice president, marketing and group director at Bagrrys India Ltd, said, "The breakfast (food) market is Rs 600 crore and 60 per cent is dominated by cornflakes. However, we are innovating heavily in other segments like Oats etc. These are traditional cereals and we feel they can go mainstream and are growing faster."
Political influence and government regulation biggest barriers to the sector
"We would ideally like to invest in segments that do not have any political influence and pricing regulation by the government," said Namit Arora from StanChart PE.
However, these barriers are particularly strong in the food and agriculture industry due to its association with farmers, who form a big vote bank.
"We need to have 10 to 12 licences before making a warehouse operational. There is a 15-year pay-back period while building a warehouse," said Aditya Bafna, executive director, Shree Shubham Logistics Ltd. He said land acquisition remains to be the biggest challenge for such companies.
(Edited by Joby Puthuparampil Johnson)