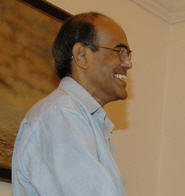 In an unexpected move, India has appointed its Finance Secretary D Subbarao as the Governor of Reserve Bank of India. Rao will succeed YV Reddy, who is retiring on September 5. This move has surprised many central bank watchers as it was expected that an RBI insider might bag the top job.
Deputy Governor Rakesh Mohan was a hot favourite for the governor's job, but he has lot out in the race. Mohan is a career economist while Subbarao is a member of India's elite Indian Administrative Service (1972 batch) like his predecessor Reddy. Mohan is said to be heading to World Bank in some capacity.
Surprisingly, Subbarao, 59, is a rank newcomer to thecentral bank while Reddy was appointed to the top job only after he spent many years as deputy governor.
Subbarao is taking over the top job when India's inflation is ruling at higher levels and also when the interest rates have moved up to stratospheric levels. It's likely Subbarao will continue with Reddy's hawkish policy for sometime now since it's an election year.
Subbarao is a graduate in engineering from Indian Institute of Technology, masters in Economics from Ohio State University and was a Humphrey Fellow at the Massachussetts Institute of Technology. He has also done stints as an economist in World Bank between 1999 and 2004 on issue of public finance in Africa and East Asia.
Subbarao took over as Finance Secretary from Ashok Jha on April 30, 2007.