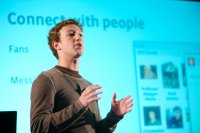 Ever since the story of Goldman Sachs and Digital Sky Technologies (DST) investments in Facebook hit the media, estimates about the company's valuations have been doing the rounds. Facebook confirms the facts today.
The company announced it has raised $1.5 billion at a valuation of approximately $50 billion. A media release issued by Facebook further adds that Goldman Sachs completed an oversubscribed offering to its non-U.S. clients in a fund that invested $1 billion in Facebook Class A common stock. Last month, DST, Goldman Sachs and funds managed by Goldman Sachs, had invested $500 million in Facebook Class A common stock at the same valuation.
"Our business continues to perform well, and we are pleased to be able to bolster our cash position with this new financing," said David Ebersman, Facebook's chief financial officer. "With this investment completed, we now have greater financial flexibility to explore whatever opportunities lie ahead."
A closer look at Facebook's announcement
It was DST and Goldman Sachs who approached Facebook, expressing their interest to invest, says the release. Incase you were wondering. Facebook did not go looking for funding. The money came to them.
The offering was oversubscribed. Facebook made a business decision to limit the offering to $1bn. Under the transaction's terms, Facebook had the option to accept between $375 million and $1.5 billion from the Goldman Sachs overseas offering, at its discretion.
The company is reticent about its reactions to Goldman not offering its US clients a buy-in as promised, even after hand-delivering prospectuses and signing non-disclosure agreements.
There are no immediate plans what Facebook will do with the funds it has just received, claims the release. Okay, sure, Facebook is not going to blow up a billion bucks tomorrow, but we can safely assume the company has very specific ideas what $1.5 bn will do. Facebook will continue investing to build and expand its operations, adds the release.
Does this investment mean that Facebook will have more than 500 shareholders? Of course, silly. Plus Facebook says it had known all along that its number of shareholders will pass 500 this year. Even before the investment from Goldman Sachs. Facebook expects to start filing public financial reports no later than April 30, 2012, says the release.
According to the Securities Exchange Act of 1934, companies in US  have to start filing financial statements with the SEC if its number of shareholders exceed 499. All such filings with the SEC are public-domain knowledge. However, Facebook can continue to be a private entity as long as it chooses, even if it has to file its financials with the SEC.
You will not get richer, they will
It is indeed great that a company can be valued at so many times its earnings. It implies fairly high profit margins, and human ingenuity and creativity, and all the warm fuzzy things. It also shows the willingness of investors to bet, and bet big, especially given the current global economic conditions where most bets are off and have been for a while. So what is the catch?
There are quite a few, actually. We had all guessed that Facebook is not going to IPO soon. The company's announcement today confirms what we had been speculating. Facebook's IPO could have provided a much-needed boost to Wall Street and could raise market sentiments and morale, especially as the economy inches its way to a jobless recovery. Assuming the company did go public right now, the average investor could directly trade Facebook stocks, and hopefully get richer in the process. Now, only HNIs get to play.
This does not mean we are not invested in Facebook. Some of the institutional investors trading Facebook stocks, may be insurance companies and companies managing our retirement funds.  It is not just DST money at stake here, it may well be your and my money as well.
Social media is the new dot-com
Facebook's valuation gives it a place among America's richest private companies. Not only that, it gets to sit in the top three table. There is no other dotcom company in the list. This is probably not good news.
Why not? Just to get a perspective, according to Forbes, 145 year old agro-business giant Cargill, is America's largest privately-held company.  In FY 2010, Cargill reported net earnings of $2.6 billion on sales and other revenues of $107.9 billion. Cargill employs 130,500 employees. While the exact valuation of the company is not known, Reuters pegs it at about $55 billion.
Lets take a look at the numbers for Facebook now. The company is not even a decade old. It employs just over 2000 people. Facebook does not yet report its earnings, but according to figures reported in the media, the company earned $355 million in net income, from some $1.2 billion dollars  revenue in the first nine months of 2010. The exact valuation of the company, as announced by Facebook points at a roughly $50 billion price tag.
We can argue that Facebook has stumbled across a very very lucrative line of business that can rake in billions apparently out of nowhere. Those old-economy brick-and-mortar companies, we can say, and nod our happy heads. Like we did about a decade ago. Just before the dot com bubble burst.
Facebook's ONLY source of existence, its user base, is a variable that the company neither owns nor can control. At the end of the day, Facebook is a platform, and a platform only, thriving on user-generated content. It cannot make derivative works of this content and get licensing fees. If its user-base decides to migrate to a bigger, badder platform, Facebook will not have a business anymore.
Time and again, the company has managed to alienate its users, especially given its attitude towards privacy policies. So Diaspora could not yet get its act together. But some college kid, somewhere is already working on something that could make Facebook obsolete.
The emperor has no friends
There are several unanswered questions. Does Zuckerberg have a business continuity plan? Is Facebook diversifying? Into what? Is Zuckerberg betting everything on social networking? What if he is wrong? Among the things the Google guys did, for example, were hire seriously qualified people, and listen to them. Facebook however continues to be only a Mark Zuckerberg production, as it had originally started.
Zuckerberg is Facebook's greatest asset, and the company's greatest threat as well. He is a genius, there is no doubt about it. Visionary, absolutely. Zuckerberg is the poster-boy for meritocracy. If coding is art, and art it is, Zuckerberg is a Picasso. He also happens to be what looks like a fairly isolated and egoistic 26-year old. And 50 billion bucks are riding on his gut-feelings.