Fashion e-commerce firm Yepme, operated by VAS Data Services Pvt. Ltd, has raised Rs 4.5 crore (around $700,000) in bridge funding, documents filed with the Registrar of Companies (RoC) show.
The company raised the capital by issuing optionally convertible debentures to Kolkata-based Rainbow Digital Services Pvt. Ltd and Noida-based ILearnFinance Academy Pvt. Ltd. (Optionally convertible debentures allow holders to convert debt into equity after a specified period.)
Yepme's co-founder and chief executive Vivek Gaur confirmed the development to VCCircle, and added that the company planned to raise an "additional Rs 9.5 crore ($1.48 million) via similar instruments."
A top official from the company told VCCircle on the condition of anonymity that Yepme will raise the said amount by the end of the month.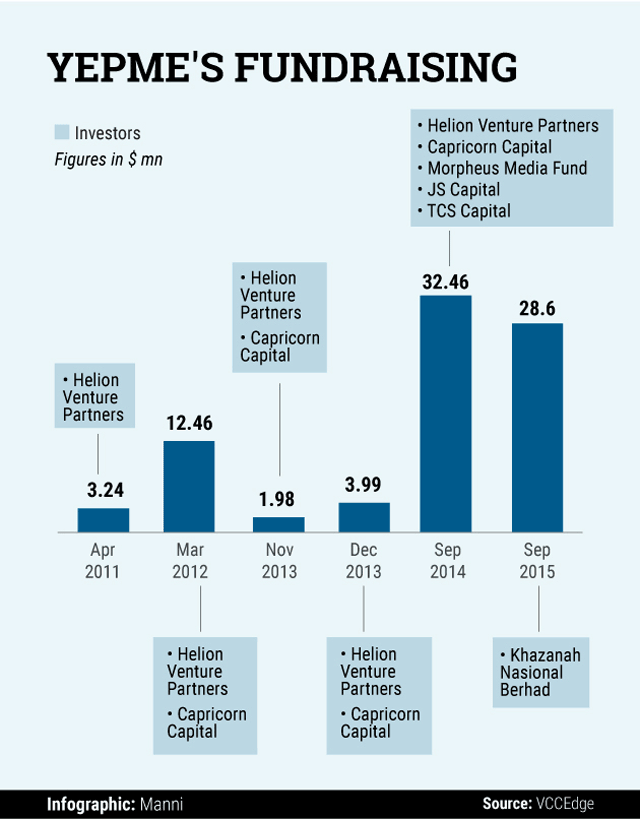 "This bridge round will help the company tide over the current liquidity crunch," the official added.
Yepme has been going through troubled times of late, amid several reports of lay-offs and salary delays. In February, VCCircle had exclusively reported on these issues.
Separately, Gaur said the company was planning to launch 20 franchise stores across India by next month.
In February, Yepme joined e-commerce giant Amazon's global selling programme, under which its fashion products will be sold in key European markets such as the UK, Germany, France, Italy and Spain.
Yepme's last disclosed funding round was in September 2015, when it raised $28.6 million from Malaysia's Khazanah Nasional Berhad, according to data from VCCEdge, VCCircle's data research arm.
Prior to that, it had raised $32.5 million from Helion Venture Partners II LLC, Capricorn Capital Partners and Morpheus Media Fund in September 2014.
The firm was also reportedly in fund-raising talks with Japanese Internet conglomerate SoftBank in January 2015, which seemingly fell through.
Losses at the company have been mounting, with expenditure on the rise. In FY16, VAS Data Services Pvt. Ltd posted net sales of Rs 104.1 crore and a loss of Rs 183.8 crore. In FY15, it registered net sales of Rs 81.4 crore and an annual loss of Rs 106.3 crore, according to filings with the RoC. Total expenditure has risen from Rs 187.9 crore in FY15 to Rs 290.3 crore in FY16.
The company was founded in 2010 by Sandeep Sharma (COO and CTO), Gaur (CEO) and Anand Jadhav. Sharma is an IIM-Bangalore alumnus who had previously worked at Accenture, Sapient and HCL. An IIM-Lucknow alumnus, Gaur had earlier worked at HT Media, Living Media India and Hindustan Unilever. Jadhav is also an IIM-Lucknow alumnus and had previously worked at Omved Lifestyle, Reliance Retail and Infiniti Retail.
Like this report? Sign up for our daily newsletter to get our top reports.