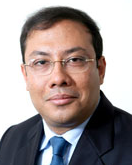 Global investment banking major Goldman Sachs has roped in Sonjoy Chatterjee as a managing director and co-chief executive officer (CEO) for its India business.
Chatterjee has joined the firm alongside L Brooks Entwistle, who is also the MD & CEO of Goldman Sachs India. They will together contribute to the development and expansion of the firm's business in India, said a company statement.
Chatterjee was very recently with ICICI Bank as executive director. He was on the ICICI board since 2007. Prior to that, he was MD & CEO of ICICI Bank UK. At ICICI, he was responsible for corporate & investment banking, government banking and international banking business. He joined ICICI in 1994 in Kolkata and subsequently served at several key positions of the bank during his stay there.
J Michael Evans, chairman, Goldman Sachs, Asia, said, in the statement, "Headed by Brooks Entwistle, our Mumbai team has in four years built an impressive platform and strong position in the Indian market. We look forward to Brooks' continued leadership on the ground in India in partnership with Sonjoy and other members of our senior leadership team."