Designer-turned-entrepreneur-turned-CEO-turned-entrepreneur. That's what the résumé of former Times Internet chief executive and Ant Farm founder Rishi Khiani reads like.
Khiani, who holds a degree from School of the Museum of Fine Arts, Boston, founded UrbanEye Media, a design company, in 1998. He sold it to media group Network18 eight years later, at a time when acquisitions in the space were few and far between. After that, he served as COO of Web18 and CEO of Times Internet, building digital products for these legacy businesses.
Khiani is often credited with turning around Times Internet by relaunching websites economictimes.com, timesofindia.com and Indiatimes, as also a slew of products such as Timesdeal.com (now CouponDunia), Ganaa.com, Zigwheels.com, iDiva and TAN (Times Audience Network).
Clearly, multi-tasking is a skill he has in abundance. And that manifests in the workings of his entrepreneurial venture—startup accelerator Ant Farm that backs ventures in media, e-commerce, and fitness—for which he left Times Internet in 2012.
"People usually shy away from doing multiple things at the same time, but that has worked in my favour. I want to be at the ideation stage where I build the product-market fit, which is my forte," he says.
Ant Farm started with five companies in its fold—online fashion store Stylista, travel discovery platform Arrive, native advertising company Fork Media, education platform Teach Cast and Social Plug. However, as Fork picked up pace, Khiani realised it was prudent to focus on a few businesses rather than spread too thin.
"We wanted a 5/5 success ratio if we did five companies. When we saw some businesses weren't scaling because of lack of focus, we took a step back. We wanted to create businesses that could become market leaders," he adds.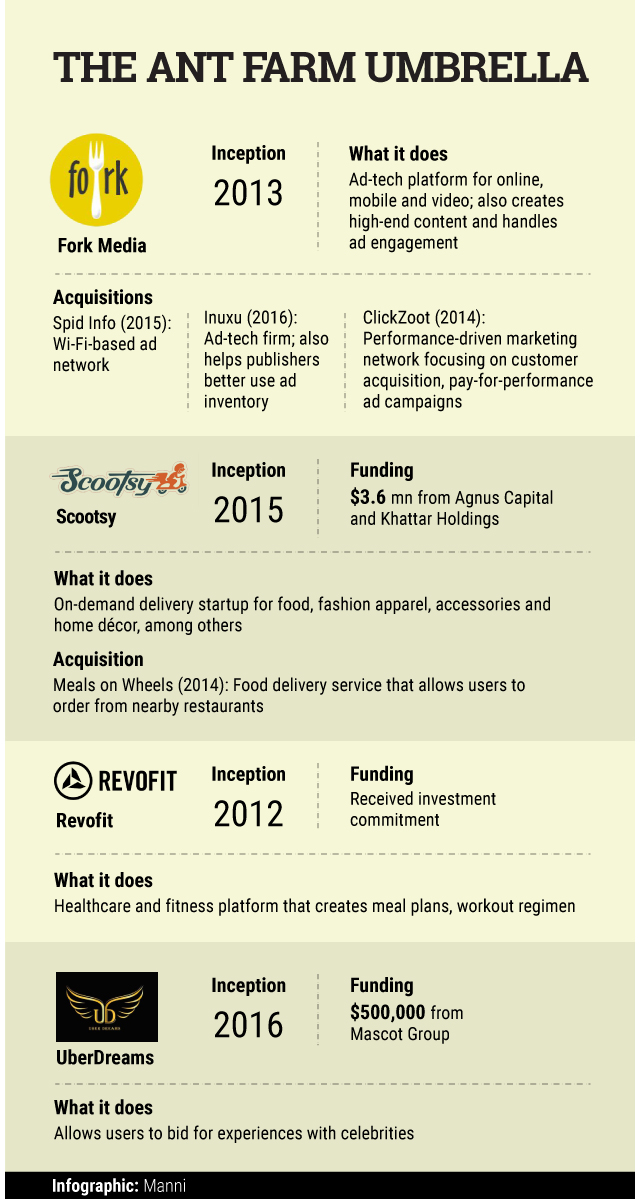 Ant Farm's first business Fork, launched in 2013, has made three acquisitions so far: ad-tech company Inuxu; WiFi-based advertising network Spid Info; and affiliate network ClickZoot. With these buyouts, Fork has consolidated itself as a 360-degree advertising firm.
Featured in Deloitte's list of 50 fastest-growing tech companies in Asia, Fork now has offices in Dubai and Singapore, and it is about to launch one in Indonesia. It is poised to become a leader in the premium advertising space, claims Khiani.
"It was different from traditional business-to-consumer ventures because we knew margins were good and the industry was ripe for disruption. We understood where the dollars were flowing, away from TV advertising to digital," he adds.
With Fork Media already profitable and positioned comfortably, Ant Farm launched Scootsy in 2015. Instead of starting from scratch, Scootsy bought food delivery company Meals on Wheels, so that it could learn from the acquiree's mistakes and understand the hyperlocal game.
However, just before the launch, Scootsy changed tack and switched to a multi-category model. The only thing it carried forward was the relationships it had built with restaurant partners. Scootsy then became an app for "instant gratification", delivering goods from established brands across categories.
"Food is something people are used to getting delivered fast, so there was no behavioural change required there. But there had to be a behavioural change for other categories. We wanted to create a mall in the app, of offline brands that consumers are looking for. Say, you want to shop at Hamleys. It can be delivered through the Scootsy network," Khiani says.
Scootsy claims its average order value is Rs 900, which, Khiani believes, is one of the highest in the country. The brand has grown with its partners, who enjoy higher customer repeat rate, acting as its evangelists. Scootsy claims to make money on every order, as opposed to the wafer-thin margins and negative unit economics of similar startups.
Ant Farm also ventured into the wellness space with Revofit, a holistic healthcare and fitness solution. An offline-online platform, it creates meal plans and workout regimens for users and helps them stick to their fitness goals. Under its offline arm, the company organises corporate wellness programmes with its own brand of organic superfoods. Revofit has received investment commitment as well.
Another company that Ant Farm has incubated is UberDreams, which allows users to bid for experiences with celebrities. The money thus collected goes to associated non-profits and non-governmental organisations. The company received an investment of $500,000 from Mascot Group last year, following which Ant Farm is left with a minority role in it.
One thing common to Ant Farm's ventures, claims Khiani, is that it hasn't resorted to deep-discounting and cash-burning, the route most consumer-facing startups have been taking.
"Unit economics is important for us. We had to ensure sustainability at both Times Group and Web18, and it's similar at Ant Farm. None of our businesses have been built in a way that someone can disrupt it with capital," he asserts.
"We decided we won't do 20 ideas; we will do a few that have the potential to disrupt the market. We are going after sectors where innovation, and not capital, can be a disrupter," Khiani adds.
Khiani did make a few angel investments earlier, such as in logistics aggregator Hipship. However, he is now spending all his time and resources on Ant Farm.
And it seems he has his plate full.