Renewable energy firm Enel Green Power SpA (EGP) has acquired a majority stake in BLP Energy (BLP), the utility scale wind and solar subsidiary of Bharat Light & Power Pvt Ltd, a clean energy company floated by former CEO of GE India, for €30 million ($33.5 million or Rs 221 crore).
EGP, a part of Italian power and gas company Enel spA, did not say if the deal includes fresh infusion of cash or stake purchase from existing shareholders. BLP's parent Bharat Light & Power is backed by private investors.
The deal values BLP at under €60 million ($67 million or Rs 442 crore) that translates into less than Rs 2.5 crore per MW. It comes a month after the firm's chief executive said it is in talks to make an initial investment of €50 million ($55.6 million) to buy a controlling stake in Bharat Light and Power.
With this transaction Enel enters the Indian renewables market, marking the group's first move into the Asia-Pacific region.
BLP owns operating wind plants in the states of Gujarat and Maharashtra that have a total capacity of 172 MW with a total annual production of about 340 GWh. It also has a portfolio of approximately 600 MW of wind projects in different stages of development.
Bulk of the operational wind power capacity came under its fold through a two-year-old acquisition where it bought realtor DLF's 150 MW capacity wind turbine at Kutch in Gujarat for 325.38 crore ($54 million). This deal value was inclusive of equity and debt component. According to its website, it also has interest in the solar power space.
It aims to operate 1 GW of renewable energy projects by 2020.
In addition, the BLP Group through its Orion platform provides monitoring, reporting and predictive intelligence solutions to global utilities through its control centre in Bangalore by leveraging big data, the cloud, mobility and analytics.
The firm had raised a Series A round of funding from early-stage investors Draper Fisher Jurvetson (DFJ) and VenturEast in December 2011. A year later, it also roped in India Infrastructure Development Fund as an investor.
Tejpreet S. Chopra, former CEO of GE India and Bharat Light & Power Group CEO said: "This transaction validates the great team, expertise and pipeline built, and provides us the opportunity to build scale given the huge market opportunity. It brings together the global expertise of EGP and the local market understanding of the BLP Group."
"This acquisition opens the doors for Enel Green Power to the huge potential of the Indian market and is the gateway to further expansion across Asia," said EGP CEO Francesco Venturini. "EGP is also interested in participating through BLP Energy in the country's upcoming public solar tenders at both national and state level," he added.
The transaction, completed in less than one year, is one of the fastest carried out by EGP, the company said.
Enel currently derives 60 per cent of its revenues from Italy and Spain even as it is also focused on the Americas. Before this acquisition it had an installed capacity of 9.9 GW, produced by 739 plants in 16 countries and with a generation mix that includes wind, solar, hydro, geothermal and biomass.
In its 2015-2019 Strategic Plan, EGP had announced its intention to broaden its international footprint by expanding into new markets, including countries in the Asia-Pacific region. Among those, India is well positioned for rapid expansion in the renewable energy industry owing to its high population and economic growth.
The current Indian government has set a target of achieving 100 GW of solar and 60 GW of wind power generation capacity by 2022, up from around 4 GW of solar and about 23 GW of wind today.
Early this month, the Union Cabinet approved National Offshore Wind Energy Policy which paves the way for offshore wind energy development including setting up of offshore wind power projects and research and development activities in waters, in or adjacent to the country, up to the seaward distance of 200 nautical miles (EEZ of country) from the baseline. Offshore wind energy is a major source of power in the developed world, especially Europe.
The government estimates there is a potential of generating 106 GW power through offshore wind source on Gujarat's coastline alone and another 60 GW on Tamil Nadu's coastline.
There have been a slew of deals in the renewable energy space in India this year. In May Pune-based Simran Wind Project Pvt Ltd, a wind energy arm of engineering, procurement and construction services Techno Electric and Engineering Company Ltd, sold 44.45 MW wind power assets in Tamil Nadu for Rs 215 crore (approximately $34 million) to an unnamed buyer. This valued the asset at Rs 4.83 crore per MW, almost twice the value at which Enel is buying stake in BLP.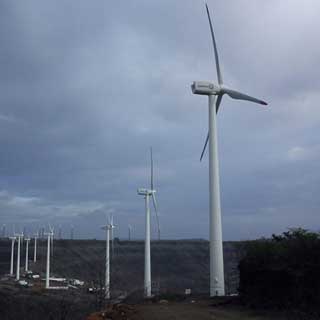 Started in 2009, Continuum Wind Energy owns and operates 242 MW of wind power plants in Maharashtra and Gujarat and has 170 MW of wind power project under construction in Madhya Pradesh. The company has more than 1,000 MW of wind power plants in development across six states in India. It was founded by Arvind Bansal, an investment banker; Vikash Saraf, ex-Essar Group Director; Sukant Gupta, a former Wipro executive; Ashish Swarup, a former executive of Asian Pulp & Paper and former banker Gautam Chopra.
Although the value was not disclosed, given the operating and under-construction assets of the firm, this is the biggest acquisition deal in the renewable energy space in the country to date. It was majority owned by Morgan Stanley Infrastructure Partners, a $4 billion global infrastructure investment fund under Morgan Stanley.
In another development, PE firm Actis created a India-focused wind energy platform under Octro and committed $230 million investment in it.
In June, Japanese internet and telecom major SoftBank Corp joined hands with Taiwan-based design & electronics manufacturing services firm Foxconn Technology Group and Indian business conglomerate Bharti Enterprises Ltd to form a joint venture for producing renewable energy in the country.
The new venture christened SBG Cleantech Ltd envisages an investment of around $20 billion over a period of time.
SoftBank would own a majority stake in the three-way JV while the other two would be minority partners.