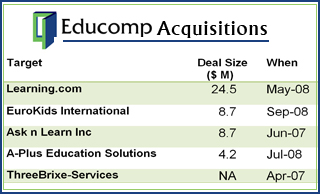 Delhi based Educomp Solutions Ltd has acquired a 50% stake in pre-school educator EuroKids International for $8.7 million (Rs 39 crore). Educomp will infuse more capital into Mumbai-based EuroKids for future expansion of its network. This will be Educomp's third acquisition in since May this year. The agreement with EuroKids also has a provision for Educomp to increase its stake in stages to 74% over a period of time. Both the firms will also expand EuroKids present network of 450 to a 1,000 pre-schools in India.
"Educomp has made a strategic investment in EuroKids to leverage the company's established presence in early child care education. We see immense potential in early child care market in India which is highly underserved," said Shantanu Prakash, Educomp's Managing Director.
Pre-School Market In India
The pre-school sector in India is estimated to have a potential market of over 15,000 organised pre-schools in India and is $1 billion opportunity. There has also been some fund activity in this sector recently. Matrix Partners India has invested $7 million (Rs.30 crores) in pre-school educator Tree House Education.
Some of the other big players in this segment are Delhi-based Mothers Pride, which is spread across Delhi and NCR. Then there is also Shemrock Schools with 90 branches and Kidzee, which is backed by Zee's Subhash Chandra.
This will be Educomp's third acquisition this year. In May this year Educomp has picked up 51% stake in US-based web-delivered curriculum provider Learning.com. Then in July this year it acquired 76% stake in Bangalore-based college finishing school A-Plus Education Solutions Pvt Ltd.
Last year it had acquired Singapore-based education technology firm Ask n Learn for around $4.2 million. Then Educomp also acquired ThreeBrix e-Services, an education infrastructure solutions provider. Educomp has also recently signed two joint ventures with Raffles Education Corp. While India JV is for professional education pursuits, China JV is for K 12 business initiatives.