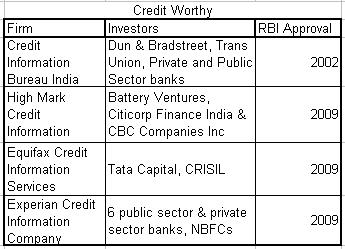 Citicorp Finance India and US-based CBC Companies Inc are both acquiring 10% stake each in credit information company High Mark Credit Information Services Pvt Ltd, VCCircle has learnt. Both investors will invest $1 million (Rs 4.6 crore) each in the Mumbai-based company.
A formal approval for the foreign investment into High Mark is pending with the Foreign Investment Promotion Board of the government.
n
High Mark had earlier this year raised investment from Silicon Valley-based venture fund Battery Ventures who had acquired a 10% equity for a similar value. One of the promoters, Anil Pandya, will also bring in $1 million and hold 10% stake in the company. The deal values High Mark around $10 million at this stage.
n
While Citicorp is part of Citigroup, CBC Companies is a US-based public records research and retrieval company offering information services, solutions and products. CBC owns and operates credit bureaus and offers risk management and marketing services, besides screening solutions, such as employment and resident screening. 
n
The industry was recently opened up for higher foreign direct investment with the government hiking the FDI limit to 49%. However, a single investor group can hold only a maximum of 10% voting rights in a credit information firm. 
n
Credit bureaus collect information such as loan repayment history and bill payment habits of borrowers for the use of credit providers such as banks. A centralised agency that keeps a record of defaults and frauds will help banks and credit card companies analyse the risk profile of individuals before extending credit. This is essential for the growth of the credit industry. The existence of credit bureaus have increased market penetration of credit to more than 66% as a percentage of GDP in the developed markets as compared to 3% for India. This also keeps non-performing loans in check. 
n
According to a release in April 2009 by Reserve Bank of India, there are four credit bureaus who have got central bank's approval to operate in India. The first company to set up shop in India was Credit Information Bureau India (Cibil), which was originally promoted by SBI (40%), HDFC (40%), Dun & Bradstreet Information Services India (10%) and Trans Union International (10%) in 2002. Thereafter, the company inducted more investors including ICICI Bank, HSBC, StanChart, Citicorp, Bank of Baroda, IOB, Sundaram Finance, Bank of India, GE, UBI and PNB. Among them, ICICI Bank, SBI, D&B and Trans Union hold 10% stake each in Cibil. Others own 2.5%-5% each.
n
The other firms got approval only this year, which include, besides High Mark, the US-based Equifax Inc., which has partnered with Tata Capital Ltd and CRISIL Ltd for its India foray. Ireland-headquartered Experian, whose India credit bureau is known as Experian Credit Information Company of India, has also got approval from RBI. It has tied up with six public sector and private sector banks and non-banking finance companies, though the identity of these companies is not known.