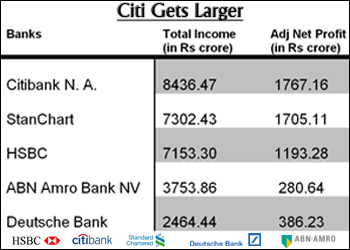 Standard Chartered may still be the largest foreign bank in India given the number of branches, but Citibank has taken the wind out of the British bank in terms of financial performance. Data on foreign banks is not readily available as they are not listed companies but VC Circle fished out some numbers of the last two years.
The numbers speak for themselves. Vikram Pandit led Citibank, which was neck and neck with StanChart in terms of total revenues, has clearly overtaken StanChart as the largest foreign bank in the country during FY08.
Citibank's total income is now 15% more than that of StanChart and last year Citi more than doubled its profits to overtake StanChart as the most profitable foreign bank in the country. Citi in India generated just around two thirds of net profit of that of StanChart in FY07.
Citibank's interest income component is higher compared to the others even as "other income" for both Citi and StanChart rose by about the same $500 million. In fact, HSBC also overtook StanChart in terms of interest income earned last year even though other income ensured StanChart was marginally ahead of HSBC in total income generation.
We also took a look at the financials of five large foreign banks for whom we could get the data -- Citibank, StanChart, HSBC, Deutsche Bank and ABN Amro. The total income of these five banks rose 36% to hit the $7 billion (Rs 29,110 crore) mark for FY08. Within this pack, Deutsche Bank, Citibank and HSBC led the growth.
Out of the five banks, four banks, had roughly a similar split in revenues coming out of interest income and treasury (65-70% for interest income and around 30% from treasury). However Deutsche Bank which has been a late entrant and has been now ramping up operations has almost 50% coming from interest income while 40% coming out of treasury.
Adjusted net profit for the five banks rose 44.5% to touch $1.3 billion (Rs 5,332 crore), with Citi and Deutsche Bank being the clear leaders growing their profits by 97% and 78% respectively. While ABN's profit declined 26 percent, StanChart managed 25% profit growth and HSBC churned out 44% growth in bottomline.
Citi has also strengthened its capital base significantly. Last year Citi pumped an extra Rs 1,000 crore in its paid up equity base to take it to Rs 2,601 crore as against just Rs 676 crore for StanChart. Citi's net worth last year was Rs 9,000 crore compared to Rs 7,137 crore for StanChart and total capital employed at Citi was a staggering Rs 83,532 crore ($20 billion) as against Rs 72,215 crore for StanChart.
If we look deeper inside Citi's accounts, it did particularly well in expanding its corporate banking and revenues from treasury operations both of which doubled last year. For StanChart, while treasury revenues clocked almost 75% growth, rest of the business could not match up with Citi's performance.