Several individuals and business families, who have not been part of top 100 rich lists including those released by international publications in the recent past, are now among Indians with a wealth of $1 billion or more, a VCCircle analysis has shown.
Such individuals and families include VC Nannapaneni of Natco Pharma; the Jains of the Inox group; the Nuwals, who promote the Solar group, which manufactures and exports industrial explosives; the Amin family of Alembic Pharma; the Taparias of Supreme Industries; the Razacks, the promoters of Prestige Estates, who last made an appearance on the Forbes rich list in 2014; and Madhu Kapur, the estranged co-promoter of Yes Bank.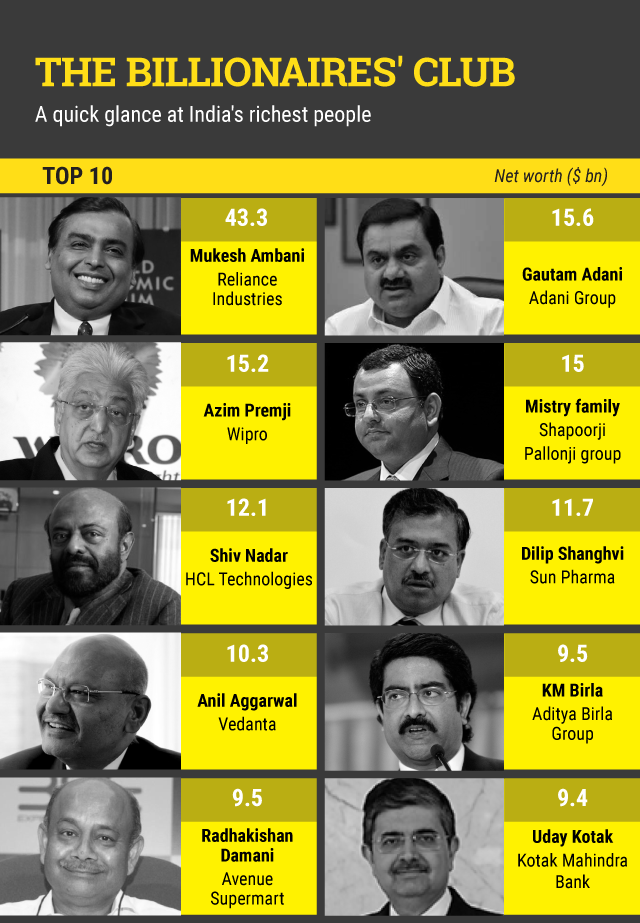 In fact, citing some of these names, Forbes had said last year that they were "waiting in the wings" to get into the top 100, owing to the stupendous surge in the stock markets through 2017.
India is home to at least 50 business families or individuals with a net worth of $2 billion or more, while another 45 are worth between $1 billion and $2 billion, as per the VCCircle analysis.
Reliance Industries chief Mukesh Ambani remains India's richest man with an estimated net worth of $43.3 billion, and beats the next richest Gautam Adani by a mile, with the latter coming at a distant second at $15.6 billion, according to the analysis.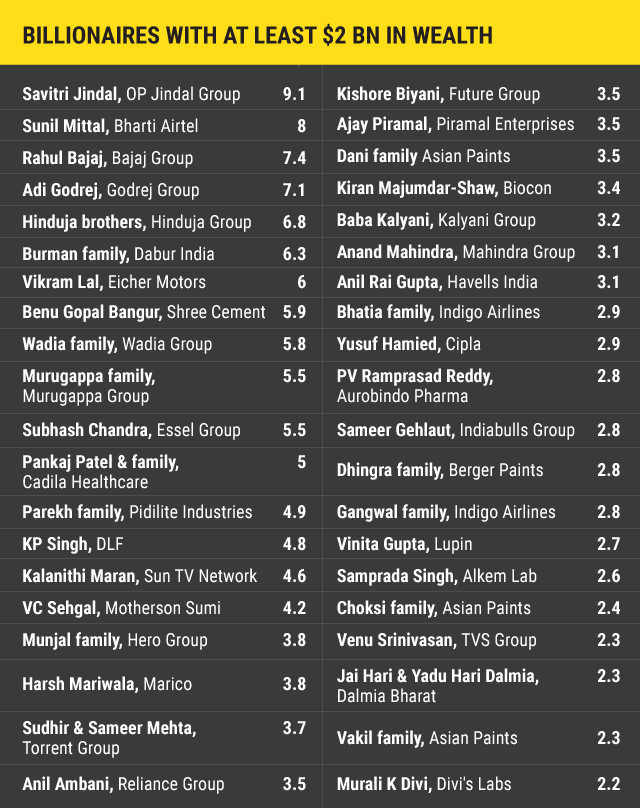 Closely following behind Adani are Azim Premji of IT giant Wipro and the Mistry family, whose heir Cyrus was sacked as chairman of the Tata group in October 2016.
Other rich Indians who make up the top 10 include Shiv Nadar of HCL Technologies, Dilip Shanghvi of Sun Pharmaceutical Industries, Anil Agarwal of Vedanta Resources, KM Birla of Aditya Birla Group, Radhakishan Damani of Avenue Supermarts and Uday Kotak of Kotak Mahindra Bank.
To be sure, some of these lesser-known names figure here because not all billionaires were considered by VCCircle for this list. We looked only at those business families and individuals who promote one or more listed companies in India. Moreover, it excludes those Indians or people of Indian origin who have a majority of their business interests outside the country.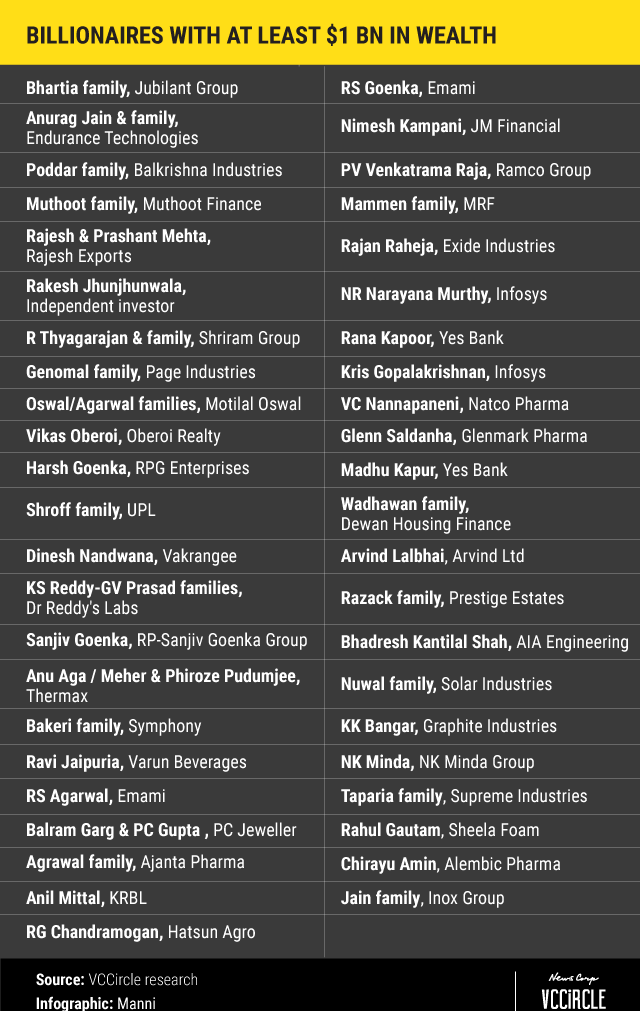 So, it effectively leaves out those India-based business families and individuals who do not promote listed companies. Among the most notable such exclusions are the Poonawala family that promotes the Serum Institute of India, the Jains of the Times group, Ravi Pillai of the RP Group and Karsanbhai Patel, who owns the Nirma group, among several others.
Also not included are billionaire NRI businessmen like the steel baron Lakshmi Niwas Mittal of ArcelorMittal, MA Yusuff Ali of the Gulf-based LuLu group, Micky Jagtiani of the Landmark group and BR Shetty of NMC Health, among several others.
Also, some known fugitives like former liquor baron Vijay Mallya and diamond merchant Nirav Modi, who have figured in such lists in the past, were not considered, as they owe thousands of crores of rupees to banks and financial institutions and most of their shares are pledged and other assets have been confiscated by law enforcement agencies.
Besides, conspicuous by their absence are the Singh brothers - Malvinder and Shivinder - whose holdings in their companies - Religare and Fortis - are now virtually down to zero, as their pledged stock has been confiscated by lenders.
Among the NRI families, we did, however, consider a few like the Hindujas, but only as far as their India-based listed business interests went. In addition to their India-based companies, they also manage firms like the Switzerland-based Hinduja Bank, in which the value of their holdings was not valued.
So, while compiling the list, a few discretionary calls were taken. To estimate the net worth of the people VCCircle did finally consider, we calculated the market capitalisation of the listed companies promoted by these business families or individuals. We took care to eliminate any double counting accruing from cross-holdings among group companies.
Moreover, there's a good chance that even those who are considered here, are likely to be wealthier than our estimates because the net worth of their unlisted companies was not taken into consideration.
A case in point would be the Pallonji Mistry family that owns an 18.4% stake in Tata Sons, the unlisted holding company that controls the Tata group of companies. Apart from their shareholding in Tata Sons, the Mistry family also manages the Shapoorji Pallonji Group of companies, which operate in the construction and engineering space, that would add to their wealth, but have not been considered because they are unlisted.
Yet another interesting case is that of the husband-wife duo of Venu and Mallika Srinivasan. While the husband's family-promoted TVS group has several listed companies, the Amalgamations group, promoted and headed by the wife, has none. Therefore, only the TVS group has been included in the list, even though several other estimates in the past have also put the Amalgamations family among the richest in India.
Moreover, it is nearly impossible to know or indeed accurately estimate a family's private wealth in the form of real estate, jewellery, art or other movable or immovable assets they might own as individuals or as families. Almost all such families and individuals are known to own prime real estate across India and abroad and in some cases, these properties themselves could be valued in tens or hundreds of millions of dollars, adding to their owners' net worth significantly.
Further, several industrialist families like the Ambanis, Bajajs, the Dalmias, the Birlas, the Goenkas and the Bangurs, most of whom typically represent 'old money,' have seen siblings or cousins go separate ways, thus leading to a division in their assets. So, while both the Ambani brothers - Mukesh and his younger brother Anil - find mention in our list, most other less wealthier siblings of other families do not.
While most family-led companies are promoted by a single family, some like Asian Paints, Emami and IndiGo Airlines are promoted by more than one family. In such cases, the concerned families have been considered separately and their respective wealth thus ascertained. In some cases, however, like in the case of PC Jewellers, it was not possible to accurately determine the quantum of shares accruing to each family, and so they have been taken jointly.