The government has been trying to make a case for cashless transactions ever since Prime Minister Narendra Modi shocked the nation by scrapping high-value notes from 9 November. The note ban sucked out 86% of the currency in circulation overnight, hurting consumption and business activity.
The move also forced people to use options such as Internet banking, mobile banking, credit and debit cards, mobile wallets and other prepaid payment instruments (PPIs) to buy goods and services and do other financial transactions.
VCCircle last month reported that online electronic transactions under RTGS, IMPS and NEFT systems fell both in value and volume in November as compared with October.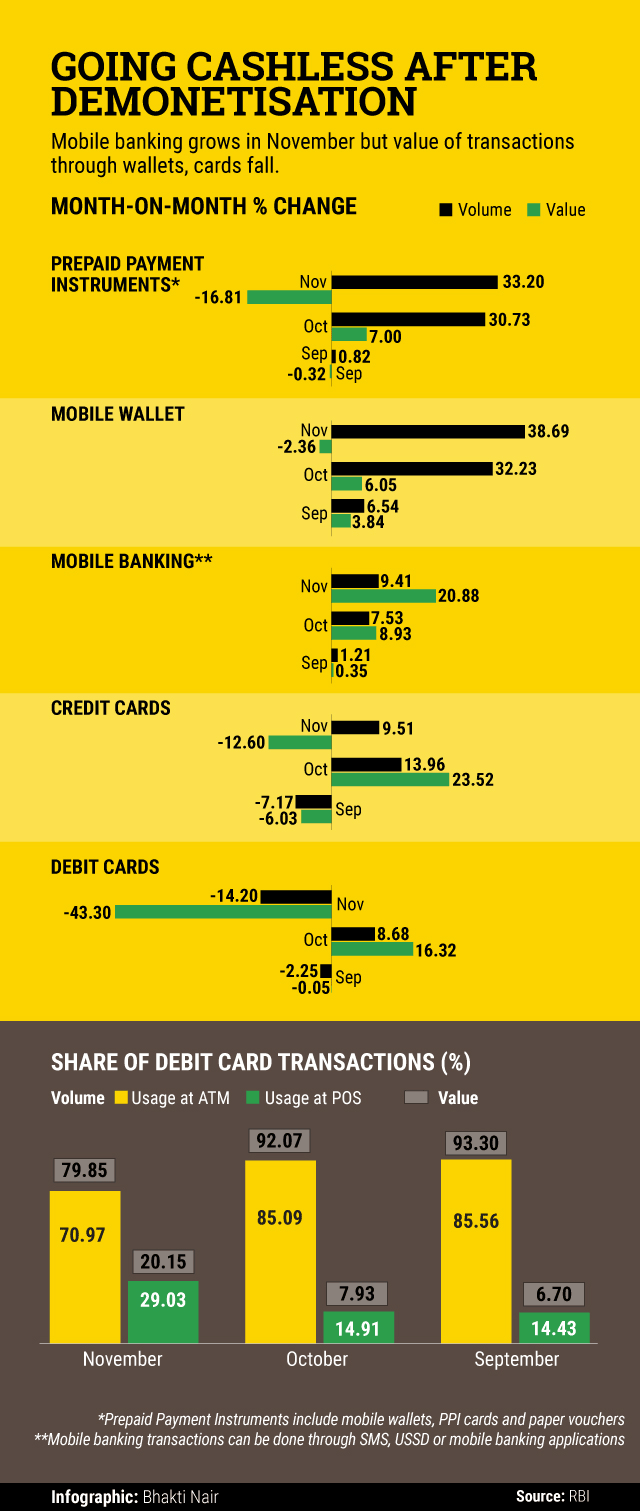 Now, the Reserve Bank of India has released the first comprehensive data for PPI, card and mobile banking transactions in November since the banknote ban.
The data paint a mixed picture. It shows that the volume of PPI transactions rose in November to 169 million from October's 126.9 million but total value fell to Rs 5,010 crore from Rs 6,022 crore.
PPI includes mobile wallets, PPI cards and paper vouchers.
Again, mobile wallet transaction volume surged to 138 million in November from 99.6 million the previous month but total value slipped to Rs 3,305 crore from Rs 3,385 crore.
Mobile banking transactions rose both in volume and value terms. In fact, the rise in value terms was faster. Mobile banking includes banking apps, Unstructured Supplementary Service Data (USSD) service or text messages.
The total volume of card transactions dropped 12% and value by 40%. The main reason was the unavailability of cash at ATMs and the withdrawal curbs imposed by the Reserve Bank of India after demonetisation. The data also show that the share of debit card transactions at merchant outlets rose in November from the previous month.