With reports of legendary investor Warren Buffet eyeing India after Berkshire Hathway's annual general meeting last month, markets are naturally abuzz with which company he will target first.
As the Oracle of Omaha is being linked to India, speculation is rife that he may buy about 5-10% stake from the open market in Bajaj Finserv, the holding company of insurance entities Bajaj Allianz Life Insurance Co. Ltd. and Bajaj Allianz General Insurance Co. Ltd. Bajaj Finserv could well be one of the several companies that Berkshire may engage with as it scripts its first investment in India.
Both Bajaj Allianz Life Insurance Co. Ltd. and Bajaj Allianz General Insurance Co. Ltd are 74:26 joint ventures with Germany's largest insurance firm Allianz.
It is learnt that Ajit Jain, touted as Buffett's successor at Hathaway, is leading parleys with various companies in India. Jain, the Indian Institute of Technology (Kharagpur) grad who has been
described by Buffet as a 'superstar', heads the Reinsurance Group, one of the most profitable businesses for Berkshire. Insurance and re-insurance are the main lines of business for Berkshire Hathaway.
The share prices of Bajaj Finserv have zoomed since early May from Rs 339 on May 4 to the current levels of Rs 462 per share, up 36%. The stock peaked at around Rs 538 on May 14, which would have accounted for a jump of 58% over the May 4 price.
Bajaj Finserve has also expressed interest in becoming a full-fledged financial services company. Its Managing Director Sanjiv Bajaj told PTI in January that Bajaj Finserv will consider applying for a banking licence once the Reserve Bank of India comes out with regulations allowing non-banking finance companies (NBFCs) to convert themselves into banks. He added that the banking entity will either be a subsidiary of Bajaj Finserv or an independent company. The company has also announced its foray into the wealth management business.
Mail sent to Sanjiv Bajaj, MD, Bajaj Finserv, did not elicit any response.
S B Mathur, former Chairman, Life Insurance Corporation, and Secretary-General of Life Insurance Council, told VCCircle, "There is immense potential for Indian life insurance sector. Though the population is near 128 crore, the number of policies sold out till is 32 crore. That means the remaining people are not adequately covered and at the same time, there is scope for selling repeated cover for current policy holders. Also, on GDP front, aggregate life insurance premium paid in India comes about 4% of GDP, which is far below from other Asian countries such as South Korea and Japan. Even South Africa also has premium paid at 10% of GDP. As Indian GDP growth is expected at 8-10%, the potential for insurance sector will also grow on par with that."
Buffett had announced last month at the annual meeting of Berkshire Hathaway that he plans to visit India in March and did not rule out an investment in the country. Buffett had said, "We do not rule out India" as a possible locale for future Berkshire investments, whether in companies or marketable securities though bureaucratic obstacles could complicate any plans to invest including limitations on foreign ownership. He also said that, "We've looked a lot at being in the insurance business in India."
An investment by Buffett could mean a significant landmark for India in the global investment map. While other legendary investors like George Soros have invested in India by backing companies like Reliance Big Entertainment, others like Jim Rogers have remained skeptical of India citing reasons like fiscal deficit and FDI restrictions.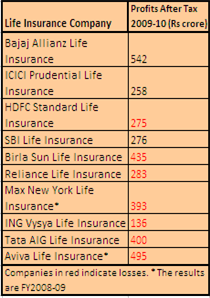 Currently, the FDI limit for the sector is capped at 26%. This limit is expected to be raised to 49% under the The Insurance Amendment Bill, which is pending before Parliament. Last month, Business Standard reported that Buffett was keen on acquiring a majority stake in a state-owned general insurance company.
For the year ended march 31, 2010, Bajaj Finserve achieved consolidated revenue of Rs 23,781 crore against Rs 9,868 crore. It achieved consolidated net profit of Rs 559 crore against Rs 71 crore. For the first time, Bajaj Allianz Life Insurance Company achieved a profit of Rs 542 crore compared to a loss of Rs 71 crore in the previous year. It ranks third among the private life insurers with an overall market share of 4% for the year ended March 31, 2010 and is also one of the most profitable, while several private players are still reporting losses. As compared to Bajaj Allianz's Rs 542 crore profit, ICICI Prudential Life Insurance and SBI Life Insurance reported profits of Rs 258 crore and Rs 276 crore, respectively. Other players were loss making.
Bajaj Allianz General Insurance Company Ltd, which posted a PAT of Rs 121 crore against Rs 95 crore, ranks second among the private insurers with a market share of 7.2%. Total Income of Bajaj Auto Finance Ltd rose 53% during 2009-10 to Rs 916 crore from Rs 599 crore. Other businesses under Bajaj Finserv are consumer lending and asset management. Bajaj Finserv plans to form an asset management company (AMC) in a JV with Allianz Group is awaiting the nod from SEBI, which is expected in a couple of weeks.
As of March 2010, the promoter Bajaj family holds nearly a 55% stake in the company while institutional investors are Life Insurance Corporation of India (5.2%), Jaya Hind Investments Private Limited (a promoter group unit of Force Motors holding 4%) and Government of