Broking and I-banking firms have started feeling the real heat of the bear market. A VCCircle analysis of the latest quarter results of ten broking firms show that while these companies had reported double digit decline in net profit in the previous quarter (April-June'08 vs Q1'08) itself income from operations was still growing. However, in the last quarter(Q2'09) income generation also dropped down while profits have more than halved.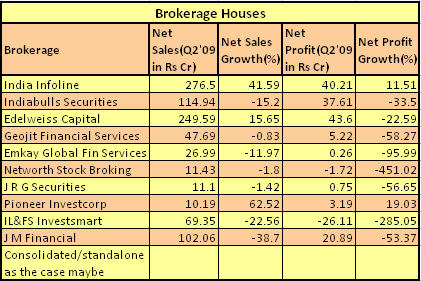 The study included top firms such as Indiabulls Securities, Edelweiss, India Infoline, Geojit Securities and JM Financial besides Emkay Global, Networth, JRG Securities, IL&FS Investsmart and Pioneer Investcorp. The study left out companies for which comparable data was unavailable for the entire period.
During Q2'09, the ten companies in the sample reported aggregate net profit of Rs 84 crore on net sales of Rs 643 crore. While income from operations is down 10% compared to the same period last year, net profits are down 57%. During Q1'09, the same firms had recorded 30%
growth in net sales(Y-o-Y) with 10.4% decline in net profit.
Worse still, even operating profits have turned turtle. As against 11.8% growth in operating profit during Q1, the firms' operating profit slumped 27% during Q2. This is now reflecting in job cuts and branch closures in the broking space.
Looking at a sequential picture ie., financial figures of the companies during Q2'09 compared to Q1'09, net sales has come down by 3.6%, operating profit is down 7.3% and net profit has shrunk by 35.8%.
The good news is that the majority of firms are still afloat despite reporting drop in profits. Just two broking firms IL&FS Investsmart and Networth Stock Broking reported net loss. The only two companies which actually reported a growth in net profit Y-o-Y during the last quarter were India Infoline and Pioneer Investcorp.