Bengaluru, perceived as the blend of knowledge and entrepreneurship by investors, is ready for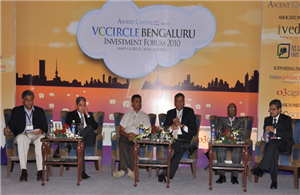 the next wave of entrepreneurial surge. The overpowering theme that emerged at the day-long VCCircle Bengaluru Investment Forum 2010 was that the risk capital industry was open to
newer sectors that ride on consumer demand, financial inclusion and service companies. The focus is clearly on small and medium enterprises particularly in the social entrepreneurship, education and those exploring PPP models in such areas. What came out as a felt need was increased participation in the entrepreneurial ecosystem by angel networks and greater investor appetite for deals in the quarter million range. The wide-ranging discussion, during the course of the day, highlighted the need for the city to look beyond IT, the challenges in raising funds and success stories of business models that clicked. VCCircle brings you key highlights of the day-long conference, that attracted a captive audience.
Panel 1: Bengaluru Redefined: Size Does Not Matter, Spirit Does
Gopal Srinivasan - Chairman, TVS Capital Funds (Chair)
Harish Bijoor - CEO, Harish Bijoor Consults Inc
Sridhar Mitta, MD, NextWealth Entrepreneurs Pvt Ltd
M.V. Rajeev Gowda - Professor, IIM-B
Srini Rajam - Chairman & CEO, Ittiam Systems Pvt Ltd
Krishna Byregowda, Karnataka Congress MLA
Next wave is non-IT with more mid-market deals: With the city throwing up big deals like Karuturi Global and Cafe Coffee day, the consensus was that the next wave in Bangalore will perhaps not be dominated by IT. In fact, the risk capital industry is betting its future more on sectors that ride on consumer demand, financial inclusion, service companies and targeting more mid market deals focussed on SMEs. As Gopal Srinivasan, Chairman, TVS Capital Funds put it, "the fourth wave of Bangalore is going to be beyond IT in sectors like social entrepreneurship and financial inclusion."
Doing good can also be good business: With so much of investment coming into sectors that cover financial inclusion, investors felt that more business models can be built around the sectors looking at social equity correction. Harish Bijoor said, the public–private partnership model should be explored. Bijoor added that there is a lot of action to be seen in the quarter million dollar deals. "Every category needs a Nano and the Nano syndrome is catching up," he added.
What niche tech companies should do: There are a lot of niche tech companies in the scene. Srini Rajam said, the formula for niche tech companies is to remain independent, replicate successes around markets, and expand in other geographies and remain grounded. As a word of advice to the young and growing tribe of niche tech companies, he said, "if you become very successful in a very short time frame, you become the centre point for success and failure for other companies in the world".
Panel II: Bengaluru's Ver 2.0 Technology Story
Jessie Paul - CEO, PaulWriter Advisory (Chair)
Manohar Atreya - Head, Technology, o3 Capital Advisors
Pranav Bhasin - Founder, Lifeblob
Sean Blagsvedt - Founder, Babajob.com
Sunil Maheshwari - CEO, Mango Technologies
Sanjay Nayak - MD, Tejas Networks
Firms in West becoming the sales & distribution network for Indian product cos: The technology market has certainly evolved in India. In one of the key changes for the industry, Sanjay Nayak, MD, Tejas Networks, who has raised around five rounds in private financing till
now, said, companies in the West will soon become the sales and distribution channels for product-led companies in India. The rules of the game have certainly changed. He added that as opposed to a greater attention to product development, there should be more resources
getting into marketing, promotion & branding led activities for tech companies. Nayak added that the growth in only to be found in emerging markets and that much of the product-led tech companies in the West have either not been able to break even or are reeling under losses.
Mobile - the next game changer: The panel agreed that mobile is the next game changing opportunity in the market. Sunil Maheshwari, CEO, Mango Technologies, said, only those companies can be successful who do not wait for the markets to become obvious but notice the change agents in the industry ahead of everyone. A quick reference was made to Apple, a
non telecom company, sticking to I-phone and how core tech companies trying to replicate an I-phone have still not been able to do it.
Mid-market tech deals to get hotter: While there were many investible opportunities in technology that were discussed in the panel, early stage deals are difficult to come by. Manohar Athreya, Technology Head, o3 Capital said, there have been instances where investors have not been convinced about tech companies in early stage, showing concerns of scalability. In fact, Sean Blagsvedt suggested that early stage tech companies should pack their bags and head to Silicon Valley, where such capital is more readily available.
Panel III: Bengaluru's PE Deal Quotient
Raja Kumar - CEO, Ascent Capital (Chair)
KP Balaraj - MD, Sequoia Capital India
Raj Dugar - Senior MD, Fidelity Growth Partners India
Nainesh Jaisingh - MD, Standard Chartered Private Equity
Suresh Raju - Executive Director, TVS Capital Funds
Sectors are looking up, valuations remain a challenge: The private equity panel outlined one of the major challenges that the industry is grappling with – valuations. There still exists a huge valuation mismatch and it is getting difficult to manage the expectations of both the parties – promoters and the investors. KP Balraj said, "a lot of mezzanine structures are being see in the deals due to high valuations." With the capital markets peaking up, it has just got all the more difficult." The entry level valuations are really high," said Raja Kumar.
Infrastructure conducive for PE Funds, huge dry power available:  The leading fund managers believe that the city offers an infrastructure very conducive for the operations and setting up of shop. Also, the talent pool drawn from the city is much richer in terms of skill set and knowledge base. This is going to be an interesting year for private equity as it is expected that a lot of funds out on road to raise commitments would be able to do it this year. "There is a lot of dry power available to make investments", said Raj Dugar.
Panel IV: The Other Side Of Bengaluru: Unparalleled opportunities in lifesciences, education, non-IT sectors
Reeba Chacko - Partner, Amarchand & Mangaldas & Suresh A Shroff & Co (Chair)
Meena Ganesh - CEO, Manipal K-12 Education
Dr. BS Ajai Kumar -  Chairman & CEO, HealthCare Global Enterprises Ltd.
Manan Bhat, senior vice-president (external relations), Avesthagen
Srikanth Narasimhan - Director, Veda Corporate Advisors
Education - a market for all, Lifesciences still nascent: Meena Ganesh, CEO of Manipal K-12 Education, talking about the business model, said, they address both high end niche segment of schools and schools in the mid-market category through public partnership programes. She said, highly focussed and content-niche areas work. While education as an opportunity is hugely attractive, Ganesh added that scaling up of online education models is still a challenge in India. Representing the other significant industry in Bangalore, Manan Bhatt, senior vice-president, Avesthagen, said, the lifesciences industry is still in its nascent stage in India and that the "it is too young a creature to be understood by everyone". The company has raised venture financing from leading names and is now gearing for an IPO.
Panel V: Bengaluru's Glitzy Lifestyle Index: Myth Or Reality?
Kanwaljit Singh - MD, Helion Venture Partners (Chair)
Keshav Baljee - President & Co Promoter, Royal Orchid Hotels Ltd.
Bijou Kurien - President, Reliance Lifestyle
M. Murali - MD, Shriram Properties
Jose Ramapuram - Director, Orange County Resorts
Shruti Shibulal - Director, Avant Garde Hospitality
Bangalore is about the value-conscious buyer: As Bijou Kurien says, "people in Bangalore do not have an ostentatious style of living but a good living". He added that the market in the city is pretty middle of the market and that is where the industry is betting on. This was reinforced by entrepreneurs in the resorts business. They said, for a price-conscious market like Bangalore, they have to customise their offerings which is not ultra-premium. Royal Orchid promoter added that a "lot of patience and cycle-ability is being built into the hospitality business."