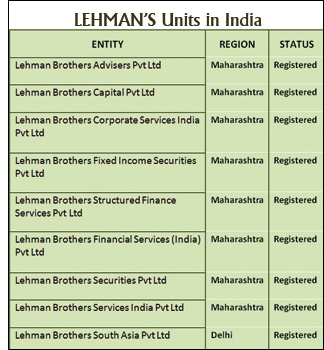 Barclays and BNP Paribas are in race to acquire Lehman Brothers' investment banking and brokerage business in India, according to this report. VC Circle could not reach BNP Paribas or Barclays for confirmation. The news comes in a day after Wipro, Copal Partners and even HCL showed an interest to buy Lehman's BPO in Mumbai. Lehmans' investment banking and brokerage business employs around 175 people. In US, Barclays has already agreed to buy Lehman's investment banking business for $250 million.
Both BNP Paribas and Barclays are currently expanding their operations in India. Acquisition of Lehman will not only give the buyer a good team, but also a ready institutional and investment banking desks plus regulatory clearances. Headhunters and rival companies are already chasing top management at Lehman and the potential acquirers would like to finalise the deal before the team scatters.
BNP Paribas' India operations include mutual fund business and stock-broking tie-up with Geojit Securities, in which the former has a substantial stake. The French banking giant recently appointed RS Krishnan as Managing Director of Corporate Finance in India. BNP Paribas operations in India are headed by Abhijit Raha. The bank also has a research team which is headed by Praveen Chakravarty, COO and Acting Head of Equity Research.
Barclays has also been expanding its operations in India, mainly in the private banking space. Lehman's acquisition will provide the British Bank a big bang entry into investment banking. Barclays made a late entry in India and is now focusing on expanding its retail operations. In 2006, Barclays had acquired Chennai-based finance firm- Rank Investments and Credits for $7.5 million to gain an entry into NBFC segment in India.
Lehman Brothers also had a active practice in the private equity space, especially in real estate. It has invested in Unitech's Mumbai project and also in DLF Assets. Some of its other private equity deals include Cellebrum, the VAS arm of Spice Communications, and KSK Energy Ventures. Last year Lehman acquired institutional broking business of BRIC Securities last year for over Rs 100 crore.