Private equity firms have once again started signing big cheques for Indian firms as business climate is showing signs of turnaround and there is a large pile of capital still to be deployed.
There have been 19 $100-million plus PE deals in the country since January this year, around 50 per cent more than the same period last year, as per data compiled by VCCEdge, the data research platform of VCCircle. IT, including e-commerce and IT services, leads with one-third of these deals. Check the table for the top deals of the year and click here for the biggest ever PE deals in India. Two of the top 10 biggest PE deals ever in India were sewn this year.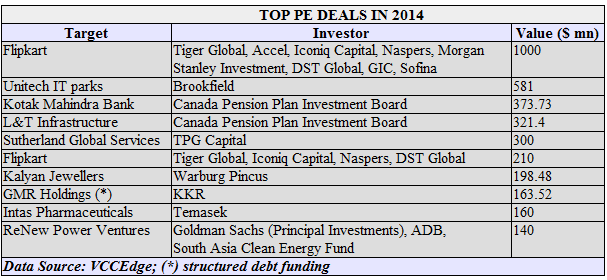 Does this mean the big PE deals are back in India? VCCircle spoke to a few experts to get a quick take on the emerging trend.
Shashank Singh, partner and head of India office at global PE firm Apax Partners, says this is due to three factors including the opening for PE exits, which has led to secondary PE deals in the market. Indeed at least a quarter of the large deals this year have a secondary component with either the promoters or previous PE investors hitting the exit button.
He adds that another trend is a rise in buyout deals. "Business owners, who were earlier confident, got scared in the 2011-13 time frame because valuations crashed, businesses were in trouble and the buyers suddenly disappeared. Now that the markets are back, promoters are willing to sell their stake leading to buyouts," Singh says.
Lastly, he adds, there is the classical macro-micro link with firms growing 3x in the last 10 years: "The economy is much bigger today and so are the companies. In such a growing market, the cheque sizes are bound to increase."
Buyout specialist Apax, which backed iGate to acquire Patni Computer Systems in 2011, had last year snapped GlobalLogic. It has also been busy striking growth capital deals and committed close to $100 million to Cholamandalam Investment & Finance.
Others say market dynamics has led to bigger deals in the country. Vikram Utamsingh, managing director and head of the India transactions advisory group of US-based advisory firm known for its turnaround and restructuring related practices, Alvarez & Marsal, says, "Some of the deals are driven by high stress or debt levels of promoters and they are actively exploring all avenues to bring down those levels."
He dittos that secondary deals have added to the size of cheques being signed.
"Several PE funds that invested earlier are now selling stake along with the promoters since both are getting better valuations in an improved market condition. Since promoters also selling along with the PE funds, the deal size has automatically increased as it becomes a buyout transaction rather than simply growth capital," he added.
Click below for a slide show on the 10 biggest PE deals in India