Facebook. Zynga. Groupon. Rumor has it that Twitter may soon make the list. This is the company Digital Sky Technologies (DST) keeps. DST just invested $500 million along with Goldman Sachs in Facebook; this is besides DST's $200 million check for the social networking giant in 2009. DST wrote a check of $200 million to popular Facebook gaming app company Zynga in 2009, while it also participated in a $135 million round in Groupon in early 2010.
If you want to join the club, don't go looking for the company in the crisp greens of Sand Hill Road in Menlo Park, or the skyscrapers of Wall Street for that matter. DST is headquartered in Moscow, and the only other location the company has a presence in, is London. Then again, London is a favorite haunt of Alisher Usmanov, one of the financial backers of DST; after all he owns part of the world's third largest soccer club, the Arsenal F.C.
'The Hard Man of Russia'
Alisher Burkhanovich Usmanov, a 57-year-old businessman from Russia, is a self-made multi-billionaire with a net worth of roughly $7.2 billion. Forbes magazine billed him as the world's 100th. richest person in 2010. The man is also fighting for the ownership of Arsenal F.C., buying shares until he has the magic 29.2% stake required for control of the legendary soccer club. Usmanov's battle for supremacy over Arsenal is widely reported in Russia's biggest daily Kommersant, which also, he owns.
Usmanov's interests are varied. He has diverse stakes in precious metals, iron ore, steel, natural gas and media companies. For example, he owns iron ore and steel producer conglomerate Metalloinvest with Andrei Skoch and Vasily Anisimov. This makes him one of the top 10 steelmakers in Russia. He is chairman of Gazprominvestholdings, the investment holding subsidiary of Russia's state-owned gas company Gazprom. He is a co-owner of Russia's third-largest mobile telephone operator MegaFon, besides.
Usmanov also loves sports (he has been extensively involved in fencing and has business interests in soccer) and the art scene. He is the current president of the FIE or Federation Internationale D 'Escrime, the international governing body of fencing. He has also been president of both the Russian and the European Fencing Confederation.
The 'hard man of Russia', as he is called, is known to keep a box at the Emirates stadium, and is also a major shareholder in London's Arsenal Football Club, and a sponsor of Dynamo Moscow through his company Metalloinvest.  "For me, Dynamo is a first love," the club's website reported Usmanov as saying.
Usmanov's philanthropy, and involvement in the art and culture scene of Russia is no secret. He is on of the Bolshoi Theater in Moscow. He bought and donated a $20-million art collection to the State. He also bought the rights to a large collection of Soviet cartoons, which also he donated, to a newly formed Russian children's television channel.
Why are we talking about Alisher Usmanov, did you say? Glad you asked. You see, he is also the co-owner and largest shareholder (at 32%) of DST. 
History of DST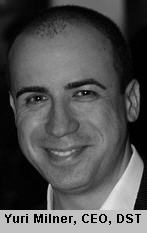 There is not much history to write about, really. Much of what has been happening is fairly present, and seems to date back just two years. Founded in 2005, this late-stage Internet investment firm came into limelight in May 2009, when the company made a $200-million investment in Facebook in exchange for preferred stock.
Not that the company was doing bad for itself till then. According to the Facebook media release, for example, DST's main assets accounted for over 70% of all page views in the Russian-speaking Internet, and its social networks were the market leaders in more than 13 countries, addressing a combined population of over 350 million.
Big money always gives rise to big stories, and big venture money has always had its Herculean myths and wild rumors. DST is no exception. There are exotic rumors doing the rounds that DST may be funded in part by Kremlin and has Federal Security Service affiliations. Yet others say that DST may be a front company of the Russian mob.
A Guardian report published in 2007, quotes Usmanov as saying, "No one asked me to buy the publisher, although I should say that my purchase of it was not against the wishes of the authorities," when asked about the involvement of Kremlin in his decision to buy the Kommersant. Dmitry Anatolyevich Medvedev, the third and current President of the Russian Federation, was also the Chairman of Gazprom's board of directors, a post he had held for the second time since 2000, and the same Gazprom, the investment holding subsidiary of which, Gazprominvestholdings, Usmanov is chairman of.
Dynamo Moscow, of which Usmanov is the sponsor, is believed to have been once funded by the Soviet secret service, and for some time was under the authority of the Russian Interior Ministry and its head Felix Dzerzhinsky, chief of the Soviet Union's first secret police force, the notorious Cheka. (You can read more about Dynamo Moscow in David Goldblatt's 'The Global History of Soccer').
Usmanov himself, and a friend - the son of the deputy head of the Uzbek KGB - were convicted in August 1980 by the Military Tribunal of the Turkestan Military District for "complicity in an official's receiving bribes and extortion." Usmanov received an eight year labor camp sentence. He was freed early in 1986, and rehabilitated in July 2000. The charges against him were dismissed by the Uzbek Supreme Court, and he was fully exonerated.
While totally unfound and unsubstantiated, these rumors also find spark in DST's corporate website and apparent need for privacy. The company website for example, just consists of a white page with the letters DST in blue, and a 'info@dst-global.com' in lower case, in keeping with email convention across the world, just below it.
DST partner Alexander Tamas, talking to host Loic Le Meur, when asked what DST is, provided a fairly straightforward answer. "The firm originated in Russia, grew out of social networking company called mail.ru, and at some point we started making international investments," he said. Facebook also happened to be the first international investment, Tamas added, during the discussions, as quoted by TechCrunch.
The Organization
DST is run by three partners who have complementary backgrounds in operations, investments and finance, according to a Facebook release. Yuri Milner, previously CEO of mail.ru, Gregory Finger, previously head of the Moscow office of NCH  (a multi-billion dollar hedge fund), and Alexander Tamas, previously co-head of Internet and software coverage in EMEA for the Investment Banking Division of Goldman Sachs.
Additionally, John Lindfors and Verdi Israelian joined in as partners. Verdi Israelian is also a member of the board of directors of ICQ, a DST property, and doubles up as the COO of mail.ru. John Lindfors was a partner at Goldman Sachs, and head of the bank's European Technology Investment Banking practice, before he joined DST.
Unlike most venture companies that insist on a seat in the board, and a more hands-on approach in the management and operations of the startups they have invested in, DST is believed to be content with letting the companies do their job, reserving their right to interfere only if necessary. The Facebook board thus does not have a DST representation. Incidentally, the Arsenal board does not have Usmanov representation either.
Goldman and DST have a cosy relationship. Goldman was its lead underwriter when the company went public on the London Stock Exchange last November, incidentally earning the distinction of being the world's largest Internet IPO since Alibaba. Goldman also owns a stake in mail.ru. Not only that, John Lindfors, Alexander Tamas, Verdi Israelian, or Partners (DST), COO (mail.ru) and Managing Director (mail.ru) were all key executives in Goldman Sachs before they transferred to DST. The Goldman Sachs association is fairly prominent in other companies associated with DST as well, as you will see later in the story.
Where Does mail.ru Come In?
mail.ru received an initial investment of $1 million from James Melcher, a investor who also happened to be a fencing lover like Usmanov, besides being a champion fencer who competed in the 1972 Olympics in Munich. In fact Melcher's firm is called 'Balestra' after a fencing move.
As the story goes, in 2001, Yuri Milner, the current CEO of DST, who was managing a small Internet firm called NetBridge then, persuaded Igor Linshits, chairman and CEO of Delin Capital, to back a merger of the mail.ru business with NetBridge. Milner became the new CEO of the merged companies. In 2003, Milner resigned from mail.ru, and co-founded DST. In September 2010, DST changed its name to mail.ru.  mail.ru had its IPO at the London Stock Exchange in November 2010. DST owns 99.9 per cent of mail. ru according to issued by the company.
The mail.ru website lists the company shareholder structure (as of November 9, 2010) as follows: 11.8 per cent is owned by founders and the management, 30.8 per cent is owned by MIH Russia Internet BV, 26.9 per cent is owned by New Media and Technology Investment LP and Adroe Finance Limited, 8.3 per cent is owned by TCH Amur Limited, 1 per cent owned by other shareholders not named, and 21.2% GDR.
Now, New Media Technologies is a Usmanov company, through which he owns the 32 per cent stake in DST. Vladimir V. Kouznetsov, Partner, of the Akin Gump Strauss Hauer & Feld LLP, one of the world's largest law firm, has assisted in several rounds of investment by New Media and Technology Investment, and Art Finance & Media into Digital Sky Technologies, which he bills as an investor into a portfolio of Internet businesses in Russia, Eastern Europe and the United States. Again, Kouznetsov was involved in the investment by New Media and Technology Investment, into DST Global, which his official portfolio says is an investor into a portfolio of stocks of global social networking businesses, including Facebook and Zynga. Incidentally, Kouznetsov has also been involved in the deal between Megafon, a Usmanov company, and an unnamed private equity group.
Verdi Israelian is the COO, and Alexander Tamas, is the managing director of mail.ru. Both are partners in DST. Gregory Finger, listed as a founding member of the company, and a DST partner, also sits on the mail.ru board, besides owning a chunk of DST. Ardavan Moshiri, one of the Directors of mail.ru is also chairman of the board of Metalloinvest, director of Gallagher Holdings Limited, an investment company and principal shareholder in Metalloinvest Group, and a director at Megafon, all companies associated with Usmanov.
Yet another director at mail.ru, Vladimir Streshinskiy is also currently a director of Metalloinvest, Telecominvest, MegaFon. Matthew Hammond, the Group Strategist for Metalloinvest Holdings where he manages the non-core asset portfolio, and also advises the board on investment strategy, mergers and acquisitions and foreign exchange transactions, sits on the board of mail.ru as well.
The Others
DST's ownership is as follows - Alisher Usmanov (through New Media Technologies – 32%), South Africa-based media company Naspers (28.7%), Chinese Internet company Tencent (10%), Russian investment banking firm Renaissance Capital (5%), Goldman Sachs and New York private equity firm Tiger Global. Other owners are Yuri Milner, Gregory Finger, Igor Matsanyuk and Sergey Orlovskiy. Here is a look at the other owners.
Tiger Global Management - Julian H. Robertson founded the privately-owned New York  investment manager Tiger Global in 2001. This is not the first 'Tiger' he has had. Tiger Management Corp., also known as 'The Tiger Fund,' was also founded by him, and began investing in 1980. It was closed in March 2000. In 2006, Igor Linshits sold his stake in mail.ru to Tiger Fund. Since then Tiger Global Management has been periodically selling mail.ru chunks to DST. , for example and then again.
Incidentally,a 4% stake in the National Stock Exchange (NSE) of India.
Naspers - Naspers is the 100% owner of the MIH Group, which has business interests in four distinct areas - Internet, Pay TV, Technology and Print. The MIH Group has 35% stake in Tencent. And of course, the MIH Group has a 29% stake in the mail.ru Group, which is DST. Hein Pretorius, who has a seat at the mail.ru board, joined the Naspers Group in 2000 and currently holds the position of CEO of the Internet Division in Europe and is a director of a number of companies in the MIH Group. Vasileios Sgourdos is also another director at mail.ru who doubles up as a director in the MIH Group. Mark Remon Sorour, Chief Investment Officer of the Naspers group, is also on the mail.ru board.
Incidentally, the MIH Group owns 90% of ibibo, and has a 30 per cent stake in ACL in India.
Tencent - Tencent was founded in November, 1998, and since then the company has morphed into among the biggest Chinese portals. Tencent Holdings Limited (SEHK 700) went public on the main board of the Hong Kong Stock Exchange in 2004. The MIH Group has 35% stake in Tencent.
The Goldman Sachs connection crops up here again. Martin Lau, president of Tencent, was an executive director at Goldman Sachs (Asia) investment banking division and the chief operating officer of its Telecom, Media and Technology Group, before he joined Tencent as its executive director.
Incidentally, David Wallerstein, senior executive vice president of Tencent, was also the vice president, Business Development of MIH Group in China.   
Renaissance Capital - Renaissance Capital is part of the Renaissance Group, which also has an asset management wing (Renaissance Asset Managers), a wealth management division (Renaissance Wealth Management), and forays into consumer finance and merchant banking with Renaissance Credit and Renaissance Partners respectively. The describes the company as a leading emerging markets investment bank with operations in Russia, Central Asia, Eastern Europe and Africa, and says it has market-leading positions in each of its core businesses -- M&A, equity and debt capital markets, securities sales and trading, research, and derivatives.
"As a leading Russian Internet business mail.Ru is passionate not only about developing its own service lines but also about furthering the capabilities of the wider Russian Internet space," says the corporate website. One can imagine the Sand Hill Road brigade hoping the wider Russian Internet space does not invade its Menlo Park offices!