From L to R: Tencent chairman Pony Ma and Alibaba founder Jack Ma | Credit: Reuters
Over the last couple of years, there has been quite a bit of China in India's biggest consumer Internet firms, whether it's horizontal e-commerce, digital payments, cab-hailing or education technology.
At the forefront of this influx are Chinese e-tailing giant Alibaba and Internet conglomerate Tencent, arch-rivals engaged in a fierce war for supremacy in the Middle Kingdom. Out of their bottomless war chests, they have invested around $1 billion each in Indian startups so far, turning out to be their biggest backers after the prolific SoftBank of Japan. SoftBank also happens to be the biggest investor in Alibaba.
Alibaba is already the largest stakeholder in digital wallet firm Paytm, the country's second-most valued Internet company. Along with its payments arm Ant Financial, Alibaba also owns a majority stake in Paytm Mall, the Noida-headquartered firm's e-commerce venture.
Paytm, which has emerged as Alibaba's top bet in the country, is a clear example of Jack Ma-led Alibaba's deep-dive approach—it has already injected $877 million into the company.
Recently, Alibaba also bought a controlling stake in TicketNew, which claims to be India's second-largest online ticketing platform after BookMyShow and has a presence in over 300 cities.
SoftBank- and Tencent-backed Flipkart and e-tailing giant Amazon are miles ahead of Alibaba-backed Paytm and Snapdeal in India, but Alibaba is looking to equalise that with a major investment in top e-grocer BigBakset. Along with Paytm, it is set to invest about $200 million in SuperMarket Grocery Supplies Pvt. Ltd, which runs BigBasket.
That also seems necessary in the light of its $152-million investment in Snapdeal, which seems to have gone bad after the Kunal Bahl-led e-tailer called off merger talks with bigger rival Flipkart earlier this year.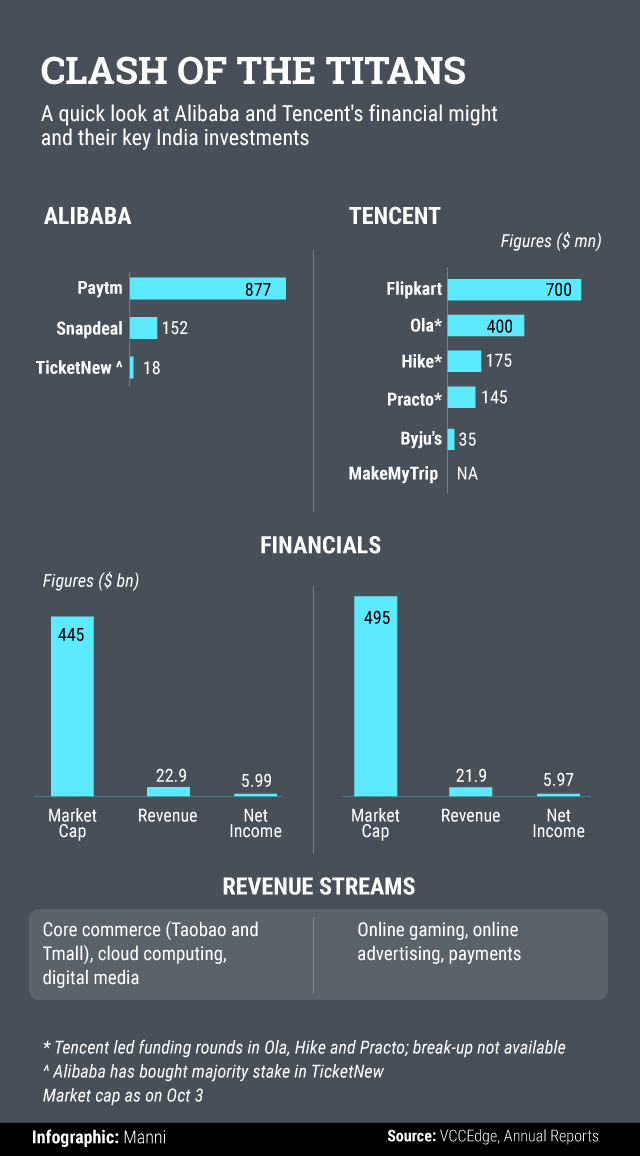 While Alibaba has placed strategic bets in India, going deeper into segments like e-commerce and digital payments that are relevant to its own businesses, Tencent has adopted a venture capital style by spreading its investments.
In the past, it has picked segment leaders like Flipkart in e-commerce, Byju's in ed-tech and MakeMyTrip in online travel, looking to book investment gains at a later date. The Pony Ma-led investor has now decided to back Ola, another Indian unicorn and market leader in the cab-hailing space.
"Alibaba is focussing more on strategic investments, where they can bet for a long period and take control of the company. On the other hand, Tencent is taking stakes in multiple opportunities," said Satish Meena, senior forecast analyst with Forrester Research.
Tencent's only Indian investment that has a direct correlation with its core business is Hike. "Tencent has its messaging platform [WeChat] and we could see the same being played out in India with the investment in Hike," said Arvind Singhal, chairman of retail consultancy Technopak Advisors. "For these Chinese titans, India is not the only focus of interest," he adds.
Clearly, their rivalry has long crossed China's borders, and the domestic battle for dominance seems to have triggered the global drive. From the US to Finland to the Philippines to South Korea, both Alibaba (Lyft and Lazada) and Tencent (Tesla, Supercell) have made significant bets. Those cross-border investments, including the ones in India, also indicate China's growing global ambitions. Early this year, chairman Pony Ma famously stated that China has the ability to "preside over global tech revolution of the future".
According to Forrester's Meena, the two technology giants see India, with its large Internet user base, as perhaps the biggest opportunity outside of China. "It is difficult for them to grow and capture markets in developed markets like the US and Europe because those countries already have existing strong players. So, India remains the biggest market for these companies at this stage because the market has opened up," he said.
The good news is, both seem bullish on India despite the occasional political skirmishes between the two countries. "They have been following each other the way we have seen with Flipkart and Paytm... you will keep seeing that," said Anil Joshi of Unicorn India Ventures. "It is still early days for them. A lot of other verticals are still virgin. We have seen a lot of action only in the e-commerce space. Funding in other sectors such as healthcare, agriculture etc is yet to open up," he adds.
Meena concurs. According to him, both Alibaba and Tencent are still cherry-picking investments and a full-blown competition between them is yet to begin.
"Their investments have really not taken shape, so they are really taking a shot on what they think they are going to do vis-a-vis their actual operations on the ground," says Sandeep Ladda, partner and national leader, technology and e-commerce, PwC.