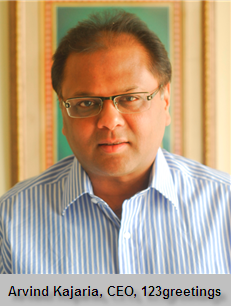 Kolkata-based IntraSoft Technologies Ltd, the BSE-listed holding company of e-greetings provider 123greetings.com, is looking at shifting course to e-commerce focused on the NRI market. While it is being regarded as an evolutionary necessity, is the company, which has till recently relied on e-greetings, ready for the plunge?
Post its IPO in March, the Intel Capital-backed company has increased its focus on e-retailing, selling perfumes, skin care products, DVD players and flowers through the website. Retailers including Calvin Klien, Cartier, Bvlgari, Burberry, Dogtek, Levels of Discovery furniture and Ginsu are part of 123greetings.com's new e-commerce bucket. Around 25 manufacturers have been signed up and this is expected to grow to 500 by 2012. 
Will it work?
Experts are sceptical about 123greeting's shift in strategy. "It is a stretch to imagine an e-greetings site move to online retailing since these are two very different sectors. Even if 123greetings.com does it well, it might not pan out. Moreover, gifting is an extremely fragmented and crowded space," says a senior official from a venture capital firm, which bets on internet businesses, on condition of anonymity.
Amongst e-commerce portals that offer flowers, perfumes and other gifting items are eBay, Indiatimes Shopping and Rediff Shopping. Numerous niche gifting sites and online florists like Ferns 'n' Petals and Floraindia.com are also online for a few years, giving them a headstart. "Just as Archies and Hallmark are no longer in the e-greetings segment alone, 123greetings is also attempting to move into this space. They have a lot to accomplish on this front though," said Anand Lunia, ED & CFO, Seedfund, an early stage venture capital fund.
No Choice
Was to shift to e-commerce more than just an evolutionary step? Some experts say, 123greetings might not have had a choice but to shift away from the flailing e-greetings market with falling interest levels. "E-greetings had a novelty value when they began but they are no longer in use. Corporates refer to them as 'loving spam' and many have banned them and installed filters. Three years from now, nobody will send e-greetings. Until then, they will still be used by those who have not migrated to social networks," says Jessie Paul, MD of Paul Writer. 
Lunia of Seedfund agrees, "E-greetings, even today, look old-world. The highly connected and networked individual has no need for it. These e-cards need to change and keep up with the modern world. 123greetings faces the challenge of building in an immersive experience similar to new-age gaming and videos."
The social networking threat
123greetings has tweaked its e-cards over the years. "We noted that people wanted to use our shells and add their own writing. So we introduced simpler e-cards. Another was the quick send feature introduced two years ago, which allows users to send a card in 4-5 clicks as opposed to the traditional 10-12 clicks," says Founder  and CEO Arvind Kajaria. 123greetings.com adds 5,000 new cards per year and has a bank of 20,000 designs.
But social networks such as Facebook and Orkut have made wishing friends and family, as well as the larger network of acquaintances on occasions pain-free.
Kajaria is of the opinion that they (social networking sites) are not a threat and are an additional platform to be used. The company has developed a Facebook app that is currently being used to send 10,000 to 15,000 cards on an average per day. Its Orkut app, interestingly, was pulled back three years ago since advertisers wanted a US-only audience. The website currently has 80, primarily US-based, online advertisers on board and a few Indian advertisers including Tribhuvan Das Jewellery, Nokia and Dove.
The journey this far
In 1998, a year after Arvind Kajaria founded 123greetings.com, the website witnessed 36,000 unique visitors per annum, which grew to 2 million in 2001, shortly hitting a critical mass of 4 million. The website then saw the number of unique visitors soaring up to 30 million in 2002 and as of 2009, it is 91 million unique visitors globally. Of this, 14 million are from India.
Note that since the e-cards industry is seasonal, the bulk of the website's traffic and revenue is generated between October and April. 
Intel Capital invested $5 million in ITL Technologies in 1998 and still retains its 16.3% stake in the firm. Sources say it might be looking to exit, but Kajaria refutes it.
123greetings has invested Rs 35 crore in the past four years on software. It has rolled out two products, Studio and Connect, in the last few months, and its 'next big launch' is E-Invites, to be launched next quarter.
"The e-invitation section is in beta right now. With it, people can invite their friends to parties and offer an RSVP List, specify the dress code, offer directions to the venue and even display the menu," Kajaria explains.
Studio, which was based on the UGC concept of video sharing site Youtube, was established to encourage users to create their own cards. So far, there have been 500 user-developed cards active on the system and Kajaria expects this to grow to 10,000 within a year.
With Connect, users get reminders of upcoming birthdays, can share activity feeds with friends and send multiple e-cards. Launched in August, the number of registered users has risen to 100,000 and the company now plans to offer an option of registering which will offer premium features to users. Launching a mobile app will give the company another revenue stream. Kajaria says an app is still in the concept stage but will be available across all mobile OSs.
The company recently reported a 15% rise in net profit year on year to Rs. 2.56 crore over revenues of Rs 9.36 crore in the quarter ending September 2010. It is also expanding geographically to address rising demand for e-commerce. It currently has 3 subsidiaries in Mumbai, Singapore and New York and will establish more in London and Dubai. The technical team in Kolkata now has 12 people and the firm employs 110 across the globe.