You have a short distance to cover. So you launch the app, locate a bicycle, pay via mobile wallet, unlock the bicycle using the QR code, pedal it to your destination and, when you are done, drop off it at a nearby point.
How's that for last-mile connectivity, arguably the biggest nemesis of India's urban transportation system?
Zoomcar, which brought tech-based self-drive car rentals to the country, now has another first to its name. It has introduced a tech-enabled cycle-sharing service, PEDL, in Bangalore, Chennai and Kolkata, after running pilots for three months.
"We were trying to gauge the interest for this service. We have seen strong uptake, particularly on weekends," Greg Moran, co-founder and CEO of Zoomcar, told VCCircle.
Moran said the company has already put on the road 3,000 custom-made bicycles, which do four-five trips a day. The company will charge Rs 10 for half an hour.
PEDL is targeting a cycle fleet of 10,000 in the short term.
As for parking space, Zoomcar claims several hundred people, including small businesses and restaurants, have already come forward to sign up as hosts. In return, they get perks such as a 25% discount on all Zoomcar rides, a free luxury car ride every six months, free PEDL rides for a year, and discounts and cashback worth up to Rs 1 lakh.
"We would have well over a lakh people across 20 cities in the next couple of months. Several thousand people have already signed up," Moran said.
These are encouraging signs for Moran, an environmentalist who avoids using cars and prefers to take a bus or metro. He sees the foray into cycle-sharing as an extension of the company's vision of being a sustainable mobility solutions provider.
Moran, who founded Zoomcar with his friend David Back in 2012, worked as a renewable energy project consultant in the US before moving to India. The company has so far raised around $30 million from marquee names like Ford Motor Company, Sequoia, Nokia Growth Partners, and angel investors Aarin Capital chairman TV Mohandas Pai and former US treasury secretary Lawrence Summers.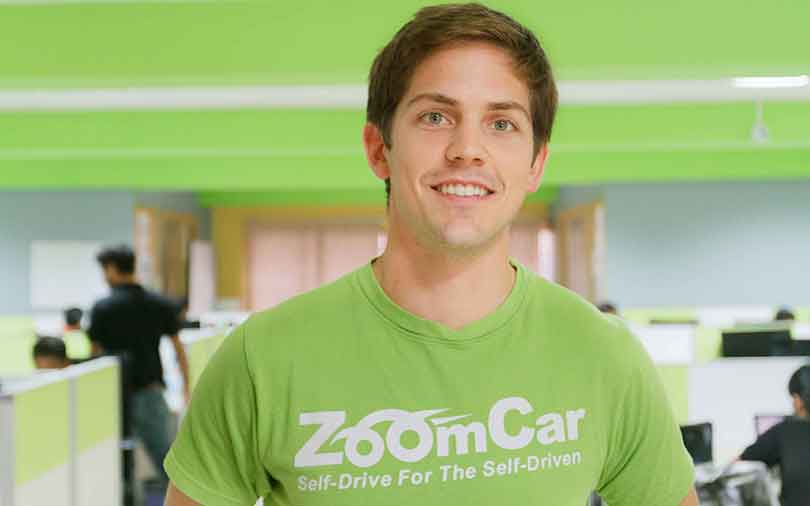 Expansion plans
At full scale, Zoomcar envisions a host location every 50-100 metres, eventually covering all major Indian cities with a million cycles. That, Moran said, will make cycle-sharing as large a business as its flagship car rental, or even bigger. He did not mention any additional cost in terms of people or technology for the new business. "It is paper-free and free of human intervention. We just plugged it into our existing technology platform," he explained.
The only spend is the cost of procuring cycles. Unlike in the car rental business, where the company either leases vehicles or runs a marketplace model, it owns the assets in cycle-sharing. However, Zoomcar estimates that it will cover the procurement cost in two months, given it started making operational profit from day one.
While the cycle-on-demand business is not even nascent in India, it has already spawned a couple of billion-dollar startups in neighbouring China. Cycle-sharing startups Mobike and Ofo have raised $900 million and $700 million, respectively and, along with their smaller peers, they populate Chinese streets with 21 million cycles.
Moran acknowledges they might enter India soon, but that doesn't unsettle him. "They have a limited history of operating abroad. Both will together have well under 100,000 cycles internationally," he said.
Another potential entrant is homegrown unicorn Ola, which is already into car, bus and bike aggregation, and is flush with funds after raising a $1.1 billion round led by China's Tencent. It is now preparing for a major foray into electric mobility.
"I wouldn't be surprised if they enter. I hope they do," Moran said. He feels the entry of more players will make this virgin market a robust ecosystem.
With the government push on cycle-sharing, he sees it emerging as a popular transit option over the short term.
Several cities, including Chandigarh, Ujjain and Bhopal, have called for tenders to build a bicycle-sharing system under the Smart City scheme. Thanks to measures like these, Moran feels the market's dynamics are set to be altered in the next six months.
That said, challenges remain. Barring a few stretches here and there, most Indian cities are not cyclist-friendly, and building long, dedicated cycle tracks in space-constrained cities won't be easy. Riding cycles through busy traffic lanes may raise safety concerns, too.
However, Moran is optimistic about all stakeholders together building a strong ecosystem. If India's bicycle-sharing market becomes even a fourth of China's, we would have a fleet of five million bicycles. "We want to play a meaningful role there," he said.